With essays by T. Boone Pickens, Tom Cole, Frederick Hess, Tevi Troy & Emil Frankel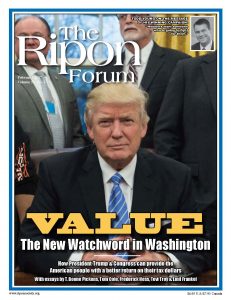 WASHINGTON, D.C. – As President Trump nears the end of his tumultuous first month in office, the latest edition of The Ripon Forum looks beyond the turmoil to examine how the new President and Congress can provide Americans with something they have long wanted from Washington, DC – value for their tax dollars.
"When it comes to finding fault with the Trump Administration, it's clearly a target-rich environment these days," stated Forum Editor Lou Zickar.  "In our latest edition, we chose to focus on something different instead.  We chose to focus on the sentiment that got this President elected in the first place – the sentiment of those Americans who believe they are not getting a good return on their federal investment and simply want government to work."
To that end, Zickar noted, this edition of the Forum looks at areas where this can be accomplished with essays from authors representing the world of business, politics, and academia.  The authors include:
Legendary businessman T. Boone Pickens, writing about energy independence and the need to provide people with a better return in that regard.  "Providing Americans with a return on the hard-earned tax dollars they send to Washington – providing them with value for their federal investment – should be one of the top priorities for our elected leaders," the businessman writes.  Pickens, who has authored a plan to make the country more energy secure, adds that, "America is in the midst of an energy renaissance, and President Trump will have the opportunity to set the nation on a course toward self-sufficiency."
Oklahoma Congressman Tom Cole, writing about Social Security and the need to preserve a program that every American paycheck supports.  "At a time when trust in government is at or near an all-time low," the veteran lawmaker writes, "it is critical that Congress and the President do everything we can to ensure that American tax dollars are being well-spent. Take Social Security.  Whether you are making minimum wage or earning a comfortable salary, 6.2 percent of your paycheck goes to fund this program … Without significant reforms, there will come a time when Social Security will be unable to pay its beneficiaries."
American Enterprise Institute scholar Frederick A. Hess, writing about education and the need to make sure American schools are the best in the world – not just the best funded.  "Per pupil," Hess writes, "we spend as much on K-12 education as any nation in the world. When it comes to college, Washington and state governments spend $160 billion annually. Yet our K-12 results are middle-of-the-pack, at best, and our colleges are beset by runaway price inflation and a surfeit of unhelpful degrees."
Former Deputy Health & Human Services Secretary Tevi Troy, writing about health care and the need to make sure that cost does not win out over quality when it comes to the care that people receive.   "The average American pays more than twice the average of other developed nations," Troy writes, "and yet the life expectancy of the average American ranks 42nd in the world. We are clearly spending a great deal on health care and not getting the results we should."
Former Assistant Secretary of Transportation Emil Frankel, writing about infrastructure and the need to find agreement on a plan to rebuild our crumbling bridges and roads.  "There is broad consensus that the nation's infrastructure is deteriorating," Frankel writes.  "We must accept that we will not be able to do everything, so we must be able to identify and target public investments on those projects that will bring the greatest economic returns and benefits."
"The Americans who voted for Trump did not elect him because they thought he would conform to some political orthodoxy," Zickar writes in a separate essay.  "They elected him because they thought he could make government work. Value is the new watchword in Washington.  Which is why the ultimate test for the President and Congress will be their ability to convince Americans that their tax dollars are finally being put to good use."
In addition to looking at ways that the President and Congress can provide Americans with a better return on their tax dollars, this  latest edition of the Forum also includes an op-ed by Dan Mitchell of the Cato Institute looking at how government spending can impact a nation's GDP.  Gary Sasse of the Hassenfeld Institute for Public Leadership at Bryant University looks at the growing number of GOP Governors in New England and whether that could be the start of a trend that turns this blue region of the country red.
In the journal's latest debate, U.S. Rep. Tom Emmer (MN-6) squares off against Ana Quintana of the Heritage Foundation in a discussion about Cuba and why relations with the Communist country to our south should – or should not be – restored.
And in the latest Ripon Profile, newly elected Senator Todd Young discusses why his message resonated with voters and some of the challenges facing the Hoosier state this year.
The Ripon Forum is published six times a year by The Ripon Society, a public policy organization that was founded in 1962 and takes its name from the town where the Republican Party was born in 1854 – Ripon, Wisconsin. One of the main goals of The Ripon Society is to promote the ideas and principles that have made America great and contributed to the GOP's success. These ideas include keeping our nation secure, keeping taxes low and having a federal government that is smaller, smarter and more accountable to the people.