Lewandowski & Bennett Offer Blunt Advice to Top Hill Aides About Trump Presidency
WASHINGTON, DC – Two veteran strategists from the Trump for President Campaign appeared before a recent symposium hosted by The Ripon Society to discuss last year's race, the results of the election, and what the billionaire businessman's administration will mean to Washington – and America – in the coming years.
The strategists were Corey Lewandowski, who served as Trump's campaign manager until last summer, and Barry Bennett, who started the 2016 race as the campaign manager to Ben Carson before joining the Trump team as a senior advisor last spring.  The pair, who recently opened their own consulting firm, made their appearance at The Ripon Society's 7th Annual Senior Staff Symposium on Leadership, which was held at Mount Vernon on February 23rd and attended by nearly 150 top congressional aides.
Bennett opened the discussion by talking not about the Trump campaign itself, but about the changing and often misunderstood demographics of the American electorate that made Trump's candidacy possible.
"One of the things that we witnessed recently is that Republicans never won among seniors until 2010," Bennett stated.  "But in 2010 we started winning. Mitt Romney won among seniors. Donald Trump won among seniors. Why? Because seniors in America have changed. The New Dealers have died. My grandparents have been replaced by my parents. And my parents — just like many folks around the country — have a lower standard of living.  Economically, they are less comfortable than my grandparents. That's why the economy is such a big issue.
"The new senior — the senior of today — frets a lot. They are the folks who believed that you could go to work for one company for 30 years and retire with a pension. And they don't see that anymore. So they're very frightened by what they see in the economy, which is one of the reasons why they've started voting for us. How do we know this? Look at voter registration around the country. Let's take Florida. Today vs. four years ago, there are 300,000 fewer registered Democrat voters in the state. They died and were replaced by new seniors who are likely to be more Republican than Democrat."
According to Bennett, a similar change has occurred in recent years among another segment of the electorate that has also been overlooked – white America.
"If we look at the election results," he said, "we see that Donald Trump won whites by 21 points. Mitt Romney won whites by 20 points.  Why did Donald Trump get 306 electoral votes and Mitt Romney lose? Well obviously, more of them must have turned out. But we all know if we were asked to make a list, we could make a list of dozens — if not hundreds — of people who are friends of ours who said they were not going to vote for Trump.  They were traditional Republican voters — they go to the Lincoln Day Dinners and all that stuff.  But they said, 'I just can't vote for Trump.'
"So that means there are a lot of new people out there who voted for Trump. And we need to get to know them.  They live in places that we probably don't go to often enough. They don't come to our Lincoln Day Dinners. They live in places like Warren, Ohio and Pike County, Ohio.  George Voinovich was one of the most popular governors we've ever had in the state. The only county in Ohio he never won was Pike County.  Donald Trump won Pike County.  Warren hasn't gone Republican since Eisenhower or something like that.  The only difference between Warren County, Ohio and the next county over is what team they root for on Sunday. They are the exact same people just with different jerseys.  That's what happened in Michigan and Wisconsin, as well.  As a party, we've got to get to know these new people and understand what makes them tick, because they represent the expansion of the base that we so desperately need in order to survive."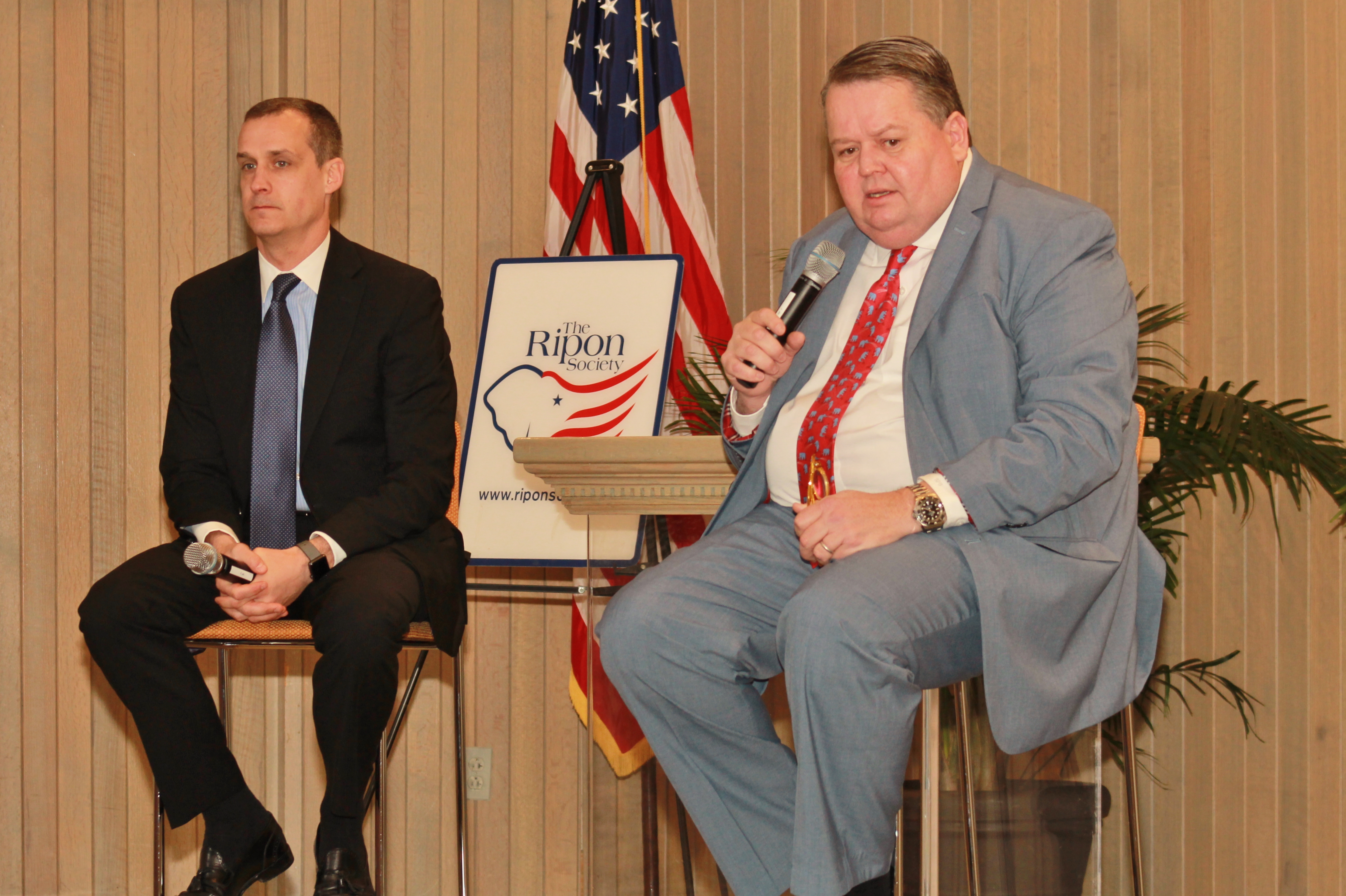 When it comes to the changing demographics of America and the future of the GOP, Bennett was blunt.
"We've all read about the end of the Republican Party thanks to the Hispanic vote," he declared.  "That just was complete crap. The switch in seniors more than made up for any difference in Hispanic voters. But we do have to be doing better with Hispanic voters. We went from 6 to 8 percent among African American voters and we think we did a great job.  We might see, for the first time, that number go above 10 next time.  That is amazing, but there is a lot of work to be done."
Lewandowski, who was one of the first aides Trump hired when he launched his campaign for President in 2015, opened his remarks by looking back on the campaign's early days, and the large and enthusiastic crowds that were turning out to hear the neophyte candidate speak.
"When we started the Trump campaign," Lewandowski recalled, "one of the very first events that I had the privilege of traveling with Trump to was CPAC in 2015. At that time, Scott Walker was in the race, as were I think what we called '15 other geniuses.' And Donald Trump came to CPAC, and there was this crowd that followed him everywhere he walked.  It was unlike anything I'd ever seen. I wasn't sure if people were following Donald Trump because he was the celebrity that they'd seen on television, or that they thought he was going to run for president.  Maybe he and I were the only ones who thought that at the time. But it was amazing, because he could draw this massive crowd.
"It was the first indication that people were looking for something different. And as we traveled around the country — and I spent 18 months with candidate Trump from January of 2015 to June of 2016, 18 hours a day, seven days a week — it didn't matter where we went, the crowds were massive.  Take Lowell, Massachusetts — the town I grew up in.  It was January of 2016, and we were in the middle of a blizzard.  We did a rally, and people literally — in this blue collar town — spent eight hours waiting to get into the building. We filled the stadium and had 15,000 people in it.  You're looking around, and you see these aren't the Republicans who are coming to the Lincoln Day dinners. These are people who just wanted fundamental change. They were tired of Republicans and Democrats alike going to Washington, telling them one thing, and doing something different. They were tired of being $20 trillion in debt. They were tired of special interests having privileges that nobody else has."
"We went to this small town in New Hampshire called Laconia.  We took a small plane in because it was a small airport. We took off from New York and we landed at the Laconia airport, and when we landed, my phone had like 15 voicemails all from the same number.  It was the local police chief.  He said, 'Mr. Lewandowski, we've got a problem … we need to come get you.'  This is prior to Secret Service protection, 'We need to come get you because we had to close the road because there are so many people here.' We were hoping to get 150 people in this little hall. When we showed up with Donald Trump in Laconia, New Hampshire, there were 3,000 people there. They were literally standing on the roof of the building. When we pulled up in two SUV's with a police escort, the people came up and literally were shaking the cars. They wanted to see Trump.
"Then he got out there, and it was 200 degrees in the room — it was amazingly hot and nobody left the room. When we left — I've never seen anything like it. People were literally running after the car.  Then we went to the airport, and we actually had to do a hit with Fox — he was doing O'Reilly. Everybody knew he was going to the airport, so the whole 3,000 people started showing up at the airport. They just wanted to be around Trump. And they just wanted to talk. They wanted to understand his mindset. They wanted to understand why he would say things that he would say."
According to Lewandowski, that's where the Washington establishment is right now, as well – trying to understand this new President, trying to understand his mindset, and trying to understand why he says the things that he says.
The former campaign manager then shared his thoughts on the topic based on the year and a half he spent at the candidate's side:
"You know what that mindset is?" he asked.  "It's a mindset that wants to know why we are buying two Air Force Ones as opposed to just one.  I know this is a crazy notion, but who goes out and buys two brand new cars on the first day?  You can only drive one. Maybe you drive one for two years, and then you turn it in, and then you drive the other one for two years.  The President brought in the CEO of Boeing Corporation to say, 'Look, the price is too high. I'm not going to pay $4.2 billion for two airplanes.'  The program manager was there, and the President asked him, 'Why are we buying two planes?'  'Well sir, that's what the specs are for.'  'Well why don't we just buy one?'  'Well, that's what we need.'  'Well, I can only be on one plane at a time. It's only Air Force One if I'm on it. That's the only time they ever call it Air Force One. Maybe we just buy one.'  And the program manager looked at the President and said: 'No one has ever mentioned this to me before sir.'"
"That's not pejorative against this program manager" Lewandowski continued.  "That's the mindset that our government officials and our bureaucrats have had, and that's the way they've always done it.  And I'm here to tell you — whatever has been done before, whatever is sacred now that you have been privy to, no longer exists. It is fundamental and wholesale change in DC emanating from the Oval Office. Because the President believes that part of his duty and obligation to the American people is to watch their tax dollars."
To view the remarks of Lewandowski and Bennett before The Ripon Society's 7th Annual Senior Staff Symposium on Leadership at Mount Vernon on February 23rd, please click on the link below:
The Ripon Society is a public policy organization that was founded in 1962 and takes its name from the town where the Republican Party was born in 1854 – Ripon, Wisconsin. One of the main goals of The Ripon Society is to promote the ideas and principles that have made America great and contributed to the GOP's success. These ideas include keeping our nation secure, keeping taxes low and having a federal government that is smaller, smarter and more accountable to the people.