WASHINGTON, DC – U.S. Rep. Leonard Lance (NJ-7) and actor Tim Daly appeared before a luncheon meeting of The Ripon Society this past Friday afternoon to discuss funding of the arts in this time of fiscal austerity and the role of the federal government in that regard.
Lance serves as the Republican Co-Chairman of the Congressional Arts Caucus, while Daly serves as President of the Creative Coalition.  They were joined by 14 other performers and Coalition members, including: Justin Bartha, Kathrine Herzer Hansel, Caroline Hirsch, Keegan-Michael Key, Alaa Khaled, Chad Lowe, Wendi McLendon-Covey, Alyssa Milano, Denis O'Hare, Elisa Pugliese, Nick Sandow, Aaron Staton, Matt Walsh, and Sarah Wayne Callies.
Lance kicked off the discussion by talking about the National Endowment of the Arts, the National Endowment for the Humanities, and the Corporation for Public Broadcasting – three entities, he said, that have "flourished for more than 50 years," and ones which have withstood attempts to cut their budgets before.
"These three entities were first enacted by President Johnson in 1965 at the height of the Great Society," the New Jersey Republican stated.  "They have flourished for more than 50 years, and indeed we celebrated the 50th anniversary of these fine organizations recently. There was an attempt more than 20 years ago — I think in 1995 — to defund these entities. That was when my side of the aisle took control of Congress after the election of 1994.  That attempt failed. And I assure you that the attempt to defund these entities this year will fail, as well."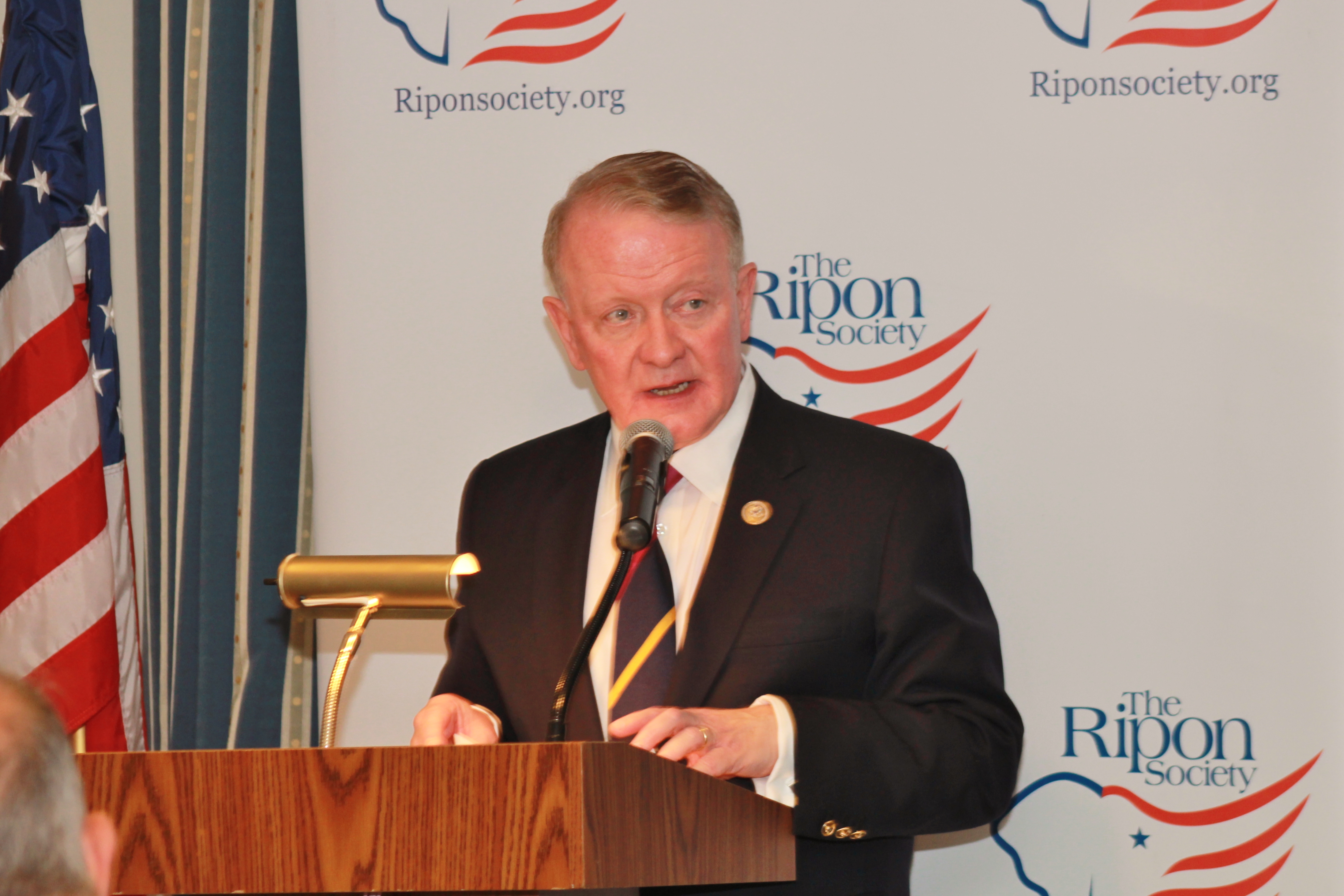 Serving his fifth term in the House, Lance was a member of the New Jersey Council on the Humanities and a trustee of the Newark Museum and Princeton's McCarter Theatre prior to his election in 2008.  In his remarks, he touched on the importance of the arts in America, and outlined both the economic and cultural contributions the arts make to society as a whole.
"The non-profit arts industry generates $135 billion in economic activity and supports over four million full-time jobs," he noted.  "The NEA and the NEH each consist of only .003 percent of the nearly $4 trillion federal budget, receiving approximately $150 million apiece. For every dollar the United States spends on federal arts initiatives, nine non-federal dollars are leveraged, generating roughly 600 dollars in matching support. Last year's federal arts appropriation was roughly $150 million, and the industry returned $10 billion to the federal government in income taxes. This is based upon all of the activity that occurs as the result of a theater, for example, or an art museum, restaurants, and other activities. And of course, the arts have been responsible for reviving some of our cities in this country."
"So it seems to me from an economic standpoint — and I tried to impress this upon my Republican colleagues — that it makes perfect sense to continue funding for these programs.  It does so because it creates so many jobs both directly and indirectly, and that in turn means more federal taxation in the coffers here in Washington to support other programs — not only programs related to the arts and the humanities.
"Beyond the economic activity, there is the fundamental question of how we should proceed as a society. This society is of course in competition with other societies across the globe, and I think it's imperative that the American society be known for its cultural achievements as well as its achievements in other areas. Some of you may recall from your reading of history that when John Kennedy went up to Amherst in October 1963 a month before his death for the groundbreaking of the Robert Frost Library, he stated that the United States should be known not only for its prowess in economic activity and in military activity, but for the strength of our civilization as well. Those words are as true today as when they we're spoken so many years ago."
Daly agreed.
"I do this political TV show called Madam Secretary," he stated.  "One of the great and genius things about this show is that we never say the words 'Democrat' or 'Republican,' and we have an enormous fan base on both sides of the aisle. I think by removing those labels, people actually listen to what you're saying. So they're not predisposed to leaning one way or another based on a little letter that's next to someone's name. So I was thinking that if on the show, we talked about a federal program that costs very little money, that returned nine dollars to the federal treasury for every dollar that was spent, that affected every single congressional district in the United States of America, and had a profound effect on the entire population, I think people would assume that it was a pretty good idea.  The thing is, that program already exists. It's called the National Endowment for the Arts."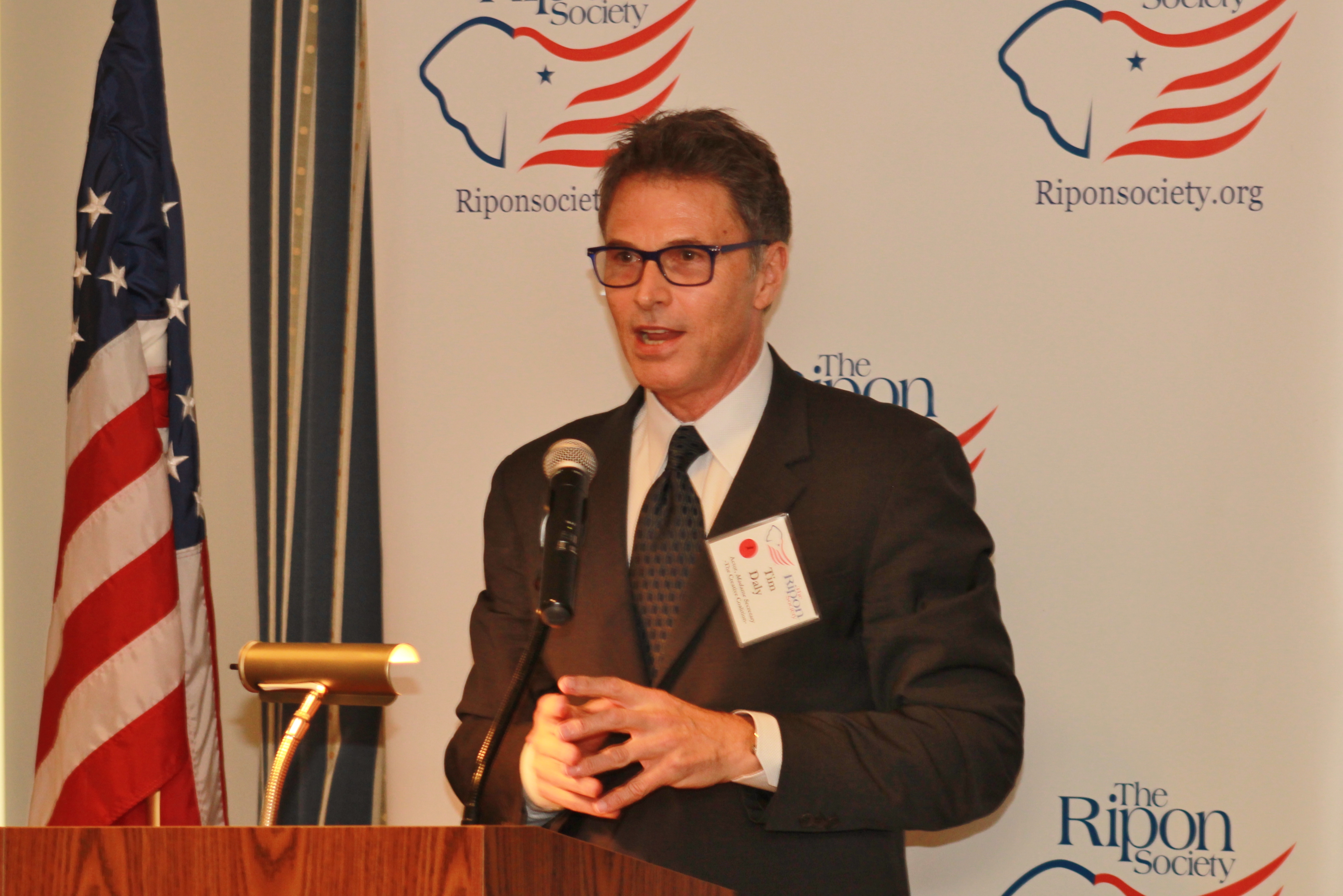 Daly has served as President of the Creative Coalition since 2008.  In this role, he has become one of the entertainment industry's leading voices for federal funding of the arts and the benefits that Americans will receive as a result.
"There's all this data about the economic benefits of the arts," the actor and activist noted.  "There's a lot of data about how art affects students and how a full curriculum in the arts is likely to raise student test scores by a hundred points. They're three times more likely to graduate from high school, they're more civically active, and they make more money. In short, it improves their lives in every way. The data is good and it makes sense to talk about it.  But I also feel obligated to talk somewhat about the effect of arts on our national soul.
"I think it's interesting. If any of you have kids — and I'm sure some of you do — at some point in their lives they will come to you with a painting or picture or something.  It can be really wonderful or really horrible.  Nonetheless, you'll look at that picture and say, 'Honey, this is beautiful!' and bang — up it goes on the fridge.  And the look on that kid's face is one of utter empowerment because you said to them, 'I acknowledge the thing that you created and I empowered you to go off into this world where you can be a creative imaginative person.'
"I think that the National Endowment for the Arts, and in particular arts education, needs to be strengthened, because in this world and in this economy and in our current state we need to have imaginative thinkers … I remember a recent survey of Fortune 500 companies that said the number one thing they wanted in their employees are creative thinkers. I understand why.  But creativity is a muscle, and that muscle is exercised by the gym of the arts. If that creative muscle is strong, then the imagination does a lot.  And then you have an engineer that isn't a cog in the machine. You have an engineer that's inventing a machine, and you have a chance of imagining a future that's better for all of us. So keeping the imagination of our society and especially our children alive is of utmost importance.
"If we don't have a human impulse for science or technology or mathematics, then it's not worth much.   That's why I spent many years yelling at the former and current Administration about why STEM should become STEAM — which it has!   The arts are the province of humanity.  The arts take the things that make us human — anger, violence, lust, love, compassion, empathy, kindness, gratitude – and put them all on the table for us to look at.  And the more we look at it, the more we understand it and the more it connects us as human beings. Art is the universal language of humanity.  That's why I'm here, and that's why the Creative Coalition is here."
To view the remarks of Rep. Lance and Tim Daly before The Ripon Society's luncheon discussion this past Friday, please click on the link below:
The Ripon Society is a public policy organization that was founded in 1962 and takes its name from the town where the Republican Party was born in 1854 – Ripon, Wisconsin. One of the main goals of The Ripon Society is to promote the ideas and principles that have made America great and contributed to the GOP's success. These ideas include keeping our nation secure, keeping taxes low and having a federal government that is smaller, smarter and more accountable to the people.