Californians also urge action to address water crisis in their home state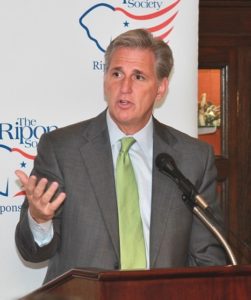 WASHINGTON, DC – When he officially takes over as House Majority Leader at the end of this month, Congressman Kevin McCarthy (CA-23) will become responsible for managing the agenda, schedule and operation of the lower chamber on Capitol Hill. It's a powerful job with a national focus. And yet in remarks to a breakfast meeting of The Ripon Society yesterday morning, McCarthy made clear that his roots remain firmly planted in California, and his attention never strays far from the issues and concerns affecting the people of his District and home state.
McCarthy was joined at the meeting by two colleagues from his home state – Congressman Jeff Denham, who represents the 10th District of California, and Congressman David Valadao, who represents the 21st District. Both Denham and Valadao were elected to the House after McCarthy, and both, he said, represent a new generation of common sense conservative leadership. "When I came from California to Congress, our delegation had been here for quite some time," McCarthy stated, recalling his election in 2006. "A lot of them had been elected in the late '70s." Noting that many of these veteran members would be retiring, McCarthy said he began looking for young leaders to replace them. Denham had served in the State Senate when McCarthy was Minority Leader in the State Assembly, while Valadao was making his mark as a farmer and leader of the Western States Dairy Trade Association.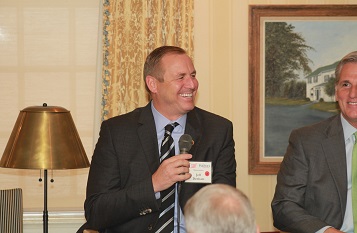 Both Denham and Valadeo, McCarthy stated, are now key members of the House effort to create jobs, strengthen border security, and pass other critical legislation – legislation, he added, that is not only critically needed, but is also being blocked. "In the House," the Majority Leader-elect declared, "we have passed seven of the 12 appropriations bills and we've done it in a wide open process. Sheila Jackson Lee has had 50% more amendments just in the appropriations process than the entire Republican Senate Conference in the last year. Just think about that for a moment. There are 321 bills passed by the House that are now sitting in the Senate. It's not a do-nothing Congress. It's a do-nothing Senate." 

Denham, who was elected to the House in 2010, echoed McCarthy's comments, and pointed to two issues in particular that are of concern to the American people and the people he represents back home. 

"Immigration is one of the biggest issues we are going to face," he observed. "The President said in 2011 that the border is absolutely secure. It is very obvious to the American public that it is not secure. I think this gives us an opportunity to not only secure the border and take care of this humanitarian crisis that we have today, but to really start the discussion. Part of the challenge of politics at any level — but certainly in Washington, DC — is that nothing happens until it is a crisis or until there is a deadline. We had the fiscal cliff. We had the dairy cliff. There is always some sort of cliff. But there has not been an immigration cliff yet. Well, that time is here. This has gone on for nearly 30 years now. It affects our tech companies. It affects our agriculture companies. It affects everyone across our entire nation. We've got to get it done, and we've got to get it done right.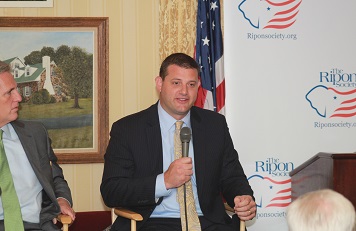 "The other big thing is water. In California for the last 50 years we have not addressed our water crisis. And it is to the magnitude now that not only do we have a challenge with Mother Nature, but we have not seen any significant water storage, above ground water storage, for 50 years. In areas like mine, two-thirds of the water comes from northern California. That water comes south and goes through my district where we have quite a number of aquifers and some storage. You go down farther south to David's district and you've got extreme drought. It is becoming extreme drought where I am, too, because we are over drafting the underground water table year after year after year. So now this water crisis is not just about a drought and it's not just about conveyance and changing the Endangered Species Act. It is now an issue where we are going to shut down California's agriculture economy — the largest ag economy in the nation and the largest in the world — if we do not address this water crisis." 

Valadao agreed. 

"This past weekend, I had a meeting with my Dad, uncle, and brother," the first term lawmaker stated. "My uncle was telling me about his situation right now. He's trying to irrigate one of his crops. You usually irrigate corn about once every 10 days. He's at about every 22 days, and his neighbor is begging him to turn his well off because when he turned his well on a few months ago, there was no water. 

"Last year, I drilled two wells. We go down about 1,000 feet. When you drill one of these wells, it costs about a quarter of million dollars. And it's really a crap shoot. You hope you get water out of it once you've invested in it. I'm already in line for a third well for next year. The well guys are so backed up that they just can't get to everybody right now. This water crisis has been a huge deal for us. It's having a huge impact. Most people in the valley who don't farm think we're doing fine. But it's just like anyone who loses a job — you still have a savings account, and you continue to pull money out of that savings so you can eat and drive to where ever you are looking for a job. 

"What we're dealing with today is that we don't have any surface water coming from northern California. People are pumping and taking water out of the ground, which is basically depleting our bank account of water for the future. That's why we've worked so hard on the water issue, because if we don't address it, we are going to struggle in my part of the country."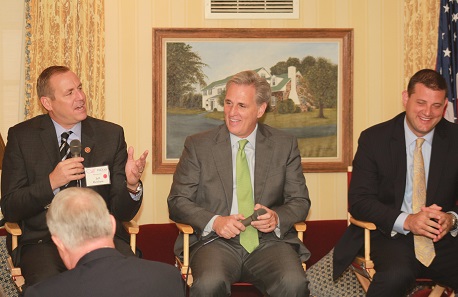 McCarthy, Denham and Valadao concluded the meeting by taking questions, including one on the need to strengthen border security, which the incoming Majority Leader said he has heard from people all across America about. 

"I went to nine districts last week, and none of them were on the border," McCarthy stated. "Do you know what the number one issue in every district is? It's the border. Despite what Harry Reid says, the border is not secure. And you watch: with all of our principles — no matter where someone stood in the Republican Party on immigration — the first thing they say is, 'Secure the border.' I think what has to happen is exactly that. And that's what we'll focus on in this short time frame in the next two weeks. As we move forward, if you keep the current system, you perpetuate the problem. Forty two percent of people who are here illegally came here legally. So our focus now is to secure the border and create a system that actually works." 

To view the complete remarks of McCarthy, Denham and Valadeo before The Ripon Society's breakfast meeting yesterday morning, please click on the link below:
______________________________
The Ripon Society is a public policy organization that was founded in 1962 and takes its name from the town where the Republican Party was born in 1854 – Ripon, Wisconsin. One of the main goals of The Ripon Society is to promote the ideas and principles that have made America great and contributed to the GOP's success. These ideas include keeping our nation secure, keeping taxes low and having a federal government that is smaller, smarter and more accountable to the people.