Dent, Walker & Perry Talk about Areas of Agreement among House Republicans, and the Challenges that Lie Ahead
WASHINGTON, DC – The leaders of the three main caucuses among House Republicans appeared yesterday morning before a breakfast meeting of The Ripon Society, where they discussed areas of agreement within the GOP Conference, and the challenges that lie ahead.
The leaders were U.S. Reps: Charlie Dent, who represents the 15th District of Pennsylvania and serves as Co-Chair of the Tuesday Group; Mark Walker, who represents the 6th District of North Carolina and serves as Chairman of the Republican Study Committee; and, Scott Perry, who represents the 4th District of Pennsylvania and serves as Whip of the Freedom Caucus.
Dent spoke first, and kicked off the discussion by talking not about the issues that divide House Republicans, but the principles that bring them together.
"There is a lot that unites us as Republicans," the veteran lawmaker stated.  "Obviously, we all support the idea of a limited role for the federal government, a strong national defense, and there are other issues where there is a great deal of consensus. We meet weekly with the Speaker, and sometimes our differences of opinion are not over policy. They're often over tactics and process. Those are some of the things we get to hash out on a weekly basis. The bottom line is we know we have big issues. I think Republicans ought to redo the tax code that has grown to 70,000 pages. It's too complex — we should make it fairer, simpler, and hopefully a little bit flatter. How we get there — we'll obviously have some debates and discussions on that."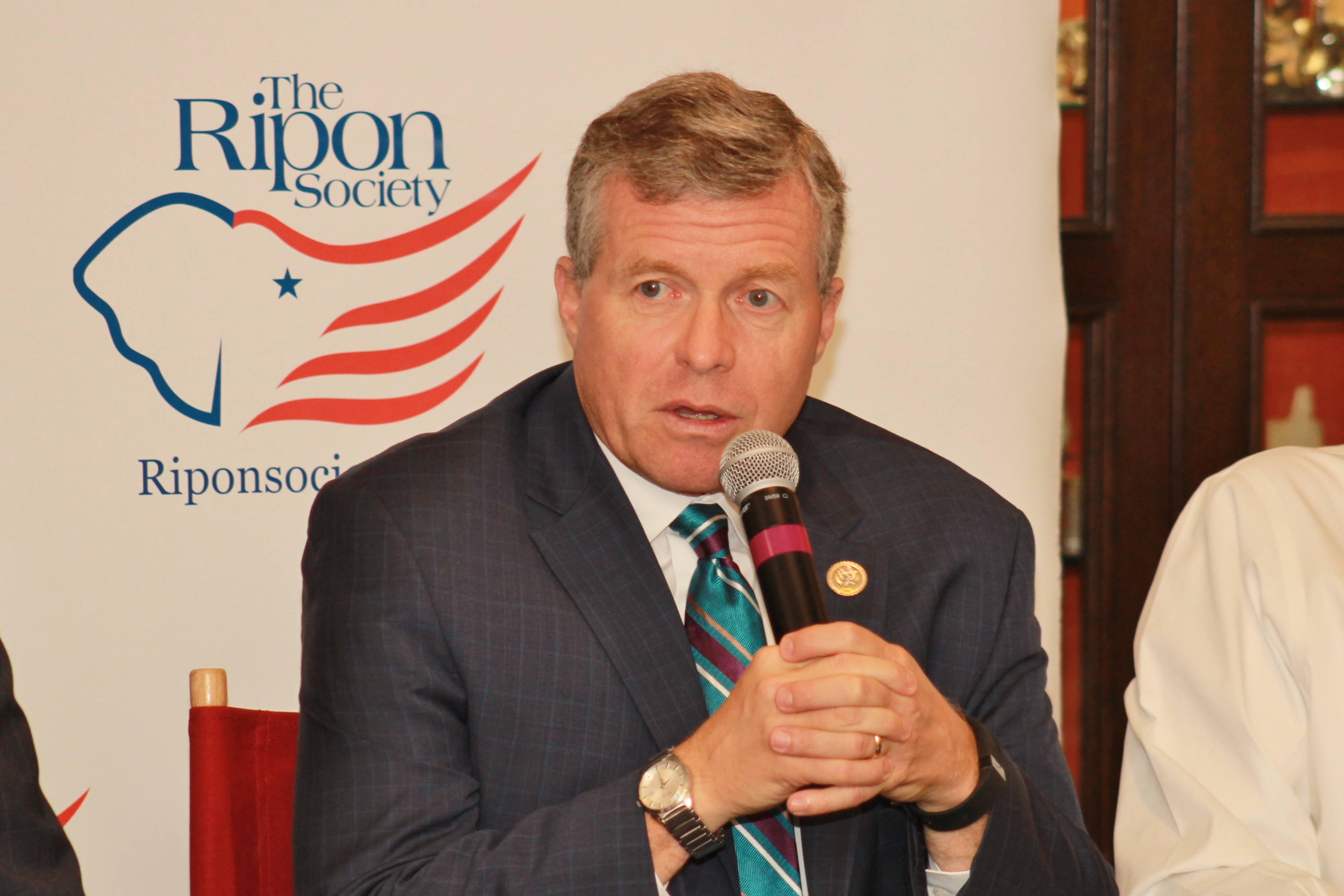 Dent, who recently announced he will be retiring after seven terms in the House, has served as Co-Chair of the Tuesday Group since 2006.  In this position, he has become a leading voice for centrist Republicans on Capitol Hill, and has established a reputation as a pragmatic lawmaker who is not afraid to work across party lines to get results.
He talked about this approach in his remarks, saying it was an approach that was not only shared by other members of the Tuesday Group, but one that stood in stark contrast to the approach taken by Democrats when they controlled the House a few years back.
"Many of our members believe that in order to have durable, sustainable reforms on any big issues, they need to be done on a bipartisan basis," Dent declared.  "We as Republicans should never make the same mistakes that the Democrats made on health care. I was here for that debate and I remember how they jammed it through. We have been fighting about it ever since. We can do better. If we adopt the tactics of Democrats, we'll suffer the same fate that they did.  And they were tossed out — as they should have been for what they did, the way they ran Congress in that cycle of 2009 and 2010. Not just on health care, but on any number of other issues. The bottom line is we all work together. We are all friends. Our disagreements from time to time are always respectful and civil.  But like I said, they're often times over tactics."
Walker agreed.
"I would say that there are many times that we have the same goals," the RSC Chairman observed, "but the approaches sometimes can vary as far as how that happens. One of the things that I ran on as a new member running for Chairman of the Republican Study Committee — which consists of 17 of the 20 chairman in the Republican Conference as well as nearly 160 members — was talking about effective conservatism. What good is conservatism if you can't also be effective?  We have to ask ourselves — is it simply about making the argument, or is it about making a difference?  Because that is truly the challenge incumbent upon all of us — whatever realm of government that you are working in.  To be able to constantly set that as your goal and have a measured benchmark where you can accomplish those things. I think that's important."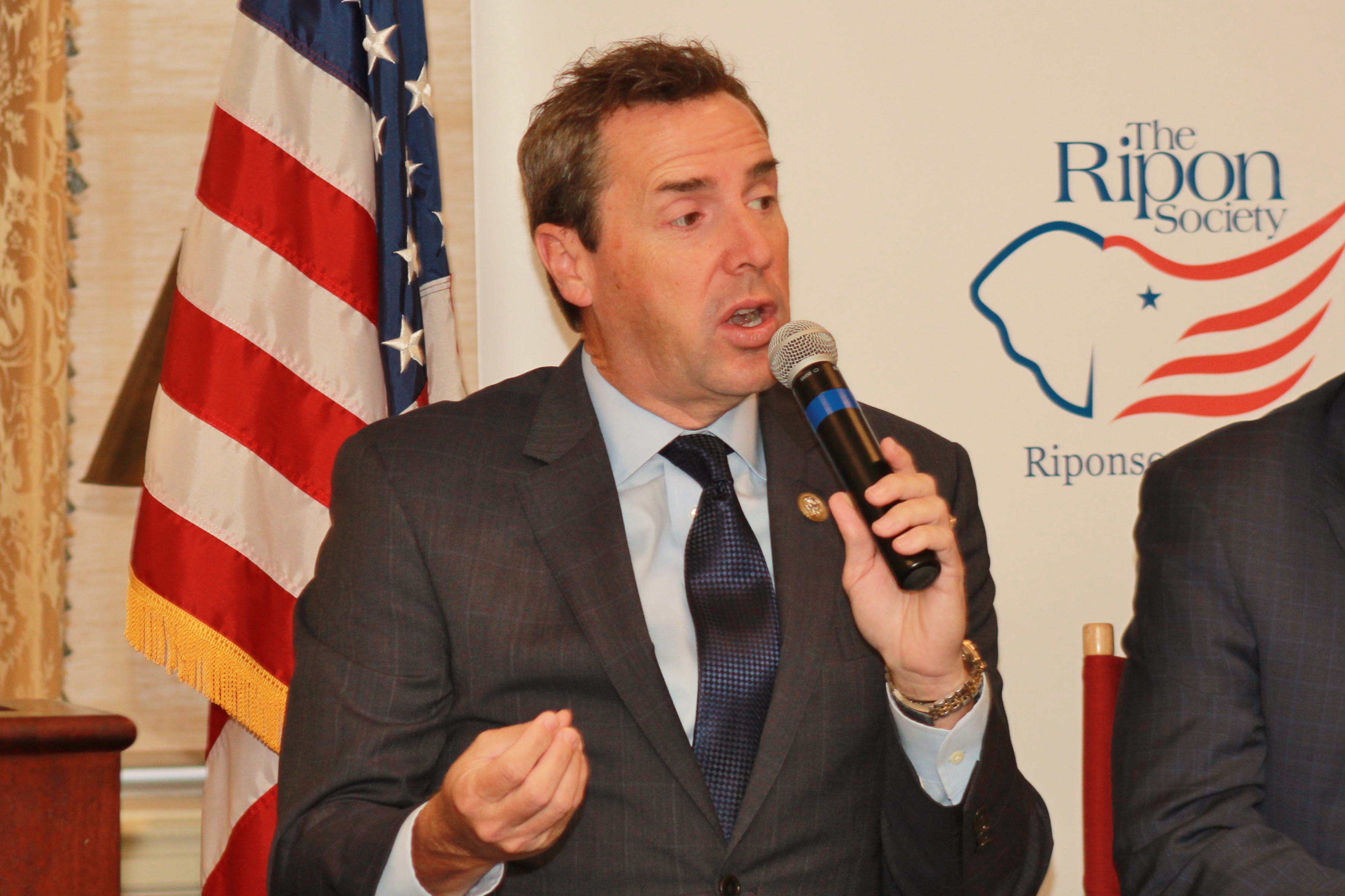 Walker was elected to the House in 2014 and took the reins of the RSC in November of last year.  In this position, he has worked to cut waste in Washington, fight human trafficking, and get federal bureaucrats out of the classroom.  He has also worked to help a segment of the American electorate that, he said, has taken it "on the chin" in recent years — America's middle class.
"Where I think that we mostly align is in understating that the middle class for the past few decades are the ones who are taking it on the chin," Walker said, noting that this was another area of agreement among House Republicans. "That's where we have to work together, whether its tax relief, or reform, or cuts, or however you want to phrase that. But also in many other areas when it comes to taking the burden of federal government overreaches — the regulatory components.
"Those are the kinds of things that we've got to be focused on — that we're getting good legislation across the finish line that directly impacts the people across this country who are carrying the weight of America. We look forward to that. We have seen some success so far, but I think that tax reform may be the first big cog in the wheel that can bring some kind of unification in accomplishing these goals."
Perry echoed his colleagues' comments, and began his remarks by describing the focus of the Freedom Caucus and goals of the group.
"We're mostly a process organization," the Pennsylvania Republican stated.  "We're certainly a policy organization, but we're more a process organization. You must know this — to be in the Freedom Caucus, you have to be able to get to 'yes.' Let's face it — there are some Members of Congress who vote 'no' on just about everything. They're not invited, and they don't come. And I often times tell the Speaker – and Charlie and Mark hear this because we're in the cross section meeting together — that we didn't come to take orders. I belonged to an organization where you take orders. I came to participate. So that's usually what we ask for."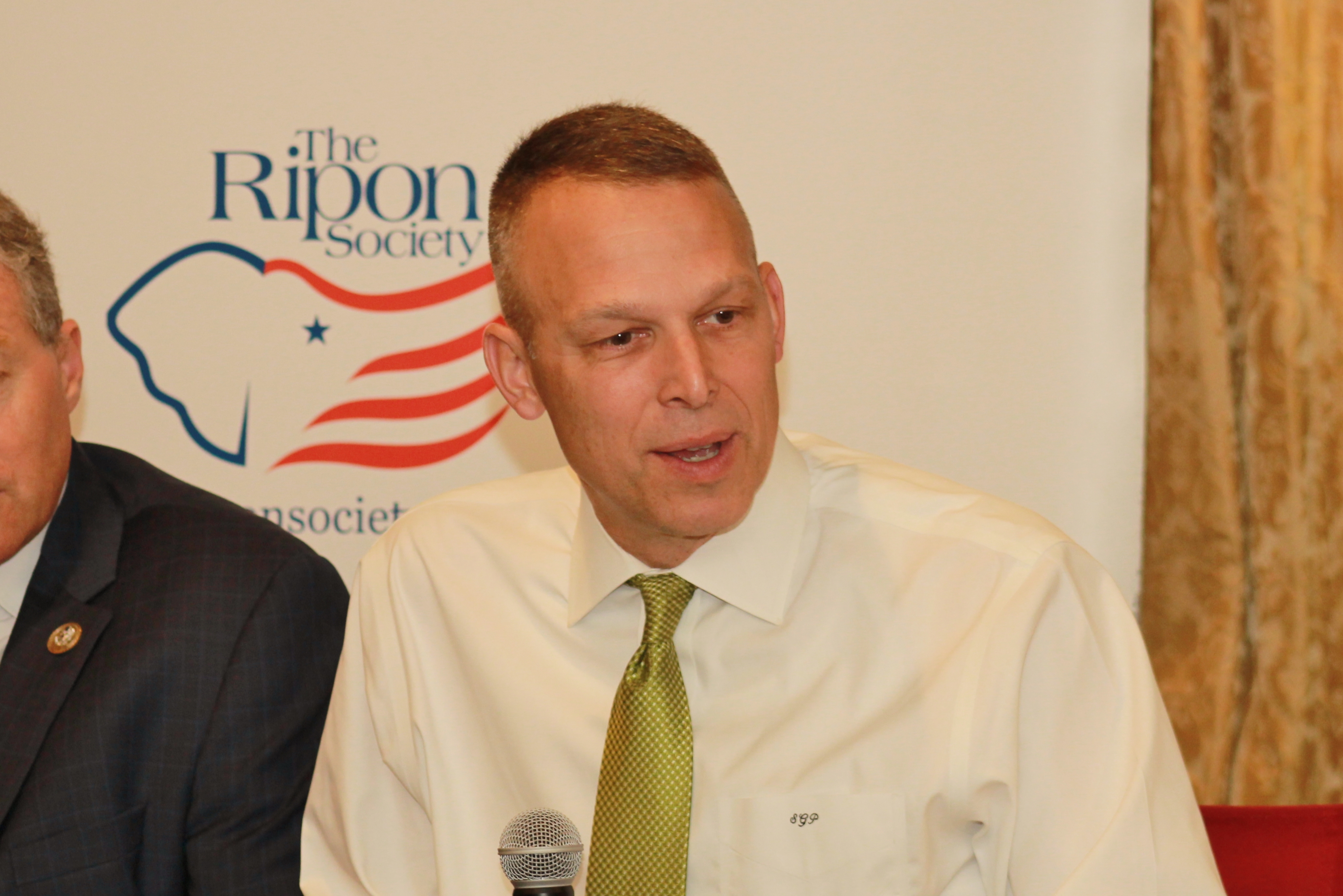 Perry, who has served in the military since 1980 and currently serves as Assistant Adjutant General in the Pennsylvania National Guard, was elected to the House in 2012 and appointed Whip of the Freedom Caucus in December of last year.  He made reference to this time period in his remarks, noting that it was shortly after the holidays that members of the Freedom Caucus realized that the health care reform bill that would be considered would not be the one they had considered — and approved — the previous year.
"Many of us came back to Washington in January and figured, we're going to start right where we left off," Perry recalled.  "We'll send President Trump the same thing we sent President Obama, and we'll move forward with that.  Of course, it was not that way. What we got was a bill that we hadn't seen and we hadn't had any part of. It was a binary choice: take it or leave it, no amendments, we have the votes, we demand that you vote for it. Well that's not participation. We understand regular order.  But when you tell me that this is the best we can do… Okay, well is it the best you can do or is it the best we can do?  And if we are not allowed to participate, any one of us, I think, would say, 'Look, we would like to have this idea included.'  Whether it's on tax reform or health care or anything else, take a shot at it. If we can't win, then we have done the best that we can and we'll accept the product.  But when you don't get a shot at it…"
"There's another part of this. I've talked to the Speaker about it, too. One of us has an amendment. They say, 'Okay, we'll let you run your amendment.' And then leadership puts their finger on the scales.  They say, 'You had your opportunity, you can whip it too.'  Well, guess what? A whip from Scott Perry has a little different weight than a whip from the Speaker, right?  So we're looking for a fair, open process where we can all collaborate and do the best we can and participate and represent our districts. We will accept the outcome as long as it's that way.  But that's kind of what we push for. Most of it is fights over process as opposed to policy — as long as the policy allows everybody to participate and we got the best we could."
To view the remarks of Reps. Dent, Walker and Perry at The Ripon Society's breakfast discussion yesterday morning, please click on the link below:
The Ripon Society is a public policy organization that was founded in 1962 and takes its name from the town where the Republican Party was born in 1854 – Ripon, Wisconsin. One of the main goals of The Ripon Society is to promote the ideas and principles that have made America great and contributed to the GOP's success. These ideas include keeping our nation secure, keeping taxes low and having a federal government that is smaller, smarter and more accountable to the people.