Latest Ripon Forum Looks at Effort to Modernize Government being Spearheaded by Former Google Exec Matt Cutts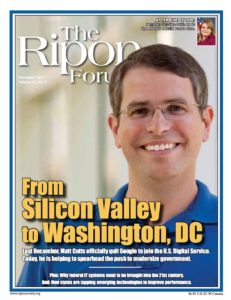 WASHINGTON, DC — For the better part of the past 17 years, Matt Cutts worked in Silicon Valley as a software engineer for Google.  He rose to become head of the company's Webspam team, developing such a reputation that Wired Magazine called him "an internet god."  Today, he has over a half million followers on Twitter.
Given his stature in the tech community, it therefore came as something of a surprise when Cutts announced in July of 2016 that he was taking a leave of absence from Google to do a stint with the fledgling U.S. Digital Service in Washington. It was even more of a surprise when he announced on December 31st that he had formally resigned his position to join the USDS on a full-time basis. He currently serves as Acting Administrator.
In its latest edition, The Ripon Forum talks with Cutts not only about the USDS mission to modernize the federal government, but why he left Silicon Valley at a time when working for the government gets such a bad rap.  "On paper we can never compete with what Silicon Valley has to offer," Cutts explains. "But what we can offer is the opportunity to impact the lives of the American people in a variety of areas."
According to Cutts, these areas have included helping veterans by designing a new website for the VA that has successfully processed over a 250,000 applications, and aiding national security by developing a "bug bounty" program at the Pentagon that targeted hackers while saving taxpayers nearly a million dollars.  "The crazy part is that's just scratching the surface," Cutts says, referring to other areas where the federal bureaucracy needs to be modernized.
"The crazy part is that's just scratching the surface," Cutts says, referring to other areas where the federal bureaucracy needs to be streamlined and brought up-to-date.
Trey Hodgkins of the Information Technology Industry Council agrees.
"The government spends over $90 billion dollars each year that can be directly linked to information technology," he writes in an essay for the Forum. "Sadly, the Government Accountability Office has found that around 80 percent of those funds are spent just operating and maintaining the systems we already have in place. This leaves little funding for improving security, leveraging the vast data sets the government possesses, reforming business processes for better citizen outcomes, or securing our nation and homeland with more modern technology with greater capability."
If Washington policymakers are looking for a ideas on how government can use technology to improve performance, Scott Pattison of the National Governors Association suggests they look to the states.
"What were once primarily used by Fortune 500 companies and innovative start-ups are now being adopted by state governments," Pattison writes in another essay. "It's all part of an increased drive to modernize agency operations, realize efficiencies and improve customer service for state residents."
In addition to these three pieces focused on government modernization, the latest Forum also features a number of other authors and essays focused on making government work, including:
The edition of The Ripon Forum also includes a profile of Puerto Rico Congresswoman Jenniffer González-Colón, who not only discusses her work to help the island rebuild following two devastating hurricanes, but what will be needed to help the people she represents get back on their feet in the months and years ahead. "We need to ensure that both short term relief AND long-term rebuilding are addressed," she states.  "We must make sure the Congress and Administration focus on the real needs of 3.4 million American citizens."
According to Forum editor Lou Zickar, the work of individuals such as Cutts and Gonzalez-Colon is inspiring at a time when so much bad news seems to be emanating from Washington and public trust in government is at an all-time low. "Her story," Zickar writes of Gonzalez-Colon, "along with the story of Matt Cutts, is a reminder that there are good people serving in government today." Referring to the focus of the latest Forum, he added: "Making government work better for the American people is clearly not the most exciting topic. But amid all the distrust and sordid headlines, it's an important topic, and hopefully one that some people will find inspiring, as well."
The Ripon Forum is published six times a year by The Ripon Society, a public policy organization that was founded in 1962 and takes its name from the town where the Republican Party was born in 1854 – Ripon, Wisconsin. One of the main goals of The Ripon Society is to promote the ideas and principles that have made America great and contributed to the GOP's success. These ideas include keeping our nation secure, keeping taxes low and having a federal government that is smaller, smarter and more accountable to the people.
For more information on The Ripon Society, please visit www.riponsociety.org.