As He Prepares to Leave Office, Tiberi Looks Back on His Congressional Career
WASHINGTON, DC – As he prepares to retire from Congress after nearly nine terms on Capitol Hill, U.S. Rep. Pat Tiberi (OH-12) appeared before a breakfast meeting of The Ripon Society this past Thursday morning to reflect on his time in office, and discuss some of the accomplishments of his congressional career.
Tiberi serves as Chairman of The Ripon Society's Honorary Congressional Advisory Board.  Also joining Tiberi at the event, which was attended by a crowd of over 75 people, were several members of his staff.  The Ohio Republican began his remarks by recognizing them.
"I had a really great high school teacher," Tiberi recalled, "He once said to me, 'You are what you make of yourself as you go through life, based upon the people you keep as your friends, and the people who you keep close to you, and the people who you get to choose to work with you.'  I have been a better Congressman because of the people who work with me. So give them a round of applause."
The veteran lawmaker then went on to discuss his early years in office, and the politics of the swing districts like the ones, he pointed out, that both he and Pat Meehan represent.
"My first six years here were a blur," he stated, looking back on that time. "I did two things — I raised money, and I went home and did event after event after event. No event was too small. If there were going to be five people at the event, I was going to go to the event … That's what Pat Meehan does.  People don't realize the sacrifice and how challenging it is. I did that for my first three terms — no parade was too small, no event way too far away in the district. And I voted on things I probably shouldn't have voted on.  And yet I got reelected in a D+1 district.
"I remember right after the election I went to the Urban League for an event and this lady came up to me and said, 'Congratulations Congressman, I voted for you.' I said, 'Thank you ma'am, I really, really appreciate that.'  I go in this other room, and five more people said, 'I voted for you — you're doing a great job.' I looked at the returns in that particular precinct, and I got 8% of the vote, but I swear — everyone I talked to voted for me!  Here's the moral of the story — by just showing up and being sympathetic, I turned down the heat.  Maybe they all didn't vote for me.  But maybe they didn't vote for the other guy, either.  I always performed a little bit better than everyone else on the Republican ballot because I showed up, I listened, and I tried to help whether they voted for me or not."
Tiberi was first elected to the House in November 2000.  A member of the Ways & Means Committee and Chairman of the Subcommittee on Health, he has become known over the years as a common sense conservative who has worked for a smaller, less intrusive government, lower taxes, greater national security and a growing  economy that creates jobs.  He has also become known as someone who will work across the aisle to get things done.
Tiberi touched on the importance of this quality in his remarks, telling a story about the "P's Cactus," a prickly plant that is passed back and forth in the spirit of bipartisanship between Republicans and Democrats on the Ways & Means Committee, and is named after former Committee member, Ohio Democrat Donald Pease.
"It's a Ways & Means tradition that goes back to Don Pease," Tiberi said.  "Your name, first or last, has to start with a P.  It goes back and forth between Republicans and Democrats.  Earl Pomeroy gave it to me — I never even knew about it. Jake Pickle and Rob Portman are a few people who have had the P's Cactus.  It signifies bipartisanship.
"Earl and I went to war trying to improve our pension systems, which someday we are going to have to do. We have too many people whose heads are in the sand on our problems with pensions. So we sponsored a bill — got business and labor to agree. Unfortunately, Fox News and MSNBC didn't. And it was a brutal.  Anyhow, we formed a friendship. And before he left Congress, he gave me the cactus."
Now that he is about to leave Congress, Tiberi revealed, he passed the P's cactus back across the aisle this past week to another Ways & Means Democrat – his longtime friend, Bill Pascrell (NJ-8).
"We did a ceremony with Bill and me and Earl," Tiberi said, "I gave the cactus to Bill Pascrell with a little frame with Don Pease, Jake Pickle — I can't remember all the names — Rob Portman, Pomeroy, me, and now Bill Pascrell.  He was sincerely touched. He put it in the center of his office, and he was thrilled to death. Bill would take a bullet for me, and I would take a bullet for Bill. We don't agree on a whole lot of things, but when we do agree, it makes a difference. And there has got to be more of that here if we are going to change this process."
Following his remarks, Tiberi took a number of questions from those in attendance, including one about the accomplishment that he was most proud of during his congressional career.
"We can have enormous impact on regular people's lives who feel like nobody is in their corner and nobody is there to help them and that we only care about the wealthy," Tiberi said in response.  "It is not true. We do, and our staffs do, and we impact people's lives forever.  I used to have these baseball cards from a children's hospital in my office. This kid — his name was Pablo — his Mom and Dad were trying to adopt him from El Salvador.  This was like 15 years ago, and with our offices' help we finally did it.  This kid is in college now.  The Dad — who I didn't know — ended up being an editorial writer for one of my local papers and wrote an amazing editorial for me in a tough race in part because of the experience he had with me helping to adopt a child.  And now this kid is in college. Things like that — as Pat knows — are so doggone rewarding, not to all members, but to ones who have districts like Pat and I have. It is what puts you over the top. I could tell you about legislation, but at the end of the day the small little victories that are everything to local constituents are enormously important."
Following the questions, Meehan returned to the podium to present Tiberi with a small model of the U.S. Capitol in appreciation of his service to his district, the nation, and The Ripon Society over the years.
"The greatest experiment in the history of the world is democracy," Meehan stated, in presenting the model of the Capitol to Tiberi, "and the laboratory in which it takes place is right here in this building. Your mark is all over it to be sure. On behalf of The Ripon Society, I hope you find a prominent place that will remind you each and every day not that you were just a part of what it stands for, but what you did inside these walls.  It is a legacy that will be cherished by all of those who have had the chance to share it with you."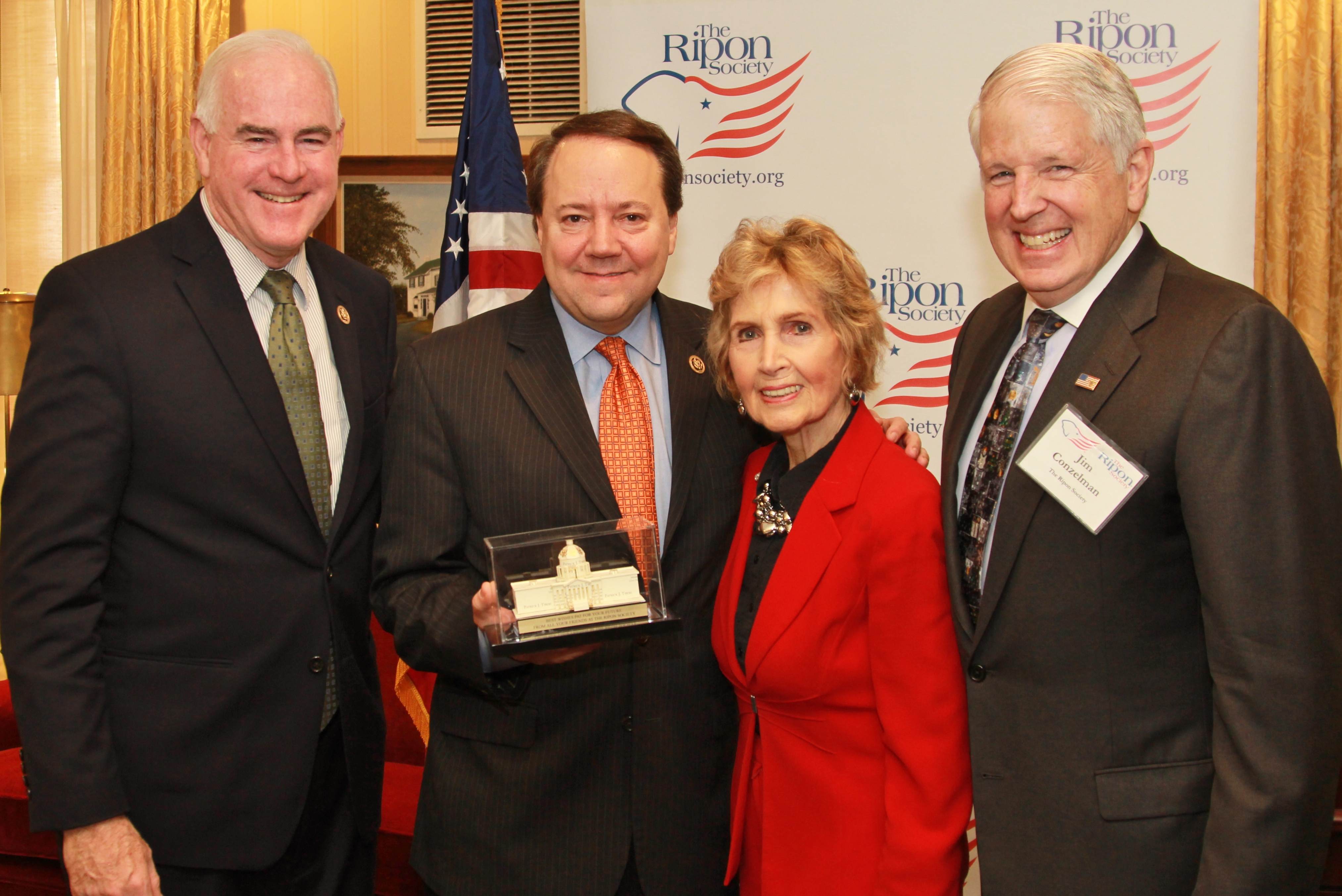 The Ripon Society is a public policy organization that was founded in 1962 and takes its name from the town where the Republican Party was born in 1854 – Ripon, Wisconsin. One of the main goals of The Ripon Society is to promote the ideas and principles that have made America great and contributed to the GOP's success. These ideas include keeping our nation secure, keeping taxes low and having a federal government that is smaller, smarter and more accountable to the people.