Gardner Calls on Congress & the President to Ramp Up Pressure on Kim Jong Un
WASHINGTON, DC – In a speech yesterday morning before a breakfast meeting of The Ripon Society, U.S. Sen. Cory Gardner (R-CO) urged Congress and the President to "ramp up the economic and diplomatic pressure on North Korea," saying that recent overtures by Kim Jong Un do not disguise the fact that North Korea not only remains a very dangerous country, but that the North Korean leader remains a very dangerous – and potentially unstable – man.
"Kim Jong Un is a very smart individual," Gardner stated.  "That doesn't rule out the fact that he may be crazy.  But he is a very smart individual. Just look at how he has played the Olympic Games in South Korea. They are going to be sending a delegation of 600 people marching under the unified flag with South Korea in the opening ceremony, walking out in that glorious moment for Kim Jong Un. The guy knows how to be a publicist for his country. A country that has put hundreds of thousands of its men, women, and children into political gulags, where they are tortured and starved.  A country that would rather spend money to develop a nuclear program to threaten the United States and our allies instead of feeding their own people. A country that welds radios to the single state station so that no one can get any other information."
"This is a very serious situation in North Korea because we have a person who knows exactly what he is doing.  He knows exactly how to twist the United States.  He knows exactly how to pin China and South Korea and the United States in a very, very challenging way. We have China looking at us saying, 'Okay, we kind of like the United States being busy with North Korea, because if the United States is busy with North Korea, then they can't be busy with the South China Sea.  They can't be worried about the 'One Belt, One Road' initiative.  They can't be worried about our expansionist policies and our predatory economics taking place in South East Asia.'  And so we are tied up into knots over North Korea, while China's power continues to rise."
Gardner serves as Chairman of the Senate Foreign Relations Subcommittee on East Asia, the Pacific, and International Cybersecurity. In the two years he has served in this role, he has become a leading voice in the effort to contain Kim Jong Un.  He has also authored several key pieces of legislation aimed at achieving that goal.
"When I first came into the Senate," the Colorado lawmaker observed, "North Korea was the eighth most sanctioned country by the United States around the globe — number eight. Last Congress, I led the passage of the North Korea Sanctions Policy and Enhancement Act that was approved unanimously by the Senate and signed into law. As a result of that action and as a result of additional action that the executive branch has taken, North Korea is now the fourth most sanctioned nation on earth. They are still not number one.  And I believe that they deserve to be number one. Let's do more.  Let's ramp up the economic and diplomatic pressure on North Korea to move them into a place where they feel the pressure. They are starting to feel the economic pressure that we have put on them and the diplomatic isolation. But more needs to be done — by China and by others."
To that end, Gardner noted that he traveled to the Philippines last summer to convince President Duterte to stop trading with the Kim regime.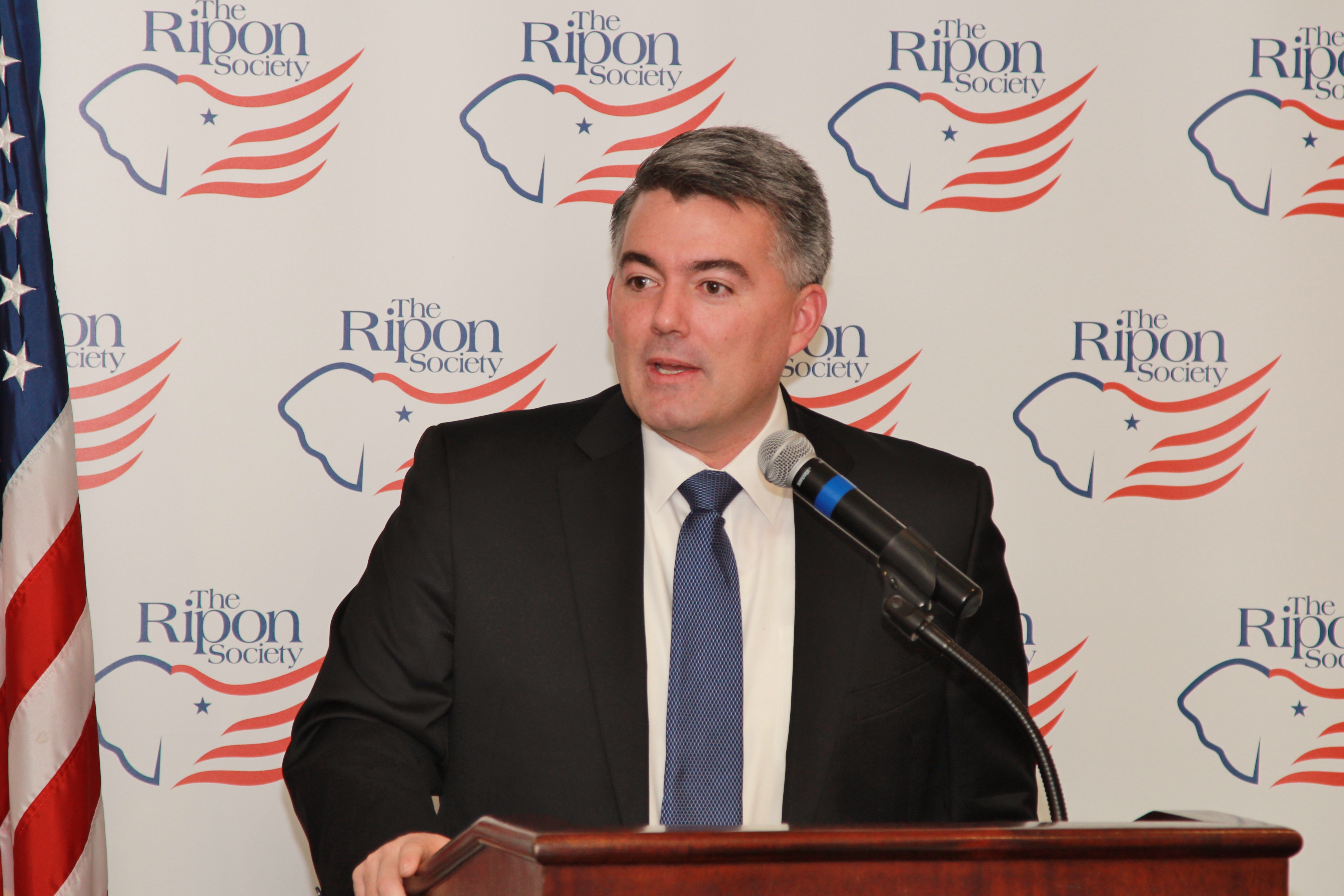 "I told him, 'You've got to stop trading with North Korea,' Gardner recounted. "They are one of North Korea's most significant trading partners. He told me they would.  And in August of last year, they announced that they would stop trading with North Korea. It is time that the United States starts moving away from paper diplomacy on North Korea and starts putting into place real restrictions, real enforcement, and real sanctions against nations who are violating these."
Gardner added that it was critical for the United States to keep up the pressure on China in this regard.
"There are over 5,000 businesses in China who do business each and every day with North Korea," he declared.  "Ten of them – ten companies in China — are responsible for 30% of the exports and imports with North Korea.  We named them in legislation that we introduced. As a result of that legislation, several of them contacted our office saying they would no longer do business with North Korea. Just the fact that we introduced a bill naming companies changed their entire behavior. We have to do more.  And before we start talking about bloody nose strikes or any other kind of military action, we have to use the full extent of the economic and diplomatic runway to shut this threat down and convince the world that a madman with a nuclear weapon is not in anyone's interest."
Following his remarks, Gardner was asked about the U.S.-China relationship, and how the U.S. can leverage this relationship to contain North Korea at a time when many Chinese may be concerned about American influence in Asia-Pacific affairs.
"We need to build a level of trust that does not exist between China and the United States right now as is relates to North Korea," Gardner stated bluntly. "We need to assure them that our interest is in securing a nuclear-free Korean Peninsula.  If that means Kim Jong Un stays in power, that means Kim Jong Un stays in power. As Admiral Harris, our commander in the Pacific, said, 'It is our intention to bring Kim Jong Un to his senses, not to his knees.'  What that means is that we want the complete verifiable, irreversible denuclearization of the North Korean regime. If we can accomplish that, we're happy. That is all we want."
The Ripon Society is a public policy organization that was founded in 1962 and takes its name from the town where the Republican Party was born in 1854 – Ripon, Wisconsin. One of the main goals of The Ripon Society is to promote the ideas and principles that have made America great and contributed to the GOP's success. These ideas include keeping our nation secure, keeping taxes low and having a federal government that is smaller, smarter and more accountable to the people.