Plus: an examination of Generation Z, and a "Red Ink Reality Check"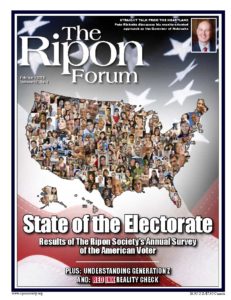 WASHINGTON, DC — The Ripon Forum kicks off its 52nd year of publication today with an examination of the American electorate as the country moves into 2018.
"A lot has changed since this journal first appeared," writes Forum editor Lou Zickar, in a note to introduce this latest edition.  "The nation is stronger and more prosperous, and the world as a whole is more peaceful and free.
"And yet those who lived through and remember the 1960s no doubt find the political environment of today to be somewhat familiar.  Institutions are under attack.  Authority figures are mistrusted.  And challenges are arising both at home and abroad that pose a clear and present threat to our security.
"Turbulence is certainly a watchword in Washington these days.  And chaos is a constant refrain among those in the media.  But the real question — and perhaps the most important consideration for both political parties as they look toward the mid-term elections later this year — is, "What do the American people think?"
"Are their lives getting better, or are things getting worse?  Do they think the bottom has fallen out here in our nation's capital as many would have us believe?  Or is this the change they were looking for when they went to the polls in 2016?  What do voters think of the tax plan that was signed into law in December?  And what other issues are they most concerned about as they prepare to head to the polls?"
To answer these and other questions, The Ripon Society asked veteran strategists David Winston and Myra Miller to survey the American voter as the country starts the new year.   The pair share their findings in "State of the Electorate," a report published in the latest edition of the centrist Republican journal. "Republicans face a challenging environment at the beginning of 2018," Winston and Miller write, "but they still have important opportunities before them to make their case to voters as the midterms draw closer."  Among the pair's findings:
Republicans have the clearest advantage on defense/terrorism issues (+16), followed by smaller leads on jobs (+5), the economy (+4), and taxes (+2).
Once voters hear some of the basic provisions of the tax plan that was signed into law, support increases significantly to 55-27 favor-oppose.
President Trump's overall approval stands at 41-53 approve-disapprove.  His economic job approval (45-43) is better, but his handling of foreign policy (34-54) is worse.
Voters see themselves as slightly closer to the ideology of Republicans in Congress than to that of Democrats in Congress.
Health care (50%) tops the list of cost of living expenses giving people the most difficulty, with taxes (29%), food costs (26%) and utility costs (21%) in an important second tier.
Almost a third of voters (30%) say their financial situation will not allow them to retire.
To that end, Winston and Miller conclude that voters are looking "to personal economic measures — like wages, income, and cost of living — when assessing how the economy is doing, rather than looking to less personal metrics like unemployment, interest rates, or the stock market. This is an especially salient fact for Republicans looking for ways to promote the success of the tax bill."
In addition to examining the state of the electorate, the latest Forum also looks at an increasingly influential part of it, Generation Z — that is, those Americans who were born after 1995 and now comprise 25% of the U.S. population. According to Keystone College Professor Jeffrey Brauer, the GOP has an opportunity to win their support because of their political leanings.  "78% of Generation Z identifies as liberal to moderate on social issues," Brauer writes, "and 83% identifies as moderate to conservative on fiscal issues."  These leanings indicate, Brauer notes, "that Generation Z has strong libertarian leanings, similar to what is found in more moderate Republican circles."
Also shining a light on these young Americans is author and media expert Jack Myers, who looks at something any newsmaker should be interested in — namely, how a generation born and raised in the digital age gets their news. Myers' answer is not a promising one for any elected official accustomed to 30 second soundbites on the evening news.  When asked to identify their two primary sources of news, "he writes of Gen Z, "the majority of this cohort name Instagram (29%), YouTube (22%), and Facebook (15%)."  Myers also offers up a cautionary note for those who embrace business as usual in this new political age.  "Gen Z has the strongest 'BS' filter of any generation," he writes.  "In other words, they can see right through the spin."
The Forum rounds out its coverage of Generation Z by going to the source, so to speak.  Kyle Chance, a senior at Miami University of Ohio and former intern at The Ripon Society, interviews six of his classmates — three Republicans and three Democrats — to find out firsthand, "What Generation Z Thinks of Washington."  Their words should be required reading for anyone who says younger Americans are out of touch and disengaged.
In addition to examining the American electorate and Generation Z, this edition of the Forum also features a "Red Ink Reality Check" by one of the leading voices for fiscal sanity in Washington, Maya MacGuineas, who provides an update on America's exploding national debt and explains why this crisis is only going to get worse.  In the Forum's regular debate feature, U.S. Rep. Tom Rooney (FL-17) squares off against government watchdog Tom Schatz in a discussion about lifting the ban on earmarks.
Bowling Green State University Professors Russell Mills and Nicole Kalaf-Hughes also share their own original research on the issue, while Miquel Howe of the Bush Institute shares his own take on the immigration issue and how the Army succeeds in "Creating One Out of Many."  Finally, in the latest Ripon Profile, Governor Pete Ricketts discusses his first job, his accomplishment so far as Nebraska's chief executive, and some of the challenges facing the people of his state.
The Ripon Forum is published six times a year by The Ripon Society, a public policy organization that was founded in 1962 and takes its name from the town where the Republican Party was born in 1854 – Ripon, Wisconsin. One of the main goals of The Ripon Society is to promote the ideas and principles that have made America great and contributed to the GOP's success. These ideas include keeping our nation secure, keeping taxes low and having a federal government that is smaller, smarter and more accountable to the people.