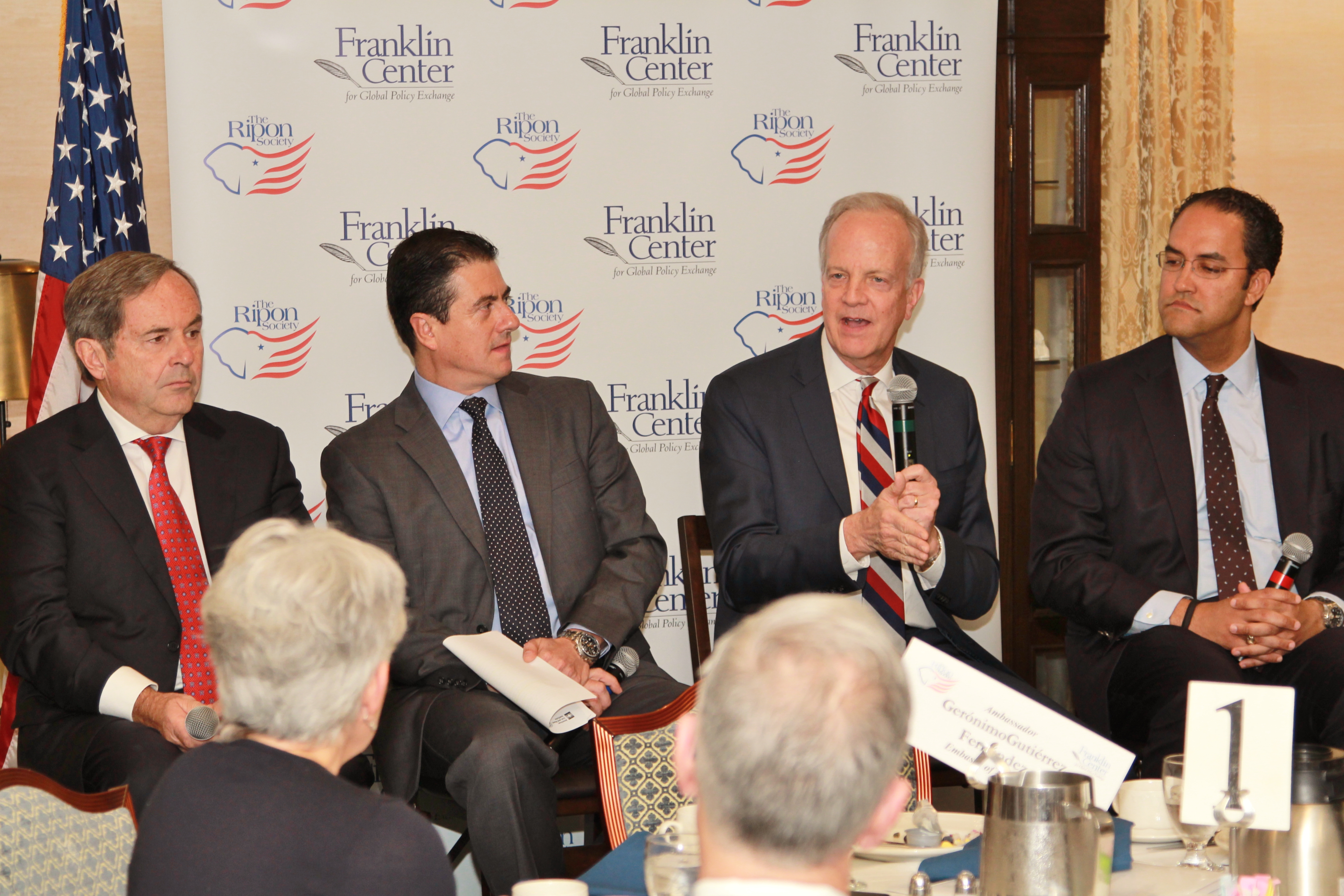 WASHINGTON, DC – With trade talks underway and the threat of tariffs on the table, The Ripon Society held a breakfast discussion yesterday morning focusing on the future of the North American Free Trade Agreement and the debate over modernizing the agreement in a way that keeps the economies of the U.S., Canada, and Mexico strong.
The discussion featured leaders in the trade debate from all three countries. The leaders included: David MacNaughton, who serves as Canada's Ambassador to the United States; Gerónimo Gutiérrez, who serves as Mexico's Ambassador to the United States; U.S. Senator Jerry Moran of Kansas; and, U.S. Representative Will Hurd, from the 23rd Congressional District of Texas.
Ambassador MacNaughton kicked off the discussion by talking about the need to modernize NAFTA, and how Canada is approaching the negotiations currently underway.
"There is no question that anything that is 25 years old in our economy needs an update," he stated. "We've also seen some areas where I think things could be improved on an ongoing basis — particularly with the economy changing as rapidly as it is today. Our goal entering into these negotiations was, first and foremost, to make North America more competitive on a global scale."
"A number of proposals have been put forth that we have resisted strenuously. Things like sunset clauses, whereby unless everyone agrees after five years the agreement goes away. We think that simply creates a climate of uncertainty. If you don't have dispute resolution mechanisms, then what's the point of an agreement? We think businesses need to feel as if they are going to be treated fairly wherever they are going to invest within our three countries."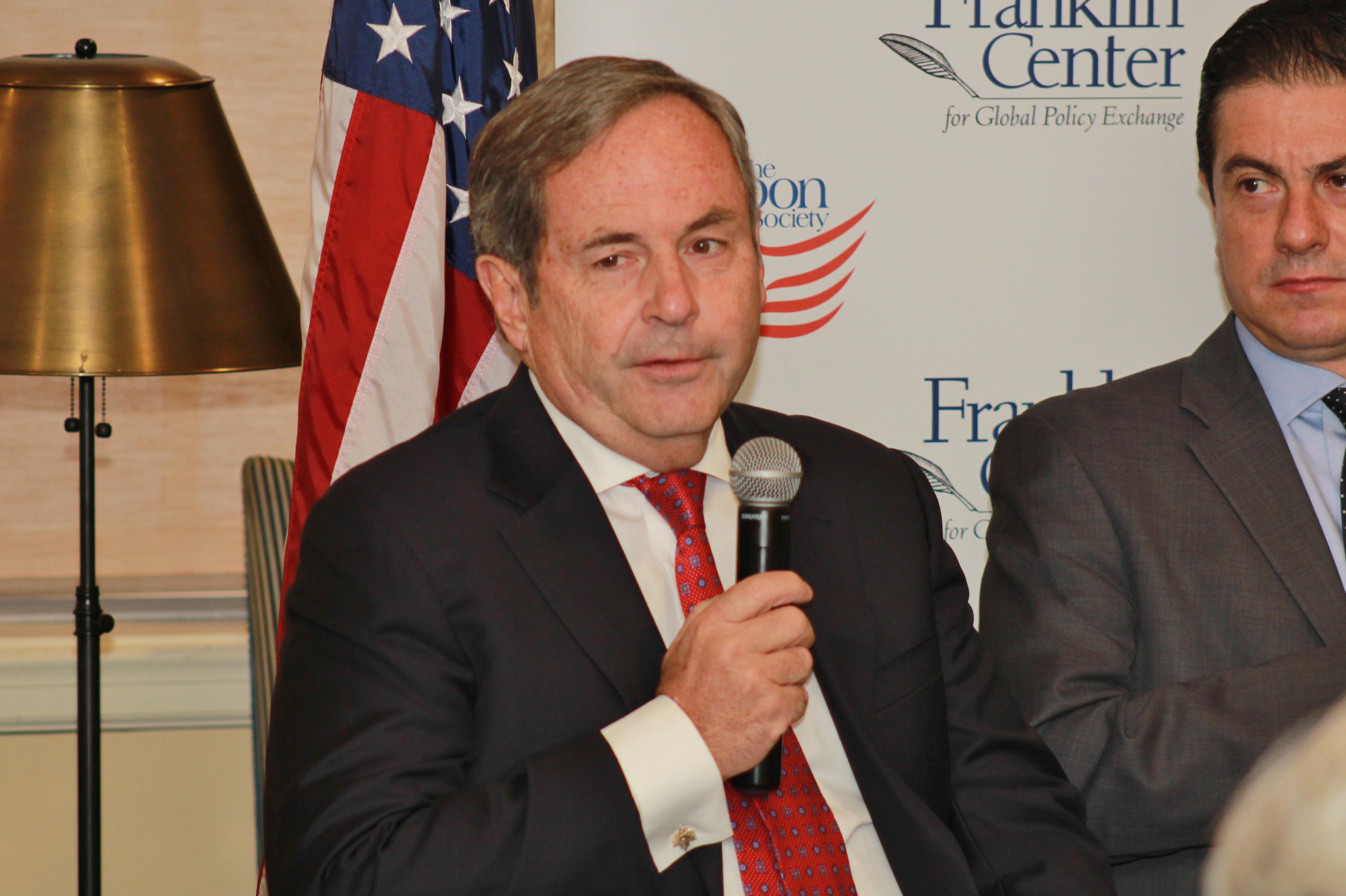 MacNaughton took over as Canada's Ambassador to the United States in March of 2016. He previously served in a number of high ranking jobs in both the public and private sector, including serving as the principal secretary to the Premier of Ontario from 2003 to 2005, and as Chairman of StrategyCorp from 2005 until his appointment to his current role as Canada's lead emissary in U.S. In his remarks, he spoke of how Canadians view the American people, and how this view has shaped their approach to trade negotiations over the past few months.
"There is no one in the world who wants America to be successful more than Canada," he stated. "We are not looking to try to enrich ourselves at the expense of the United States. We want you to succeed. But we want us to succeed, too, and we want Mexico to succeed. That's really the focus of what our whole negotiating position has been."
The Canadian Ambassador also shared his thoughts on the proposal to impose new Section 232 tariffs on U.S. imports of steel and aluminum and how the proposal may impact the North American Free Trade Agreement debate.
"It is not a good idea for anybody to try to link the steel and aluminum case to the NAFTA negotiation," MacNaughton declared. "That will not produce a better NAFTA climate. In fact, it has already created some stresses and strains on it. Since the Second World War, Canada has been seen and has been defined by statute as a part of the defense industrial base of the United States. You have almost a two billion dollar surplus on steel sold into Canada, as opposed to what we sell into the United States. You actually have a 41 billion dollar surplus on manufactured goods.
"We are members of NORAD and NATO, and we have fought together for over 100 years. My grandfather was an American. He grew up in California, and was one of 35,000 Americans who crossed the border into Canada to fight with Canadian troops in the First World War before America joined the war. Two thousand five hundred Americans died in the First World War fighting with Canadian troops before the U.S. got in. The notion that somehow or another that we are a security threat to the United States is absurd.
"So we will continue to try to press for an exception to these policies … what I don't want to see is a situation where we go down the path of actions that are not based on either fact or on law, and end up with people being put in a position where they have no choice but to retaliate. We don't want to go there. But having said that, if these actions take place and we are included in the 232, as our foreign minister said, we will have to take appropriate action.
"But I continue to be optimistic both in terms of NAFTA and in terms of finding a resolution on the 232 case simply because it is in America's interest. It is America's interest to maintain NAFTA and improve it. It is not in America's interests in defense or security to try to find ways to punish Canada, which is its largest trading partner."
Ambassador Gutiérrez shared Ambassador MacNaughton's optimism, and offered his own thoughts on the importance of NAFTA and where negotiations stand at this time.
"NAFTA was intended to increase our trade and investment flows and to create a rule-based system to govern our economics with nations," Gutiérrez stated, "and it has been extremely successful given those objectives. In fact, trade has grown three-fold among the three partners, investment flows exactly the same. In spite of what people think, our great investment relations go on — the vast majority of them — without any significant dispute. That has given certainty to investors and to the private sector of all three countries over the last 25 years. So it's been a success.
"Should and can it be improved? By all means – it's 25 years old. There has been a lot of disruption, to say the least, over these past 25 years. So it just makes good sense to review that agreement – to update it and modernize it — but certainly not discard it. President Trump urges all to think about that – and that is welcome. Let's review it. That is the focus of negotiations that are presently being undertaken by the three governments."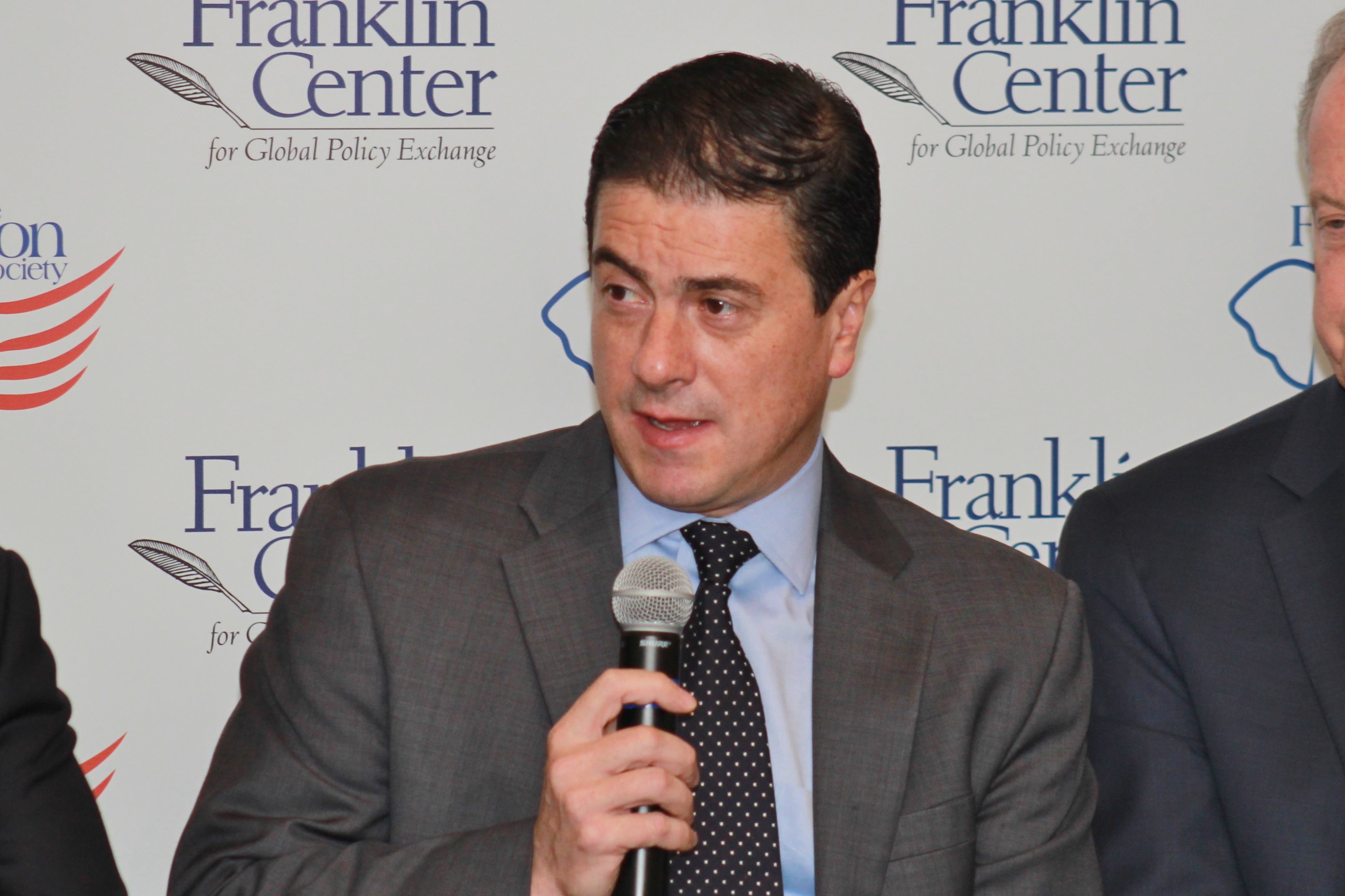 Gutiérrez was appointed Mexico's Ambassador to the United States in January of last year. He previously served as General Director of the Development Bank of North America based in San Antonio, where he focused on infrastructure and financing on the U.S.-Mexico border. He has served in a number of prominent roles in the Mexican federal government, and held prominent positions in four administrations. In his remarks, he spoke about the impact that NAFTA has had on the U.S., Mexican and Canadian economies, and how it has created a new series of inter-connected supply chains that has helped boost competitiveness on all three sides.
"The agreement is not only about trade," the Ambassador said. "It is about producing together. Over these last 25 years, a series of supply chains in very different sectors have been created. And those supply chains are precisely what allows us to be competitive in the context of increased competition. We might not like that, but that is the truth. In a sense, we fail or we succeed together, precisely because of those supply chains. Are there industry sectors, firms, people, that are hurting because of trade? Yes, and the same has happened in Canada and Mexico. The question is, how will we get those sectors, how will we get those people and those firms into the benefits of this trade agreement? And that I think is a policy question and a policy challenge.
"But not closing ourselves to work has certainly been beneficial. The usual figure that is quoted is that about 40 million jobs in the United States are directly linked to NAFTA … The same thing in Mexico. A lot of our jobs are also related to the trade and the investment from the United States. So again, we fail or we succeed together."
Ambassador Gutiérrez also briefly discussed the proposal to impose new tariffs on U.S. imports of steel and aluminum and how it may impact NAFTA renegotiations.
"We do believe," he stated, "and we have talked to the Administration, that our country — as a NAFTA partner and for many other good reasons — should be excluded. This comes at a difficult time because it does limit our ability to reach a compromise as we move forward in the NAFTA renegotiation. I still remain optimistic that we will get a deal. It is not going to be perfect. Probably neither one of our sides is going to be fully satisfied. That is usually the way things get done. But in the end, it will give us a tremendous economic boost and will continue to strengthen our relationship."
Referring to a June 2017 press release about the steel industry, Gutiérrez also cited numerous ways that NAFTA has benefitted that particular sector of the economy.
"Since NAFTA entered into force," he said, "trade in steel products between NAFTA countries has increased by 117 percent — more than double. Indeed today, the vast majority of North American steel exports are made within the region. 97 percent of Canadian steel exports are to the United States and Mexico. 90 percent of U.S. steel exports are to Canada and Mexico. And 76 percent of Mexican steel exports are to Canada and the United States. Combined, 88 percent of all North American steel exports are within the region. Making tariff-free trade within North America is critical to the industry's success."
Moran spoke about the importance of trade to the economy of Kansas, and why NAFTA is so important to creating jobs in his state.
"Mexico and Canada alternate in our state as to being the number one market for agricultural products," the veteran lawmaker stated, "so they are important customers of ours. But it's not just agriculture that matters. We manufacture lots of airplanes in our state, and the supply chain is important. We manufacture a lot of automobiles in our state, and the supply chain is important. And the export of those manufactured goods to Mexico and to Canada and to the globe is also important."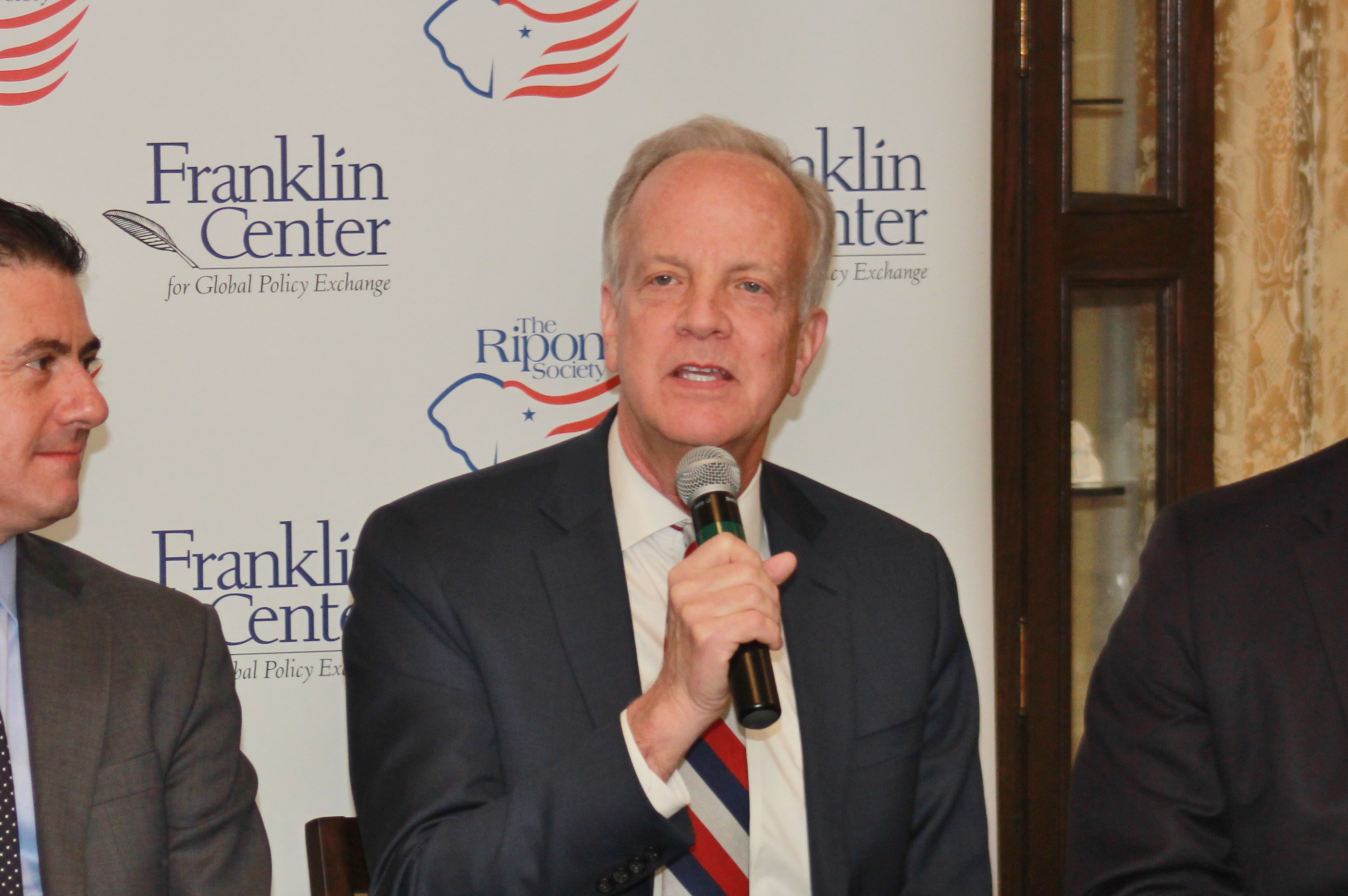 Moran was elected to the Senate in 2010 after serving seven terms in the U.S. House and eight years in the Kansas State Senate, the last two of which were spent as Majority Leader. In his remarks, he spoke about the state of NAFTA renegotiations, and some of the goals he would like to see achieved.
"The end result has to be a product in which all three countries are beneficiaries," he said. "Just common sense tells me that you cannot negotiate an agreement in which only one of the parties benefits. And so our approach has to be seeing how all three of us — Mexico, Canada, and the United States — benefit from a modernized, updated, new version of this NAFTA agreement. Withdrawal from NAFTA and even the threat of withdrawal from NAFTA — while perhaps a negotiating tactic — is not going to be a risk that we as a state and as a country who earn their living in exports think is worthwhile to take. Even the suggestion of withdrawal from NAFTA — which may be thought of to be leverage — has the risk of having Canada and Mexico find other suppliers for the things they currently purchase from the United States."
Moran was also critical of the idea that the U.S. would terminate a new agreement every five years and open it for renegotiation.
"I'm not certain that we want a circumstance where we are revisiting this on such a periodic basis," he said. "The politics of trade agreements is not that easy. For us to find the votes to pass a trade agreement on a regular ongoing basis would be a tremendous challenge because, as the Ambassador indicated, sectors of the economy, individual workers, and individual factories are impacted differently by every trade agreement."
The Kansas Senator closed by talking about the tax reform plan that Congress approved in December, and why the benefits of the bill will be directly connected to the benefits of trade in the months and years ahead.
"You can send a message to Kansans that we are reducing your tax rates," Moran declared. "But if you take away our ability to export wheat, cattle, corn, airplanes, and automobiles, then those tax rates become significantly irrelevant, because this is how we earn a living. We need to recognize that tax rates only matter when there is high income for which those tax rates can apply. And we earn a living in this country and we earn a living certainly in my state by what we sell to countries and customers around the globe."
Hurd echoed Moran's remarks.
"We have to continue to make the case for the importance of free trade, for the importance of NAFTA, and how it improves North American competitiveness," the Texas Congressman stated. "We have to continue to talk about how in 24 years, our three economies have grown 300 percent and how we actually build things together. We can't stop building that message, and it's all of our responsibility to do that."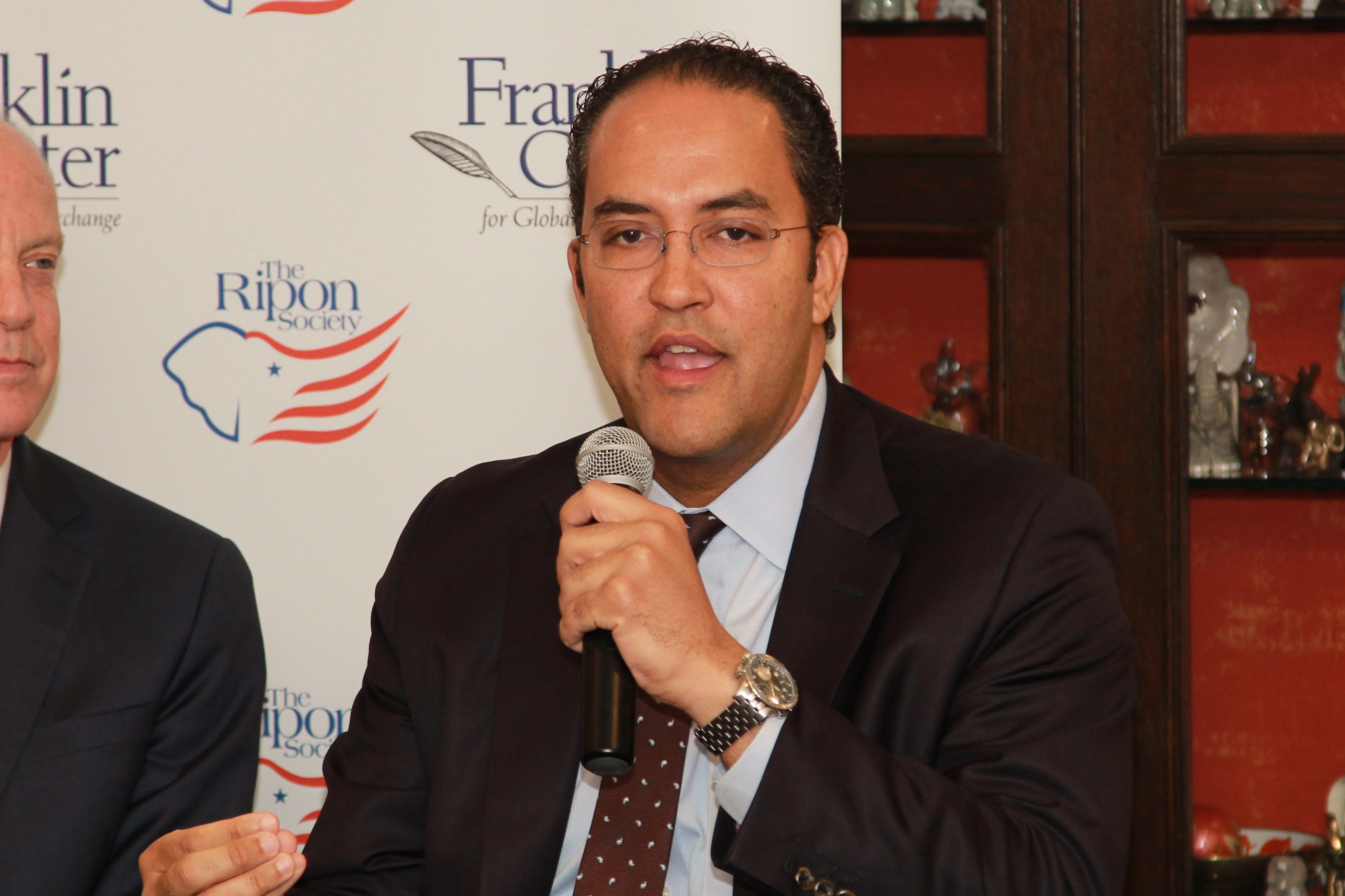 Hurd was elected to the House in 2014 after spending nearly a decade as an operations officer with the CIA. Viewed as one of Congress's rising stars in the area of national security, he is also a leading voice among those who believe that trade helps keep the world more secure. Hurd traveled to Canada and Mexico for the most recent rounds of NAFTA negotiations, and spoke about what he saw in his remarks.
"I was in Montreal for the second to last round and I just got back from Mexico City from this last round," he recounted. "Reading all the articles about the negotiation, you would have thought that everybody's pencils were down and nothing had happened. But talking to all three negotiators, they all have said that this was by far the most work that had been accomplished in all the rounds. Conversations around the tricky issues were beginning and everyone expressed hope that we can get this done when the negotiations come back here to Washington, DC.
"If the four of us closed the door and got a big napkin, we could solve this deal. I think the problem that is getting in the way is that the folks in the White House have their vote count wrong. The hardest parliament to pass this in once the three negotiators get this done is going to be us — the Congress, 218 and 60. And I think the White House's opinion of where they're going to get the votes is completely flawed and completely wrong. And that's why it takes members of Congress in both houses to articulate where those votes are going to come from."
Hurd concluded his remarks by reiterating the benefits of the North American Free Trade Agreement to the people he represents, and why it is so important for the Administration to recognize that Mexico and Canada are our allies and it is time for the ongoing negotiations to be resolved.
"Prior to NAFTA, there were only two Toyota plants in the United States of America," Hurd said. "Since NAFTA, there are 10, with an 11th on the way. That has transformed south San Antonio where I represent. And so we have to get that right. We've got to make sure that we are actually bringing jobs to the U.S. and strengthening our economy.
"I will end with this, on 232 and aluminum and steel tariffs. You don't fight with your allies — you fight with your adversaries. And if we have a problem with China, let's address the problem with China. I get that throwing out crazy ideas is a negotiating tactic, and it may work in an individual negotiation. But that kind of behavior erodes trust when you have allies that you have to work with on many other issues for a long time. I think it is misguided. It is ultimately going to hurt the U.S. consumer, and it is going to ultimately hurt our economy at a time when we just supercharged it because of tax reform."
To view the remarks of Ambassador MacNaughton, Ambassador Gutiérrez, Senator Moran, and Representative Hurd before The Ripon Society breakfast discussion yesterday morning, please click on the link below:
The Ripon Society is a public policy organization that was founded in 1962 and takes its name from the town where the Republican Party was born in 1854 – Ripon, Wisconsin. One of the main goals of The Ripon Society is to promote the ideas and principles that have made America great and contributed to the GOP's success. These ideas include keeping our nation secure, keeping taxes low and having a federal government that is smaller, smarter and more accountable to the people.