Latta, Lance & Bucshon Discuss Congressional Approach to the Internet of Things
WASHINGTON, DC – With Forbes Magazine reporting that the "Internet of Things" will have grown from $157 billion in 2016 to $457 billion in 2020, The Ripon Society held a breakfast discussion yesterday to examine not only how this growth will impact the American people, but how Congress plans to approach a world filled with interconnected devices and machines.
Leading the discussion were three members of the Energy & Commerce Subcommittee on Digital Commerce & Consumer Protection, which has jurisdiction over the Internet of Things, or IoT for short.  The members included:  Congressman Larry Bucshon, who represents the 8th District of Indiana; Congressman Leonard Lance, who represents the 7th District of New Jersey; and, Congressman Bob Latta, who represents the 5th District of Ohio.
Latta serves as Chairman of the Subcommittee and is also one of the co-founders of the Internet of Things Working Group.  He kicked off the discussion by talking about his own experience on the issue, and the series of meetings he recently held with innovators who are at the forefront of building the IoT.
"We heard from folks from the West Coast in Silicon Valley, to the East Coast, to the Midwest," the Ohio lawmaker recounted.  "Everybody agreed on one thing – that we have 'soft touch' regulations so they can be out there innovating.  If all of a sudden you have the federal government coming in and saying, 'We are going to tell you what you are going to have', that's not going to work."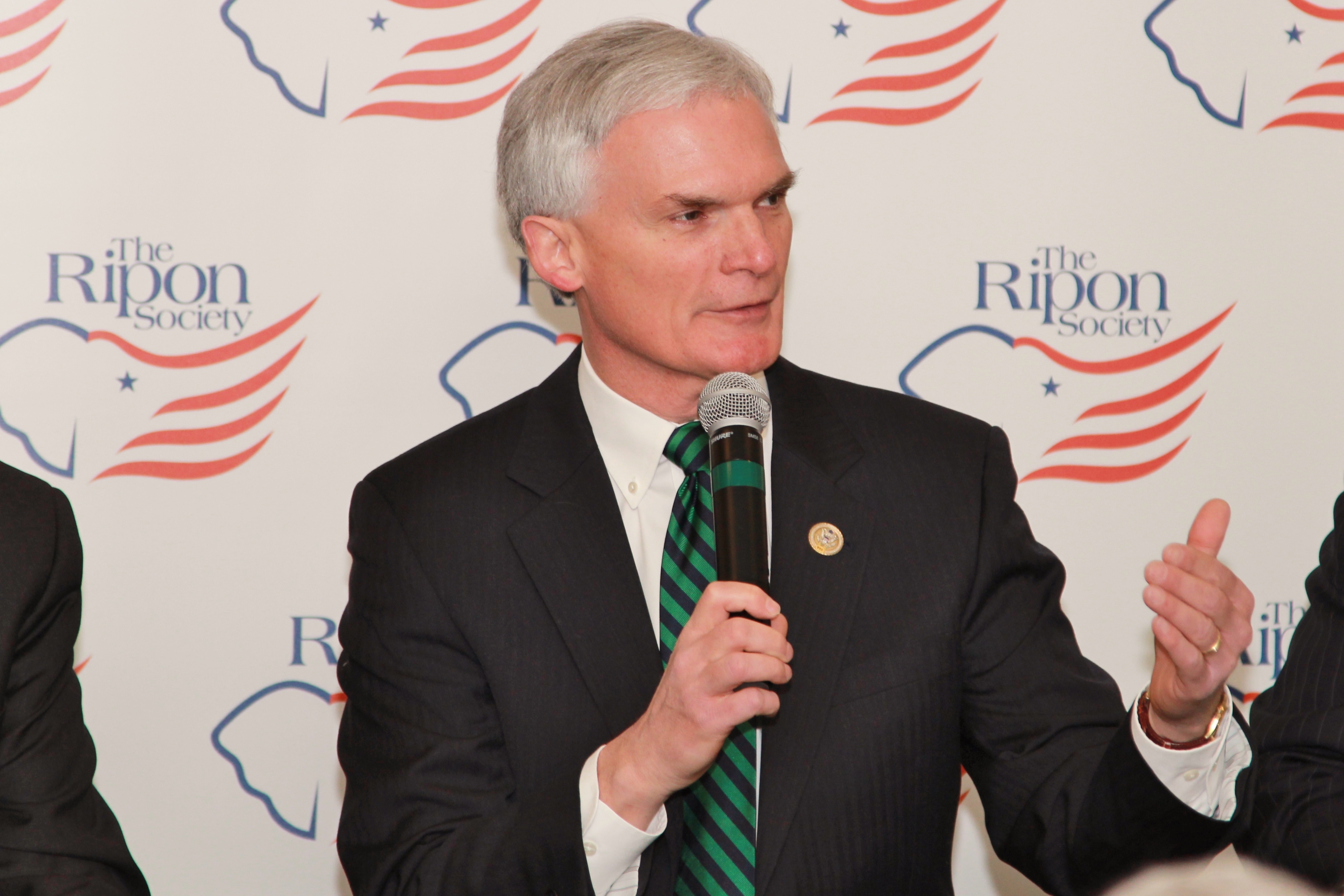 Latta was elected to Congress in 2007.  He is the author of the SELF-DRIVE Act (H.R. 3388), which was approved last year by a voice vote in the House.  The bill clarifies the federal and state roles for regulating self-driving cars in order to encourage testing, development,  and deployment of autonomous vehicles. It also includes important safety provisions, directs NHTSA to develop a rulemaking plan for autonomous vehicles, and requires manufacturers to develop a written cybersecurity plan for automated driving systems.
Latta talked about this legislation in the context of the Internet of Things, saying it was the kind of legislation that is needed in these changing — and hazardous — times.
"Traffic deaths are going up in this country," he said, "Thirty seven thousand were killed last year.  We had six million traffic accidents — two million with people being injured.  At the same time, 94% of the accidents were caused by driver error."
Lance agreed, and shared his own thoughts on one of the reasons that traffic accidents has been on the rise in recent years.
"The increase in traffic accidents is probably due to the fact that people are now engaged in the internet while they are driving," the New Jersey lawmaker stated bluntly.  "With each advance comes a step, perhaps in the other direction.  And I would imagine that driverless automobiles may to some extent mitigate against the relatively dramatic increase we have seen in traffic accidents."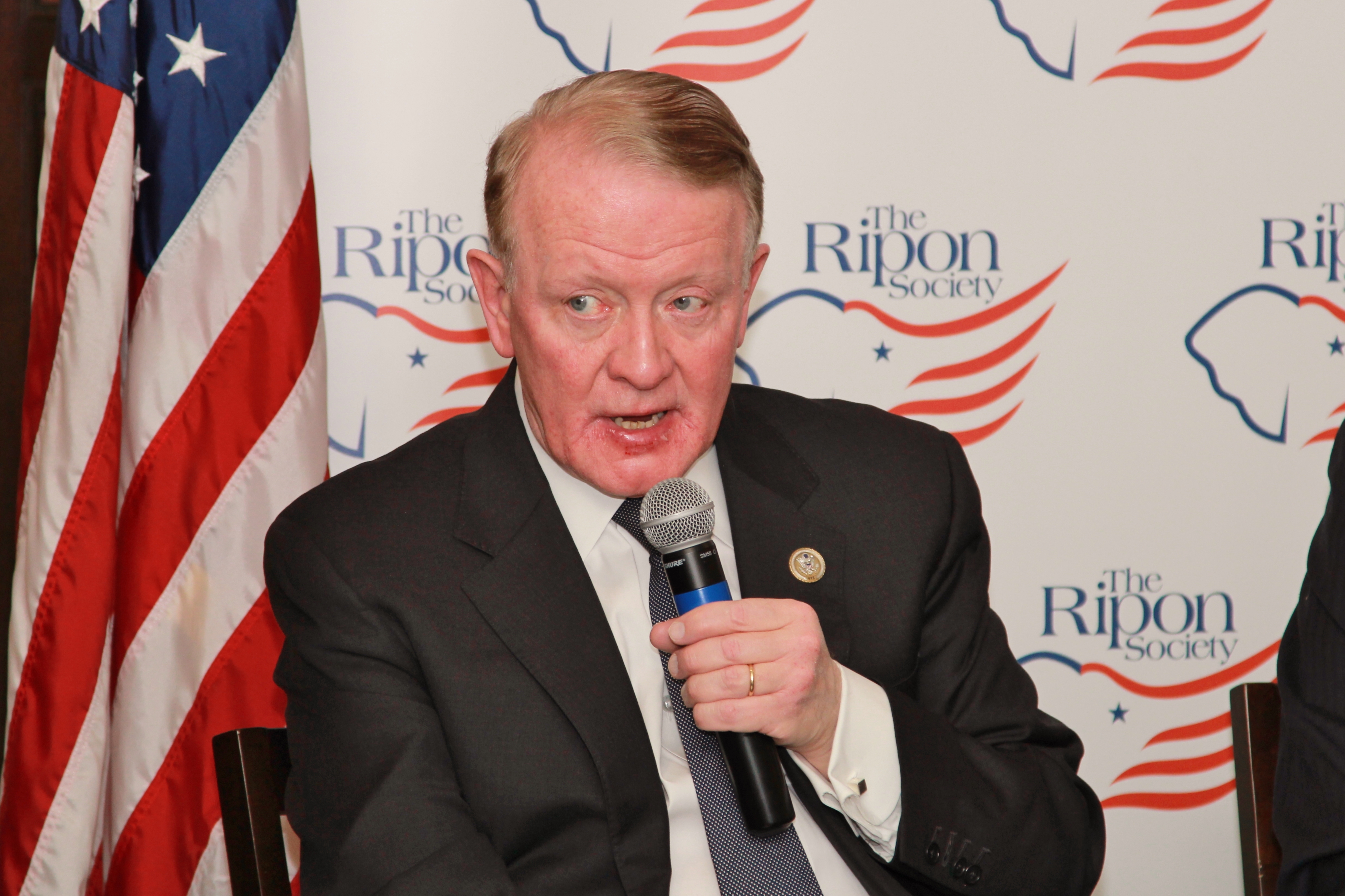 Lance was elected to Congress in 2008.  He is the author of legislation (H.Res. 195) that calls on the United States to develop a national strategy with regard to the Internet of Things.  He is also the author of a bill, called the AIRWAVES Act (H.R. 4953),  which would bring 5G wireless service closer to reality and help close the digital divide.
In talking about these measures, Lance echoed the approach that Latta had previously described.
"We obviously believe in a light touch on these issues," the New Jersey lawmaker said.  "That is not necessarily the view of the other side of the aisle. If the other side of the aisle were to be in control of either house of the federal Congress, I think there would be much heavier regulation in all of these areas, and I do not think that is desirable.  We have been the leader across the globe because of a light touch, and I want to make sure that continues."
In his remarks, Bucshon – who spent over 15 years as a heart surgeon before his election to Congress in 2010 — pointed to his own background in health care as an area where the Internet of Things could make a real difference in people's lives.
"Getting medical records more portable and patients transferring their own information and data is really important," he stated.  "Integrating medical devices and other health care monitoring devices — I have a Fitbit on.  There has been a dramatic expansion of what we can monitor — including diabetic monitoring and how much blood your heart is putting out — so your doctor can literally manage things on a moment to moment basis."
"I think we are really on the tip of the iceberg here.  And I agree with both of my colleagues that, whatever we do, we want to make sure that we don't stymie innovation — that we don't hold entrepreneurs back from developing things that could make people's lives better."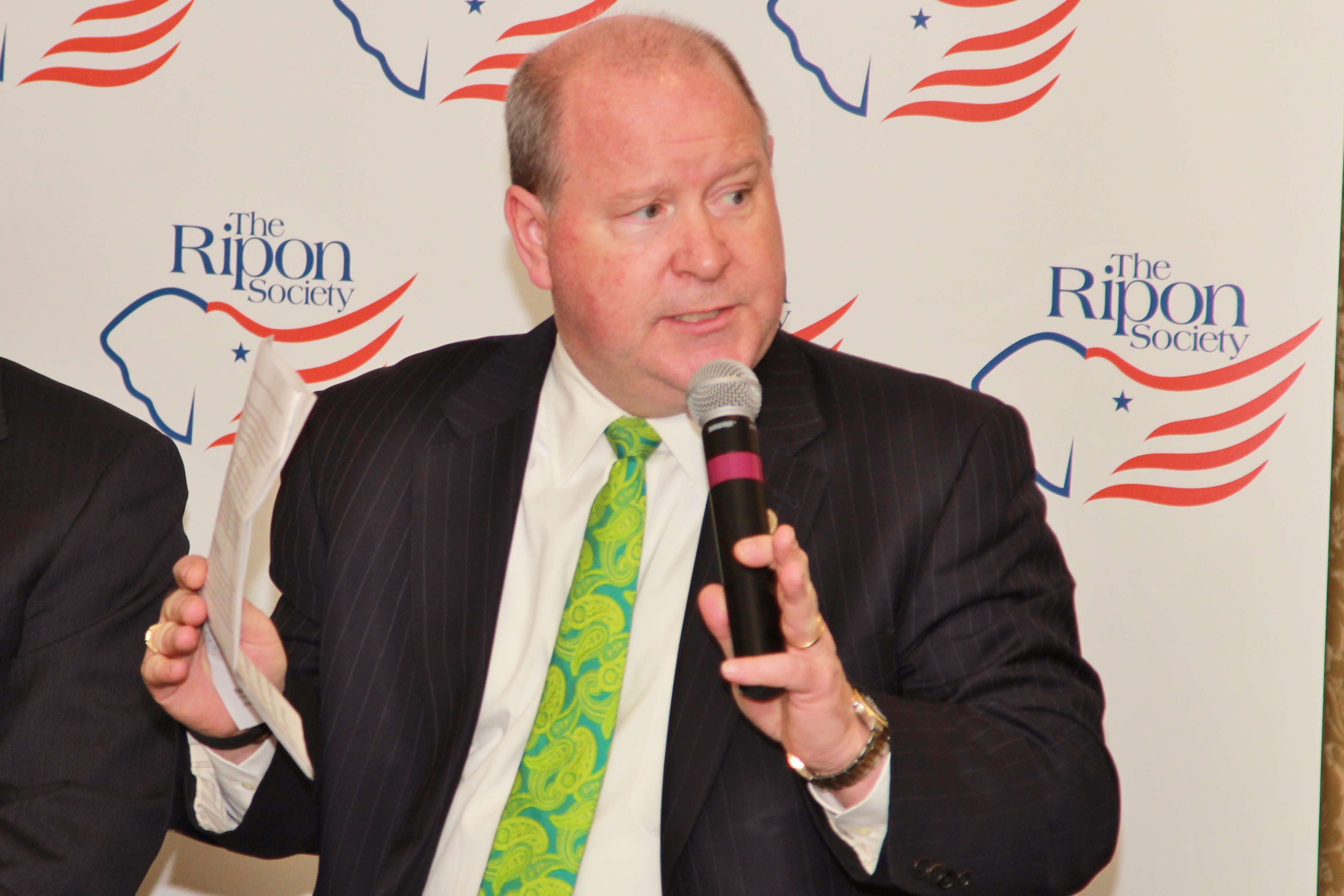 Following their remarks, the three lawmakers took a number of questions, including one about rural communities and what Congress could do to make sure they benefit from the Internet of Things.
Lance spoke first, and said one of the first things that Congress could do is pass his AIRWAVES legislation.
"Ten percent of the proceeds to the auctions require that wireless be deployed in underserved areas," he noted, adding that the measure also "requires the FCC to study the impact of unlicensed spectrum on rural healthcare, education, agriculture, and broadband access. That comes from a sponsor from the most densely populated state in the union — New Jersey."
Latta also mentioned his home state in his response, making reference to the parts of Ohio that are "unserved" and how lives and businesses are impacted as a result.
"Across the state of Ohio," he said, "there are a lot of areas that don't have internet. It affects not only the farming side, but it affects people who want to have any other type of business.  So you see people say, 'You know what, I can't have my business where I want it.  I am going to have to move someplace else.'   We have a lot of areas that are not underserved, but are unserved areas. Those are the areas that we really have to look at.
"I was told the other day about some kids in North Dakota who actually go to McDonalds in Canada because they can't get wireless at home.  They are actually crossing the border to do their homework. They shouldn't have to do that.   We've got to get this developed and out into the areas that don't have it, because if we want to see everyone succeed, this is how it is going to happen."
Bucshon concurred.
"I see it almost as getting electricity to the farm 100 years ago," the Indiana Republican stated.  "Getting the telephone out to the farm and all the communities whenever that was — 80 or 100 years ago. At the end of the day, from a business perspective, if you look at the cost of getting rural broadband in any significant way at the last mile or two from wherever the loop of connectivity is, that is were a lot of the expense is.  So I think we have got to work with the private sector, but we are going to have to find — I think, personally, and this may not be popular with most Republicans — but we are going to have to find federal resources to help make that happen.  I just don't see it any other way."
The three lawmakers were also asked their thoughts on sectors and areas that would see the most innovation over the next five to ten years.
Bucshon replied first.
"I focus on healthcare," the doctor stated.  "I think the ability to assess people's ongoing well-being — whether that is your blood sugar level if you're a diabetic, whether that is your heart rate if you have an arrhythmia problem, whether that is how much blood your heart is putting out if you have congestive heart failure — and have that monitored on a more consistent basis where physicians and other health care providers can interact and get ahead of an impending health care crisis that might make you end up in the hospital which costs a lot of money, I see in the health care space just an infinite opportunity for us to innovate, advance, and make people's lives better."
Latta pointed to autonomous vehicles, and shared his own experience cruising down the highway in the front seat of a driverless car.
"We are driving along going 50 plus," he recounted.  "A car is coming down the ramp, and there is another car in the lane next to us.  We couldn't get over, so the car just slowed down and let that car in.  The next ramp we came up to, there was not a car in the other lane, so we moved over.  And traffic keeps moving.  When you think about all the things that this can do, you are talking about a $950 billion industry in the United States today, and tens of thousands of jobs."
For Lance, the answer is less apparent.
"My answer is I don't know," the New Jersey lawmaker honestly replied.  "This has been true of innovation for the last quarter of a century. Who would have thought 25 years ago we would be where we are now?  I have no idea where we will be 10 years from now, let alone 25 years from now. I think health care is important.  My own view is that higher education will be revolutionized given its tremendous cost.  I don't think that is at the forefront of the discussion at the moment, but I think it is likely to become so. My real answer, though, is that I do not know because of the innovative mind of the American people — the genius of the American people.  But I am confident that it is our responsibility working together to make sure that the United States is at the forefront of all of this."
To view the remarks of Latta, Lance and Bucshon before The Ripon Society breakfast discussion yesterday morning, please click on the link below:
The Ripon Society is a public policy organization that was founded in 1962 and takes its name from the town where the Republican Party was born in 1854 – Ripon, Wisconsin. One of the main goals of The Ripon Society is to promote the ideas and principles that have made America great and contributed to the GOP's success. These ideas include keeping our nation secure, keeping taxes low and having a federal government that is smaller, smarter and more accountable to the people.