Ripon Forum Shines a Light on Tim Scott's Plan to Boost Distressed Communities
Plus: Bob Woodson writes about the unfinished agenda on welfare reform, and David Perdue explains why the greatest threat to global security is our national debt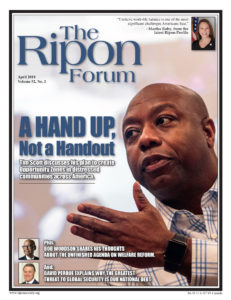 WASHINGTON, DC — As Republicans look for ways to lift people out of poverty 22 years after the last major welfare reform bill was approved, The Ripon Forum looks at a recently enacted proposal that is intended to help achieve that goal.
The proposal was authored by U.S. Senator Tim Scott of South Carolina.  Called the Investing in Opportunity Act and approved as part of the tax reform bill that was signed into law this past December, the plan would create "Opportunity Zones" to spur private sector investment in distressed communities across America.
"Instead of utilizing a 'band-aid method' or temporary fix," Scott writes in the cover story for the Forum, "this piece of legislation aims to lift up entire neighborhoods by attracting private investment to areas most in need. With about $2.3 trillion of capital gains sitting on the sidelines, investors can now take advantage of a tax incentive through the IIOA if they elect to invest resources in designated distressed communities.  To put it another way, if an individual or business sells an asset for a gain, they are required to pay the federal government a capital gains tax. Under the IIOA, that tax can be deferred up to ten years if the capital gains are invested in an approved 'Opportunity Zone.'"
Scott noted that he has kicked off an "Opportunity Tour" in his home state and in Florida with fellow Senator Marco Rubio to talk about this plan and other ways to help those who are struggling to get ahead.  He further noted that his passion for tackling poverty was inspired not only by his own experience growing up poor, but by the work of inspirational individuals like the late Jack Kemp.  "Jack understood the importance of creating access to opportunity and how the strength of our nation lies in the collective strength of our people," Scott writes.
One of Kemp's advisors was Robert Woodson, Sr.  A longtime leader in the fight against poverty who more recently has advised House Speaker Paul Ryan on the issue, Woodson has also authored an essay for this latest edition of the Forum.  The essay is called "The Unfinished Agenda."  In it, Woodson argues that to fight poverty effectively, Congress and the President must move beyond the failed model of the current welfare system. "In addressing the plight of Americans trapped in intergenerational dependency," Woodson writes, "neither side explores solutions that go beyond tinkering with the existing 80-plus anti-poverty programs … Unfortunately, there is no magic policy lever we can pull to eradicate poverty.  However, there are effective community-based models that are successfully solving some of our nation's most intractable problems."
One state where reforms to the welfare system are being put in place is Wisconsin, where the legislature recently approved a package of nine bills backed by Governor Scott Walker.  Brett Healy, the President of the MacIver Institute in Madison, writes about this package, and discusses whether it could serve as an example to other states.
Given the opioid crisis raging across the nation, it is difficult to talk about welfare in America without also talking about the youngest victims of the opioid crisis — namely, the children who have been taken away from their parents and are now in foster care.  Dr. Nancy Young examines their plight — and the burden it is placing on our system — in this edition.
A serious crisis of a completely different nature is America's exploding national debt.  Former businessman and current U.S. Senator David Perdue of Georgia examines the growth of the debt in an essay, and why he believes it represents a threat to security around the globe.
A more uplifting success story can be found in Oklahoma City, where unemployment is down and economic growth is up.  Both may be related to a healthy lifestyle campaign launched by former Mayor Mick Cornett, who writes about the campaign in this edition.
In another essay, former Congressional aide and veteran political strategist John Feehery examines political dysfunction on Capitol Hill which, he contends, has a lot to do with "the miserable conditions that many Members of Congress work under."   In his piece, Feehery also puts forward, "Five Ideas to Make Congress Work."
In the Forum's latest debate feature, Samuel Hammond of the Niskanen Center and Aaron Renn of the Manhattan Institute square off about the costs — and benefits — of providing Americans with a Universal Basic Income.
And in the latest Ripon Profile, U.S. Rep. Martha Roby (AL-2) talks, among other things, about her role as a working Mom and her responsibilities as a member of the Defense Appropriations Subcommittee.
The Ripon Forum is published six times a year by The Ripon Society, a public policy organization that was founded in 1962 and takes its name from the town where the Republican Party was born in 1854 – Ripon, Wisconsin. One of the main goals of The Ripon Society is to promote the ideas and principles that have made America great and contributed to the GOP's success. These ideas include keeping our nation secure, keeping taxes low and having a federal government that is smaller, smarter and more accountable to the people.