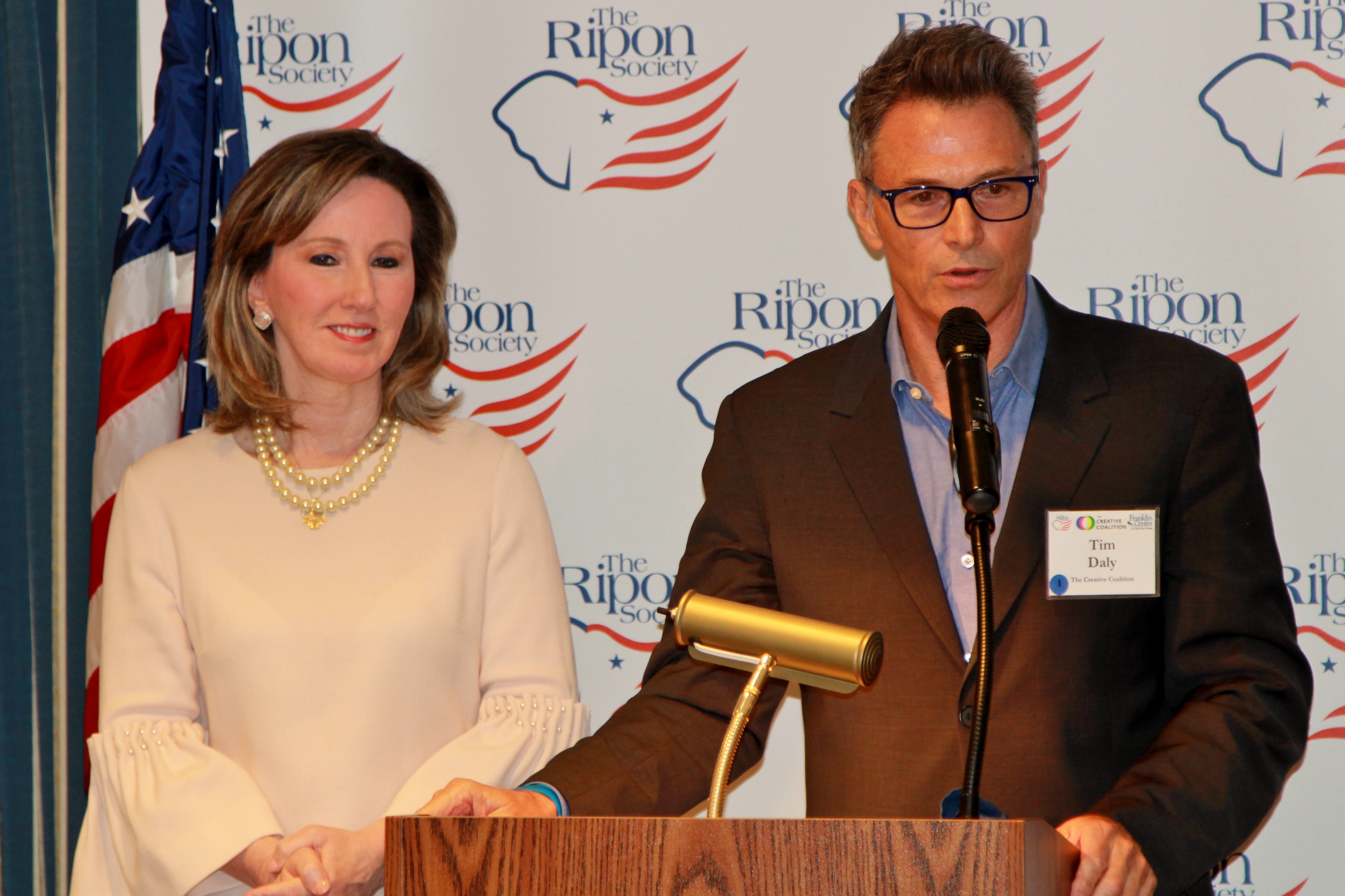 WASHINGTON, DC – U.S. Rep. Barbara Comstock (VA-10) and actor Tim Daly appeared before a luncheon meeting of The Ripon Society on April 27th to discuss the importance of the arts in America and role of the federal government in that regard.
Comstock is a member of the Congressional Arts Caucus, while Daly serves as President of the Creative Coalition.  They were joined by 11 other actors and Creative Coalition members, including: Shiri Appleby, Richard Schiff, Sean Giambrone, Victoria Justice, Sara Rue, Nicholas Gonzalez, Karamo Brown, Mädchen Amick, Anthony Carrigan, Steve Howey, and Richard Kind.
Comstock kicked off the discussion by recalling her efforts to establish an Arts Caucus in the Virginia General Assembly, and why the arts are important to her family and the area she represents.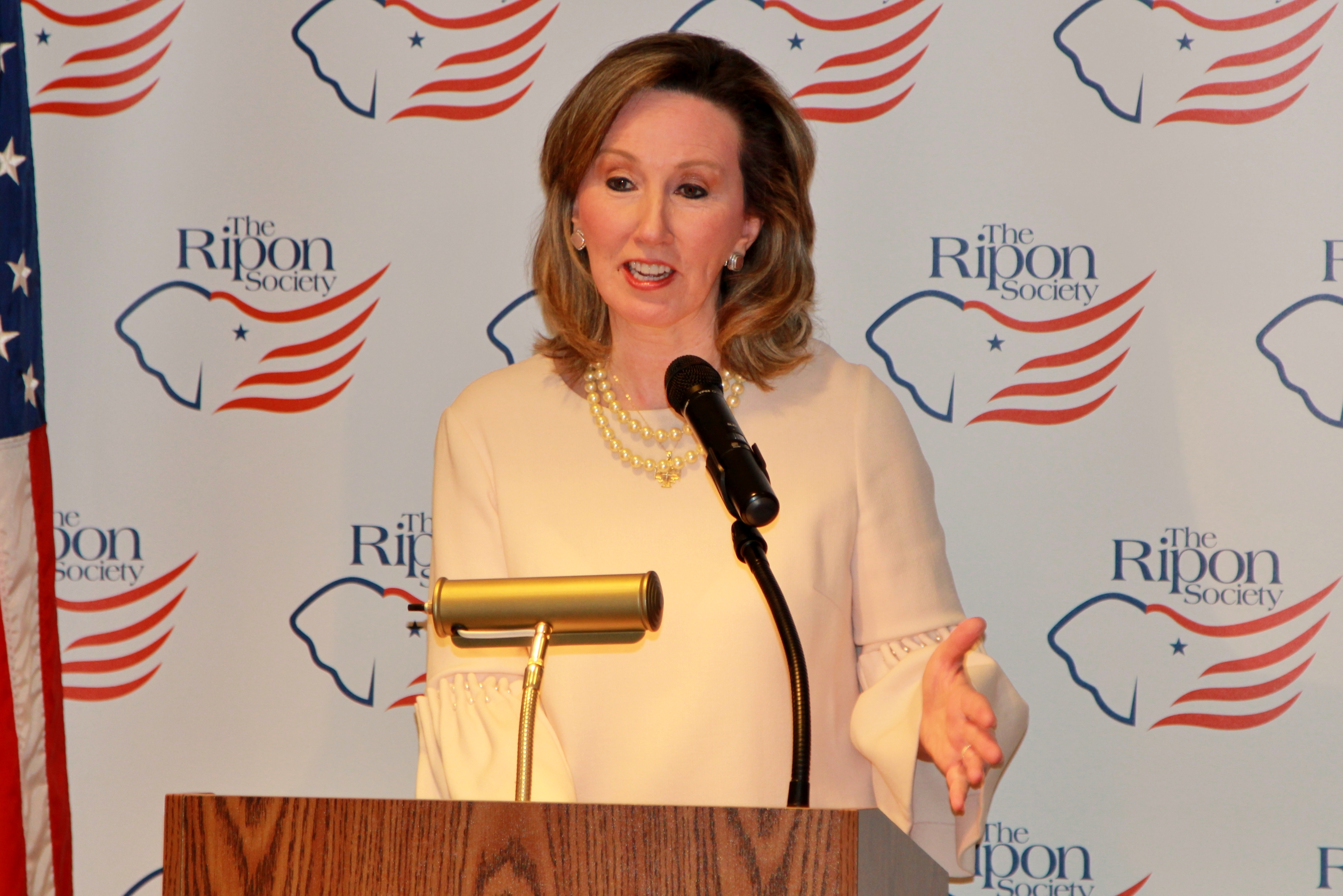 "I was elected to the State House in 2010," the Northern Virginia lawmaker stated.  "I realized we don't have an arts caucus.  So I started one, because it's an important thing for us to have.  Art enriches your life.  It can also have a big economic impact. One dollar invested in the arts results in seven dollars being returned to local economies.
"I am proud to serve on the Board of the Kennedy Center.  I also have the privilege of representing Wolf Trap, the National Park for the Performing Arts. My family and I have a lot of fond memories there.  In fact, I was pregnant with my oldest and went into labor during a 4th of July concert. So, Wolf Trap not only means a lot to our area, but it has a special meaning to me, as well."
Daly echoed Comstock's remarks.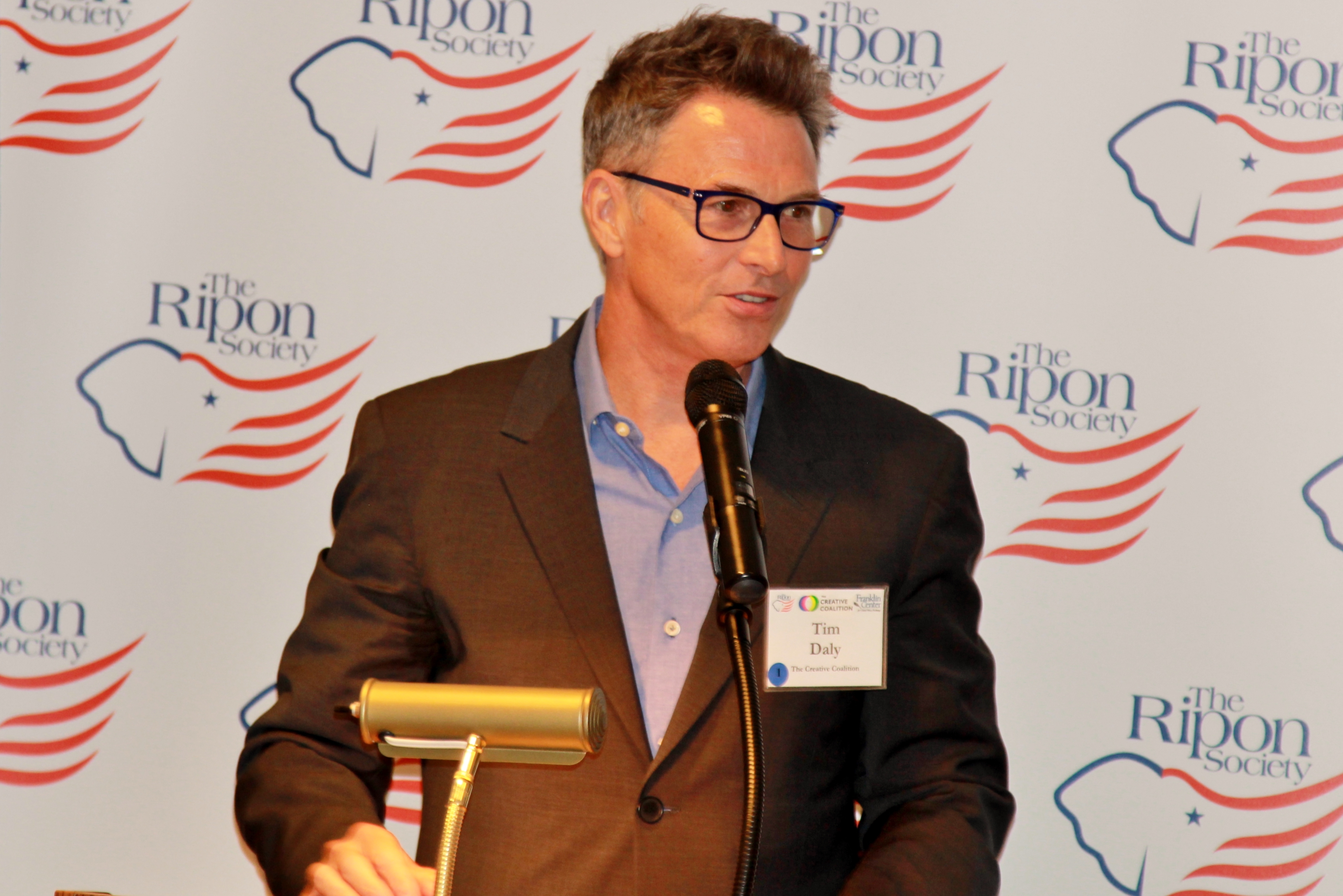 "I always think about children," the actor and activist stated.  "I recently became a grandfather, and already I have a piece of artwork that my one year old grandchild made up on my refrigerator.  I thought, 'Why is that?' Have any of you put your children's paintings or drawing up on the refrigerator? Everyone has – it's like an auto response thing. We are empowering our children by acknowledging their creative spirit. That creative impulse is something that really makes us human beings — our ability to create something out of nothing.
"The arts are the emissaries of our culture. The minute someone shows up in our country, what is the first thing we do? We start playing music, we have dancers, we have performances — because that's who we are, that is the representation of the soul of this country. Every time I come to Washington and walk through the Capitol, I want to say to people on both sides of the aisle who do not believe in public funding for the arts: 'Have you looked around your own building? Have you looked at the paintings and the sculpture and the architecture?'  It is so beautiful and is so indicative of the American spirit and who we are."
Daly has served as President of the Creative Coalition since 2008.  In this role, he has become one of the entertainment industry's leading voices for federal funding of the arts and the benefits that Americans will receive as a result.
"I do this show called 'Madam Secretary,'" Daly said as he brought his remarks to a close.  "It is a political show, but I think one of the brilliant things about it is that we never say 'Democrat' or 'Republican.' And because we have removed the D and the R, people are forced to listen to the ideas. There is no spin, and so we have very successfully created a big fan base. I think it's important to remember that the arts are nonpartisan."
The Ripon Society is a public policy organization that was founded in 1962 and takes its name from the town where the Republican Party was born in 1854 – Ripon, Wisconsin. One of the main goals of The Ripon Society is to promote the ideas and principles that have made America great and contributed to the GOP's success. These ideas include keeping our nation secure, keeping taxes low and having a federal government that is smaller, smarter and more accountable to the people.