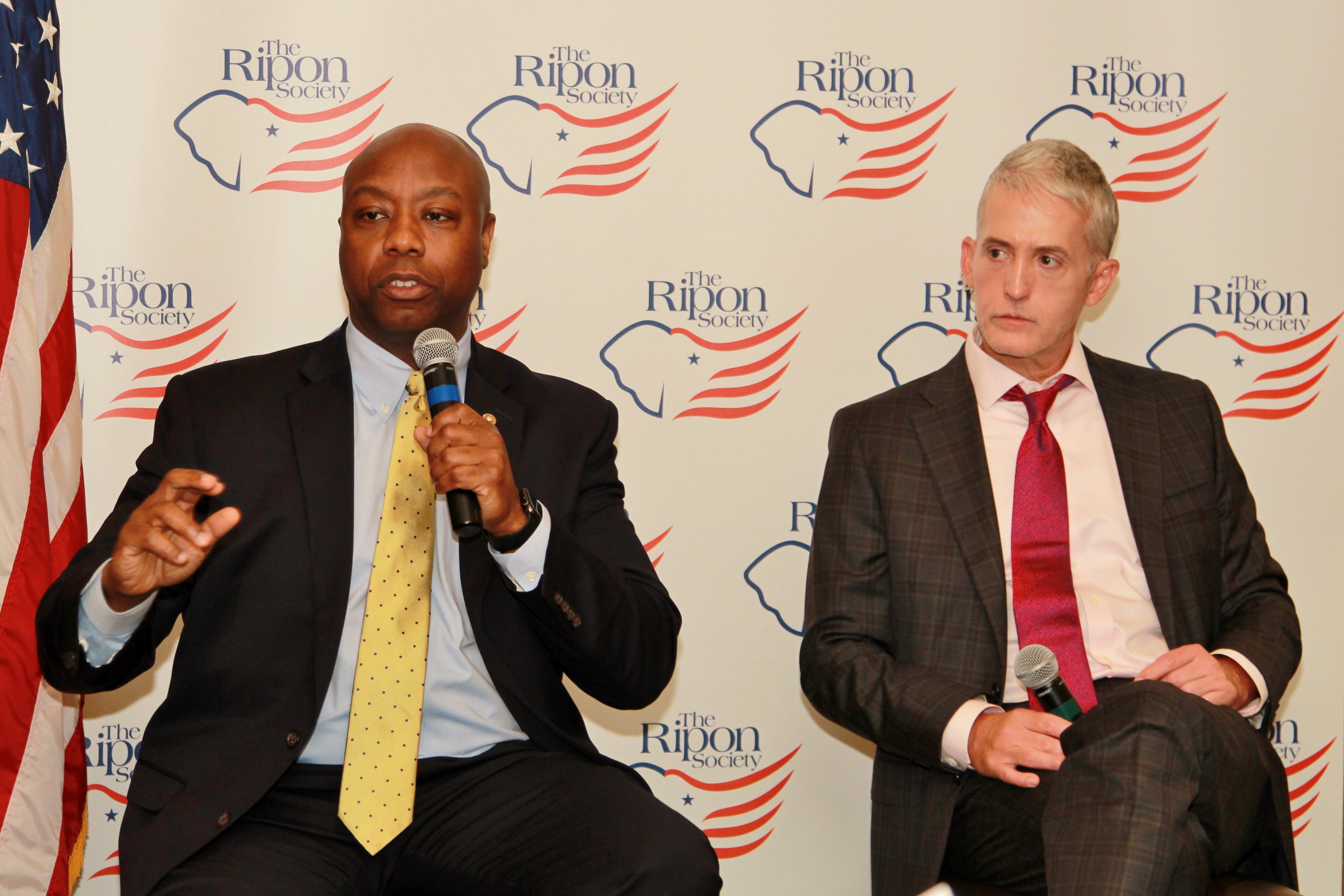 WASHINGTON, DC – With divisiveness and animosity dominating today's political environment, The Ripon Society held a breakfast discussion last Thursday morning with two leaders who are working to bridge the political divide.
The leaders are U.S. Sen. Tim Scott (R-SC) and U.S. Rep. Trey Gowdy (SC-4).  The pair are friends and colleagues who were elected to Congress in the same year.  They are also co-authors whose first book together, a New York Times bestseller called "Unified," was published earlier spring.
Gowdy kicked off the discussion by talking about the book, and how the idea to write it sprang forth from the regular meals the two share while they are in town.
"We eat dinner together almost every night we are in DC," Gowdy stated.  "We were just sharing stories about our upbringing, and Senator Scott was telling me he didn't grow up in a single parent household, but that his grandfather, Mr. Ware, was in the home as well. And he was telling me that Mr. Ware would, at the breakfast table in Charleston, open up the Charleston Post and Courier because he wanted his grandson to value education. He wanted his grandson to understand the importance of knowing what's going on in the world – current events.  So he would hold the Post and Courier open where everybody in the world, including God, could know he was reading the newspaper, to impress upon his grandson the value of knowledge and the power of education.
"And as lawyers do from time to time, I interrupted him and said I grew up the exact same way.  My father was a physician, but he would do the same thing with the Spartanburg Herald Journal. He would open it up in the morning so my three sisters and I could see that he was staying current — he was following what was happening in the world, and he was reading everything he get could get his hands on. So I interrupted Tim to tell him that, and he said, 'You know, Trey, the difference is that my grandfather could not read. He died at the age of 94 not being able to read.  He faked it.  He faked it, because he wanted his family to go from picking cotton to picking a seat in the United States House of Representatives. They did it in one generation, because he instilled in his grandson the desire and thirst and hunger for knowledge.'
"I said, 'Tim, you've got to tell that story.'  And he's got the one quality that I cannot stand in elected officials — which is humility. He didn't want to write a book about himself.  He said, 'Let's do it together.'   Making reference to a recent headline that illustrates not only how fractured America has become, but why a book about unity is needed perhaps now more than ever, Gowdy concluded:  "The notion that you could get expelled from a restaurant because of your political beliefs or who your employer is… This is a terrible time in our country's history. I don't remember it being more divisive."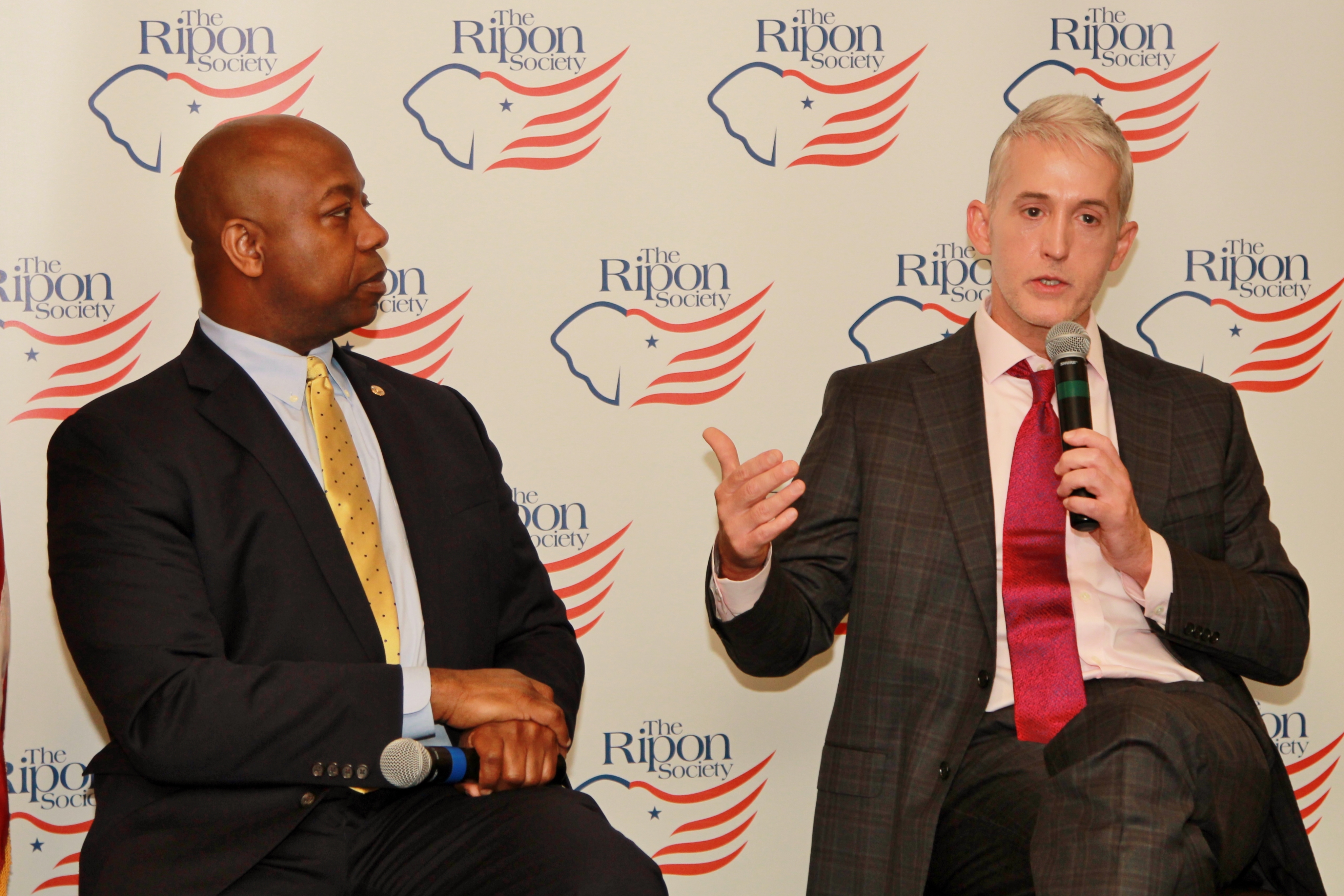 Scott agreed, and offered his own thoughts on his relationship with Gowdy and why he hopes their friendship can serve as an example – and inspiration – for other people looking for ways to make America more unified today.
"We come from a state where, when we were kids, we would not have been able to play together," Scott stated.  "We wouldn't have been able to go to the same restaurant together, and wouldn't have been in the same hotel, or even drink from the same water fountain."
"Fast forward to our time in Congress.  We're having dinner consistently, the four horsemen – myself, Mick Mulvaney, Jeff Duncan and Trey Gowdy.  It started to become only two of us.  And then the two of us became better and better acquainted … By 2015 we were tight as ticks — two peas in a pod — really having a strong, healthy, vibrant friendship.
"In this town, having friends is a rarity.  We are friendly, but we're not necessarily friends.  I did not know how much I would need a friend until June of 2015, when the Mother Emanuel Church shooting happened.  A guy, Dylan Roof, walked into an African American church in order to start a race war in the place where the Civil War started.  I remember calling this white guy from South Carolina after a white guy decided to start a race war at a black church.  It was that night of the murder.
"And I thought to myself just a few weeks later, how far we've come as a nation — how far we've come as a state — when the first person an African-American calls after a racially motivated shooting in a state with such a provocative history on race is this guy.  And it started to show me how much can be done if we're just willing to break bread together. If we're willing to spend quality time getting to know the person not as a white person or black person, not as a Jew or gentile, and not as straight or gay, not as rich or poor. Just simply as an individual.  I started to see the incredible value of coming together with people who you may not have much in common."
According to Scott, the need for Americans to understand their differences is the first step to unifying the country.  It is also, he added, the reason why he and Gowdy wrote the book.
"We are both Republicans and both from South Carolina," the Senator said, "but we have real differences on some of the issues that you would think that we are united on. His wife is a public school teacher.  I'm a strong supporter of any educational opportunity that leads someone to a better education — whether it's public, private, charter, or online.  It doesn't matter to me.  Law enforcement experiences — we have very different experiences.  He's a prosecutor. I'm an African American who's been stopped seven times as an elected official by law enforcement — including just a couple of weeks ago trying to get into the Senate, not being allowed to go in with my pin on. So our experiences are just so different at times. And yet we don't run to the differences. We first build a rapport and the credibility that allows us to address the problems. That's why we wrote book."
As if to reinforce the importance of empathy and understanding what others may have to go through in life, Gowdy revealed that, at that very moment, he learned something new about his friend.  "I didn't know you've been stopped that many times," he said. "That is an example of someone who you care about's life experience influencing your own perspective.   I was and I still am pro-law enforcement — you would expect a prosecutor to be. But when someone you care about has been stopped more times in a year than you've been stopped in your life … You do have to stop and think, 'What did I miss? What am I missing?'"
To view the remarks of Scott and Gowdy before The Ripon Society breakfast discussion last Thursday, please click on the link below:
The Ripon Society is a public policy organization that was founded in 1962 and takes its name from the town where the Republican Party was born in 1854 – Ripon, Wisconsin. One of the main goals of The Ripon Society is to promote the ideas and principles that have made America great and contributed to the GOP's success. These ideas include keeping our nation secure, keeping taxes low and having a federal government that is smaller, smarter and more accountable to the people.