Latest Ripon Forum Looks at the Effort to Keep America Secure in the Face of the Growing Cyber Threat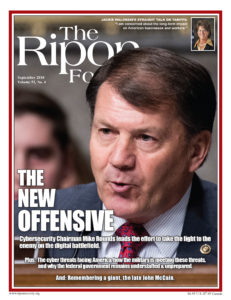 WASHINGTON, DC – With more than 80% of the nation pointing to cyberterrorism as one of the greatest threats facing the United States, the latest edition of The Ripon Forum looks at the effort underway to take the fight to the enemy and defend America against cyber threats.
The effort is being led by individuals like Senator Mike Rounds. Rounds serves as Chairman of the Armed Services Subcommittee on Cybersecurity. In this position, he is one of a growing number of defense leaders who say that the United States can no longer afford to take a reactive approach in the face of emerging cyber threats. "Now, more than ever," Rounds writes in the Forum, "our national defense strategy must include protecting our Armed Forces and civilian infrastructure from cyber-attacks by highly-capable adversaries … We have played defense long enough when it comes to cybersecurity. It is time to go on offense."
Going on offense is one of the reasons why the President decided to elevate U.S. Cyber Command to a unified command status this past summer. Thomas Spoehr and James Di Pane of the Heritage Foundation assess this decision in this latest edition. "As a Unified Combatant Command," the pair writes, "CYBERCOM's effectiveness will be enhanced by the ability to work directly with the other combatant commands, and by its commander's authority to report directly to the Secretary of Defense … this will enhance the amount of impact Cyber Command will wield inside and outside of the Pentagon, which is needed in this critically important area."
According to Frank Cilluffo, who directs the McCray Institute for Cybersecurity at Auburn, steps like these could not happen soon enough. "Our ability to 'network' has far outpaced our ability to protect 'networks', Cilluffo writes. "Just think about the Internet of Things, with an estimated 40 billion new devices expected to be interconnected by 2020." Cilluffo also quotes Homeland Security Secretary Kirstjen Nielsen, who issued this blunt warning earlier this year: "We are in crisis mode. A 'Cat 5' hurricane has been forecast, and now we must prepare."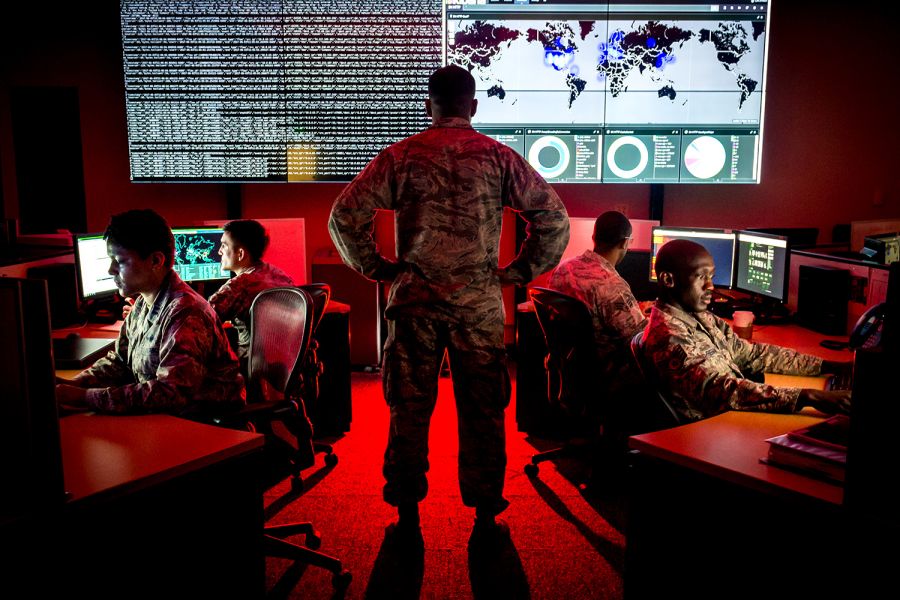 Tom Kuhn of the Edison Electric Institute agrees. In an op-ed, he lays out how the nation's electric industry is working with the public sector to defend America's energy grid. "Providing reliable service is a responsibility electric companies take very seriously," Kuhn writes. "This includes protecting the energy grid from cyber-attacks, which are increasing in frequency and sophistication. As these threats evolve, so, too, do our security strategies, which are closely coordinated with the federal government through a partnership called the Electricity Subsector Coordinating Council … The value of industry-government coordination cannot be overstated."
In another op-ed for this latest edition, Max Stier of the Partnership for Public Service discusses how the federal workforce is currently plagued by a shortage of cyber professionals, and how the government reorganization plan put forward by the President may help fill this critical gap. "A recent report in May by the Office of Management and Budget found that three quarters of the federal agencies lack the capability in terms of manpower, skill level and technology 'to effectively detect data exfiltration attempts and respond to cybersecurity incidents,'" Stier writes. "To its credit, the Trump Administration's plan to reorganize government operations has recognized that reducing agency vulnerability to malicious actors requires investing in the cybersecurity workforce."
With the mid-terms around the corner, cyber expert Philip Stupak shares his thoughts on "Paper Ballots & Election Security," and why machine vulnerabilities must be balanced against human flaws. "My experience with voter-completed paper ballots demonstrated a significant security flaw: They cannot guarantee the integrity of the voters' intent," Stupak writes. "The best solution is a machine-generated voter verifiable paper ballot with mandatory risk-based auditing."
In another op-ed, Forum Associate Editor Kyle Chance explores what the states are – and are not – doing to keep the mid-terms secure. "Some prioritize new voting machines, others seek to bolster their cybersecurity, and others seek to improve the training and communication of state and local election officials," Chance writes. "But not only are there vastly different approaches to election security, there are varying levels of concern from one state to another."
In two other important essays unrelated to the cyber threat, Bob Bixby of the Concord Coalition examines "Troubling Trends in the Federal Budget" – namely, the fact that the federal government is spending increasingly more on transfer payments to individuals and families, and less on investments that will help fuel future growth. "In 1967," Bixby writes, "investments amounted to 32% of the budget and transfers were at 28%. By 2017, investment spending had plunged to 13% of the budget and transfer payments had ballooned to 72%.
In another essay entitled, "A Failure on 9/11, and a Lesson Finally Learned." former Charlottesville Fire Chief Charles Werner writes about the fact that "America finally has a dedicated network that will allow first responders to communicate with each other during times of a disaster or emergency."
And in the latest Ripon Profile, Indiana Congresswoman Jackie Walorski discusses the importance of farming and manufacturing in her District, and how tariffs are impacting this important work. "President Trump is right to go after China's unfair trade practices," Walorski declares, "but I am concerned about the long-term impact on American businesses and workers."
Finally, America lost a giant last month with the passing of John McCain. As a small tribute to his life, the Forum is republishing a 2008 interview with the late-Senator that not only remains remarkably relevant, but reminds us all of why this hero, maverick, and patriot will be missed.
The Ripon Forum is published six times a year by The Ripon Society, a public policy organization that was founded in 1962 and takes its name from the town where the Republican Party was born in 1854 – Ripon, Wisconsin. One of the main goals of The Ripon Society is to promote the ideas and principles that have made America great and contributed to the GOP's success. These ideas include keeping our nation secure, keeping taxes low and having a federal government that is smaller, smarter and more accountable to the people.