Latest Forum Examines Accomplishments of Congress & Political Environment Heading into the Midterms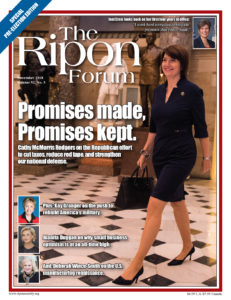 WASHINGTON, DC – With the midterm elections less than two weeks away, the latest edition of The Ripon Forum examines some of the top accomplishments in Congress over the past two years and the political environment in America as voters prepare to cast their ballots on November 6th.
"Two years ago, House Republicans laid out a bold policy agenda called A Better Way to tackle some of the biggest challenges of the day," writes House GOP Conference Chair Cathy McMorris Rodgers in the cover story for this latest edition. "We've kept those promises and as a result, the American people are seeing jobs, opportunity, and confidence come roaring back."
"Thanks to tax reform and our work to repeal a record 16 Obama administration regulations, the economy is booming. America was just named the world's most competitive economy. There are a record 7 million job openings, wages are rising, and consumer confidence has hit an 18-year high. In all 10 counties I represent, wages have grown between 3 and 9 percent. Behind all these numbers are real people who are dreaming again because they are optimistic about the future."
Another promise that Republicans made two years ago was to rebuild America's military after eight years of neglect. It is a pledge, U.S. Rep. Kay Granger reports, which the party has kept, as well.
"The way we've been funding defense on a piecemeal basis is wrong," writes Granger, who serves as Chairwoman of the House Appropriations Defense Subcommittee. "The two-year, bipartisan budget agreement that was approved earlier this year has enabled us to finally deliver what we've long promised: making sure our women and men in the military have the training and the equipment they need."
Also featured in the latest edition of the centrist Republican journal is Juanita Duggan. Duggan serves as President & CEO of the National Federation of Independent Business, and discusses in an op-ed the state of the small business economy heading into the midterms.
"In August, the NFIB Optimism Index soared to a record high of 108.8, breaking the 1983 record of 108 under President Reagan," Duggan writes. "The Optimism all-time record set in August was dominated by real business activity. This year has produced 45-year record high measures of job openings, hiring plans, actual compensation increases, and profit growth. Capital spending plans and inventory investment plans both hit levels not seen in a decade."
According to Deborah Wince-Smith, who serves as the President & CEO of the Council on Competitiveness, optimism among America's manufacturers is also high, as well.
"We've gained back 15,000 manufacturing establishments and more than a million manufacturing jobs, with 278,000 of those jobs coming in the past year alone," Wince-Smith writes. "Private fixed investment in industrial equipment is surging, up $100 billion to more than $240 billion annually compared to 2010, while real gross private investment in R&D is up more than $115 billion annually since 2010, reaching more than $408 billion a year."
The latest Forum also examines the political environment in five pivot counties – that is, counties that voted for Donald Trump in 2016 after supporting Barack Obama in 2008 and 2012. The counties include:
– Dubuque County, IA — "The current picture of Iowa and Dubuque is that it is not yet firmly Trump Country," writes Professor Christopher Budzisz, who serves as the Director of the Loras College Poll.
– Northampton County, PA — "The gender gap that appears to be ever-expanding since 2016 is particularly robust in Northampton County, with approval of the President among women in the region consistently in the mid-30s, compared to mid- to upper-40s among local men," writes Professor Christopher Borick, who serves as Director of the Muhlenberg College Institute of Public Opinion.
– Trumbull County, OH – "What many people in other parts of the country see as a frightening trade war," writes Youngstown State University Professor Adam Fuller, "Trumbull County voters see as a Herculean fight for America's national interests."
– Macomb County, MI – "Macomb voters are still with [Trump] on his 'make America great again' agenda, write Professors David Dulio and John Klemanski of Oakland University. "While the tax cut could be more popular, the renegotiation of NAFTA is likely going to be a big seller with Reagan Democrats."
– Kenosha County, WI – "Wisconsin reflects the mixed political party trends across the nation," writes Carthage College Professor Arthur Cyr. "Current polls indicate Democrats will do well in the state as a whole, and Republicans in the First District."
With the United States and China engaged in a trade war, Simon Lester and Huan Zhu of the Cato Institute look at the relationship between the two countries and what the U.S. can do to level the playing field with this economic foe.
And in the latest Ripon Profile, U.S. Senator Joni Ernst looks back on her first four years in office, and discusses some of the things she has been able to accomplish during that time. "I work hard every day to keep the promises that I have made to Iowans," the first-term lawmaker states, "and I am constantly working to find ways to cut waste, fraud and abuse in the government."
The Ripon Forum is published six times a year by The Ripon Society, a public policy organization that was founded in 1962 and takes its name from the town where the Republican Party was born in 1854 – Ripon, Wisconsin. One of the main goals of The Ripon Society is to promote the ideas and principles that have made America great and contributed to the GOP's success. These ideas include keeping our nation secure, keeping taxes low and having a federal government that is smaller, smarter and more accountable to the people.