Graves, Denham & Kan Lead Push to Modernize America's Aging Infrastructure, but Say New Source of Revenue Must Be Found
WASHINGTON, DC – Three key leaders in the debate over transportation policy came together last Thursday morning at a breakfast meeting of The Ripon Society, where not only they discussed the effort they are spearheading to modernize America's aging infrastructure, but explained why the effort cannot move forward until a new source of revenue is found.
The leaders included: U.S. Rep. Sam Graves (MO-6), who serves as Chairman of the Subcommittee on Highways and Transit; U.S. Rep. Jeff Denham (CA-10), who serves as Chairman of the Subcommittee on Railroads, Pipelines, and Hazardous Materials; and Derek Kan, who serves as Under Secretary for Policy at the U.S. Department of Transportation.
"The American people have made it clear that they want us to maintain and rebuild our transportation infrastructure," Graves stated, in remarks to open the discussion.  "They know how important it is. But it's going to take help from the Administration when we do this.  We're going to embark on an infrastructure plan early next year, and we're going to need help from the President when we do. When the President gets behind something, it makes it much easier to pass.  The tax bill is a perfect example of that."
"But when we're talking about transportation, the biggest issue in the room is obviously going to be the highway trust fund.  If we don't solve that, then we're not going to be able to solve any problems that are out there. There are several ideas on the table — everything from a battery tax to a tire tax to increasing the fuel tax to a VMT.  The fuel tax which we depend on is highly regressive, and it's snowballing in that respect.
"We're seeing fewer dollars and fewer cars on the road that simply do not pay anything to the use of that road.  I think everybody should be paying into the system — whether you're driving an electric vehicle or you're using a hybrid — everybody should be paying into the system.  I think that's vitally important. We have to solve that issue before we can move forward."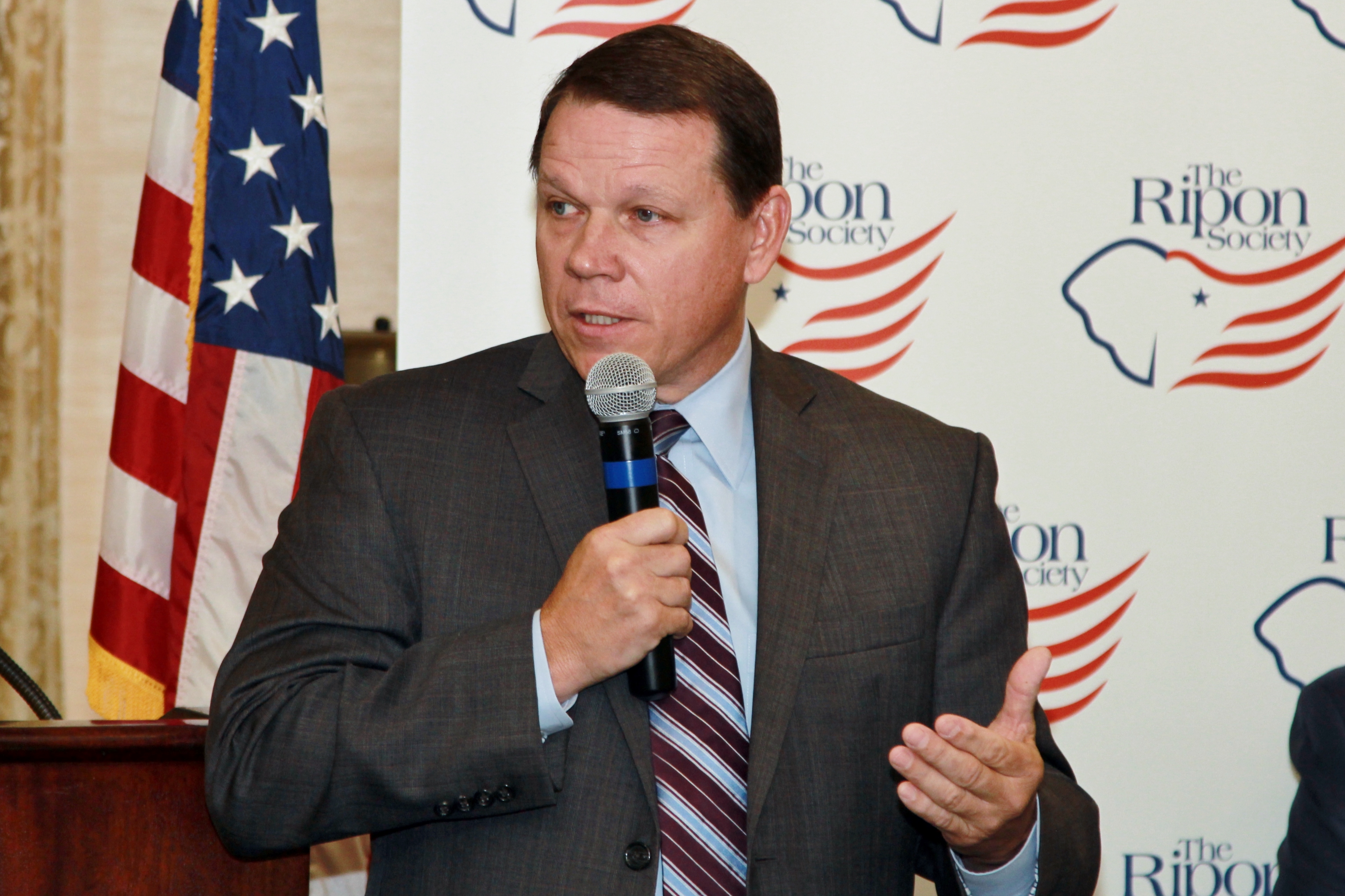 Graves was elected to Congress in 2000, and spent six years as Chairman of the House Small Business Committee before taking the reins of the Highways & Transit panel in 2015.  As Chairman of the panel, he helped pass into law the first long-term federal highway bill in a decade.
He has also worked to make sure America's transportation system is up-to-date, and that Congress approaches new technology with a light touch, instead of a heavy hand.
"Technology is going to be very important as we move forward," the Missouri lawmaker declared.  "But we have to be very careful that the government does not stifle that technology.  A great example of that is positive train control, which the railroads are dealing with right now.  Positive train control would have happened anyway, because it gives a competitive advantage to the railroads. But after the rail accident in 2008, the government came sweeping in — Congress comes sweeping in.  And what did they do?  They boxed it up and put a timeline in place.
"And so here we are, 10 years later, and the railroads are struggling to get PTC completely implemented because of the constraints by the government. Government stifles technology, and that's what scares me more than anything when it comes to some of the huge opportunities out there. We have to tread very lightly, with safety as the number one priority moving forward."
Denham concurred, and expressed optimism that – working with the President – Congress can reach an agreement on a new infrastructure bill in the coming year.
"I think this is the biggest opportunity in our lifetime to rebuild for the future of our country," he stated.  "Every President gets one or two really big items during their term. We got tax cuts last year, which was a big deal for our economy.  I think at least the first issue that we pick up next year will be infrastructure — and not just one that repairs our roads.  We've got a lot of roads and bridges that need to be repaired, but we also have to look towards the future.  For example, we already capture vehicle miles traveled for our trucking industry. Why not put that in dedicated truck lanes?  Create a dedicated truck lane so they can get out of big cities quickly, so they can plan their businesses around it.  At the same time, you also create capacity and you create greater safety for our commuters.
"We're also going to continue to expand rail — not just Amtrak, but a lot of our rail systems.  Get them on dedicated track, so you improve efficiencies for freight rail, but also have greater capacity for passenger movement as well.  But I think our biggest opportunity is going to be public-private partnerships — utilizing capital that is out there from the private sector, and combining that with federal funds that we could have through infrastructure banks."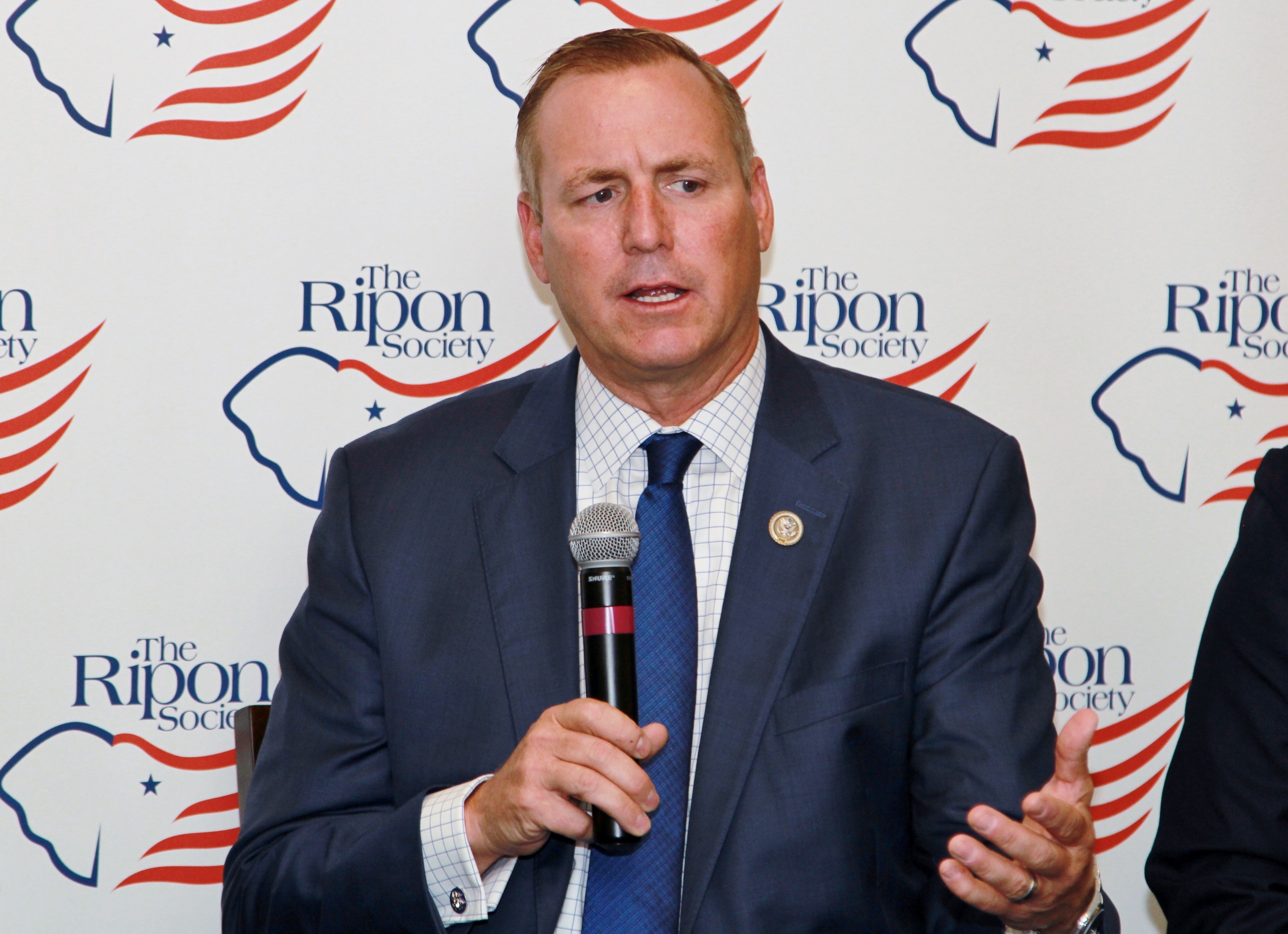 Denham was elected to the House in 2010 after serving eight years in the California State Senate.  A 16-year veteran of the U.S. Air Force, he has served as Chairman of the Subcommittee since 2013, and has developed a reputation as someone who is not only interested in finding innovative solutions to our national challenges, but is willing to work across the aisle to get things done.
"When I'm talking to the Democrats on our committee and they're talking about user-paid projects, they're talking about toll roads," he related.  "When I talk about user-paid projects, I'm talking about big storage for water in California and elsewhere, where every time I turn on my tap, or every time I irrigate my trees, I am paying for that infrastructure.  So if you can lower projects by $25 billion in California because you have an infrastructure bank that you're paying off over 50 years, it is a great use of federal dollars.  And it really leverages state, local, and private dollars to get projects done immediately.
"And that's what we're looking at.  We're not only looking at expediting projects and changing some of the regulations to get them moving quickly, but having the funding available to create certainty in the job market and really spur investment. This is not going to be something where we're going to come up with a trillion dollars and do stimulus projects.  This is something where we are going to leverage the private sector and leverage local and state dollars."
Kan echoed Denham's optimism about the future of transportation policy, and shared his thoughts on some of the top legislative priorities in the coming years.
"Over the next five years," he said, "we're going to see a greater change in transportation than we've seen in the last 50.  And there are really three key bills that are going to tee things up.  There's the FAA reauthorization bill, which is flying through.  We're going to see a major infrastructure bill, probably in the next two years.  And we'll also probably see at the end of the next two years a surface transportation reauthorization — basically the renewal of the FAST Act.  These three pieces of legislation are huge bills that will fundamentally change how legacy transportation works and how future transportation works."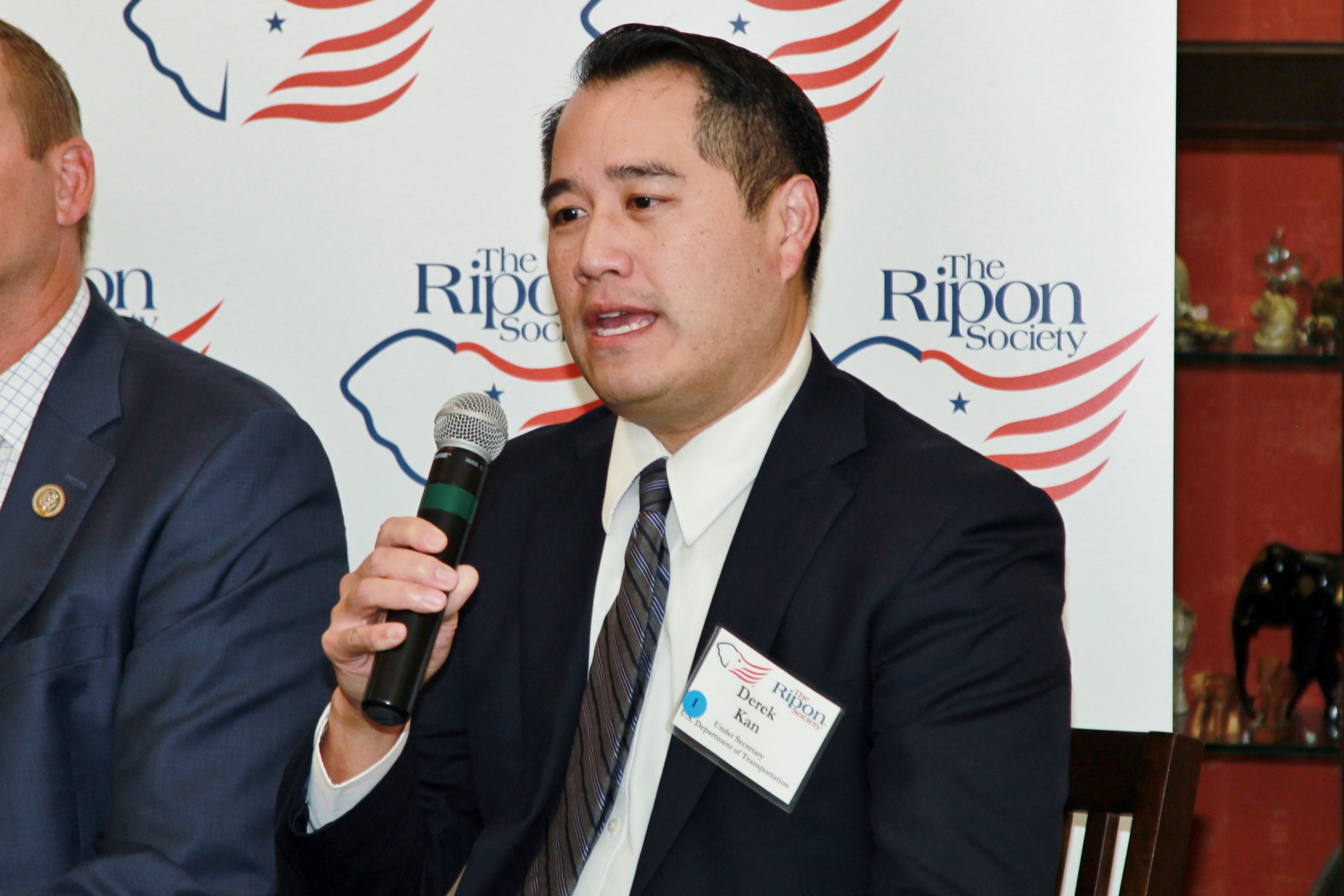 Kan was sworn in as Undersecretary of Transportation Policy in 2017.  Prior to his appointment, he worked as the General Manager for Lyft and served on the Board of Amtrak.  Earlier in his career, he also served as a policy advisor to Senate Republican Leader Mitch McConnell and chief economist for the Senate Republican Policy Committee.
"It's pretty clear there's going to be a long discussion on a major infrastructure bill early next year," Kan stated.  "There are two pieces to this.  One is funding — which Mr. Graves talked about — and the second is permitting reform. On the funding side, gas is a commodity in declining use, yet our infrastructure is in increasing need of investment and maintenance.  While all options are on the table, the legacy road and bridge funding mechanism is a 20th century tax for a 21st century problem."
"On the other side, you have permitting. If anyone's built an airport or a road or a water project, you go through up to 37 agencies that all do their own thing and never talk to each other. The President signed an executive order called One Federal Decision.  We are working hard to implement the One Federal Decision, but permitting reform legislation would also help accelerate project delivery."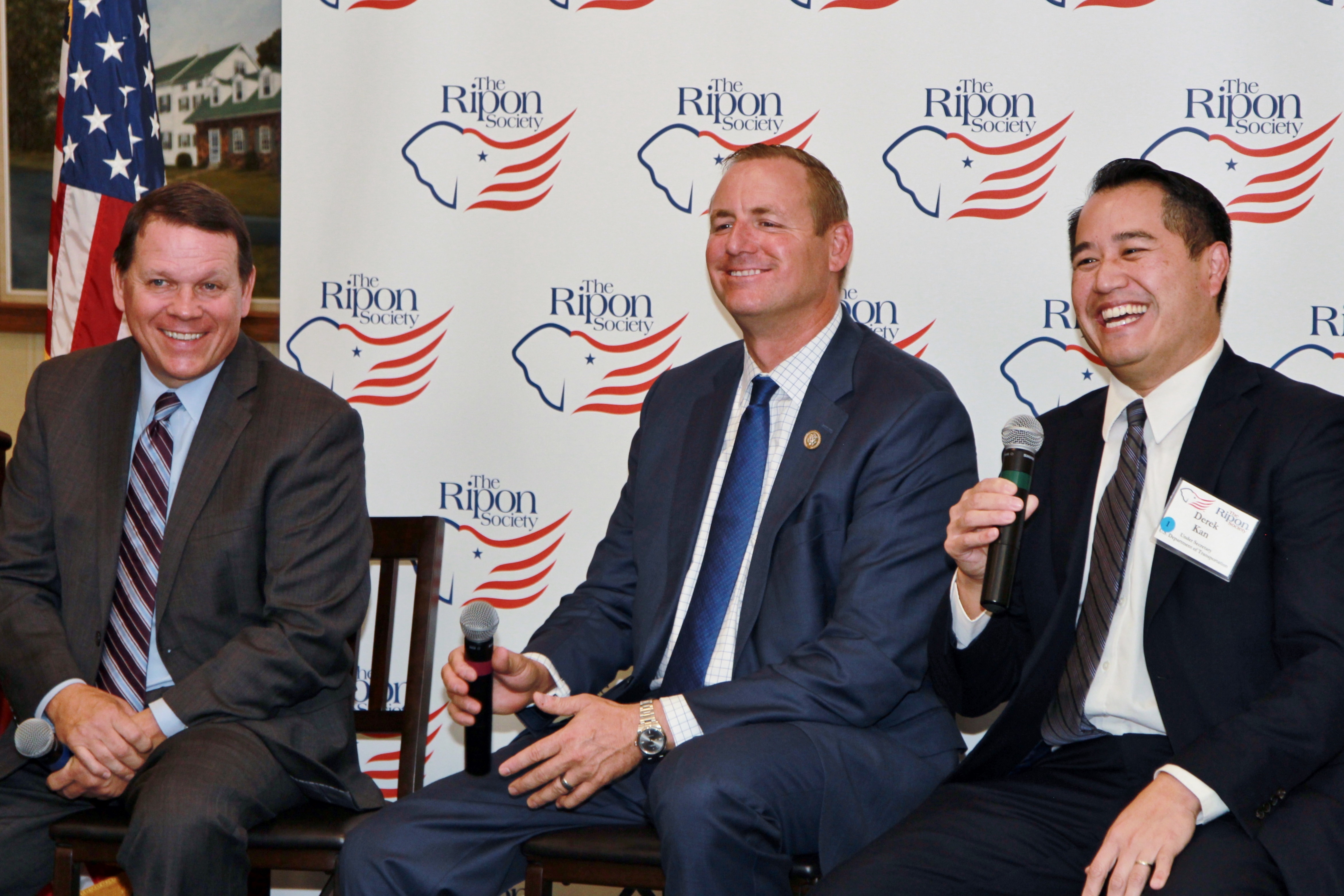 The Ripon Society is a public policy organization that was founded in 1962 and takes its name from the town where the Republican Party was born in 1854 – Ripon, Wisconsin. One of the main goals of The Ripon Society is to promote the ideas and principles that have made America great and contributed to the GOP's success. These ideas include keeping our nation secure, keeping taxes low and having a federal government that is smaller, smarter and more accountable to the people.