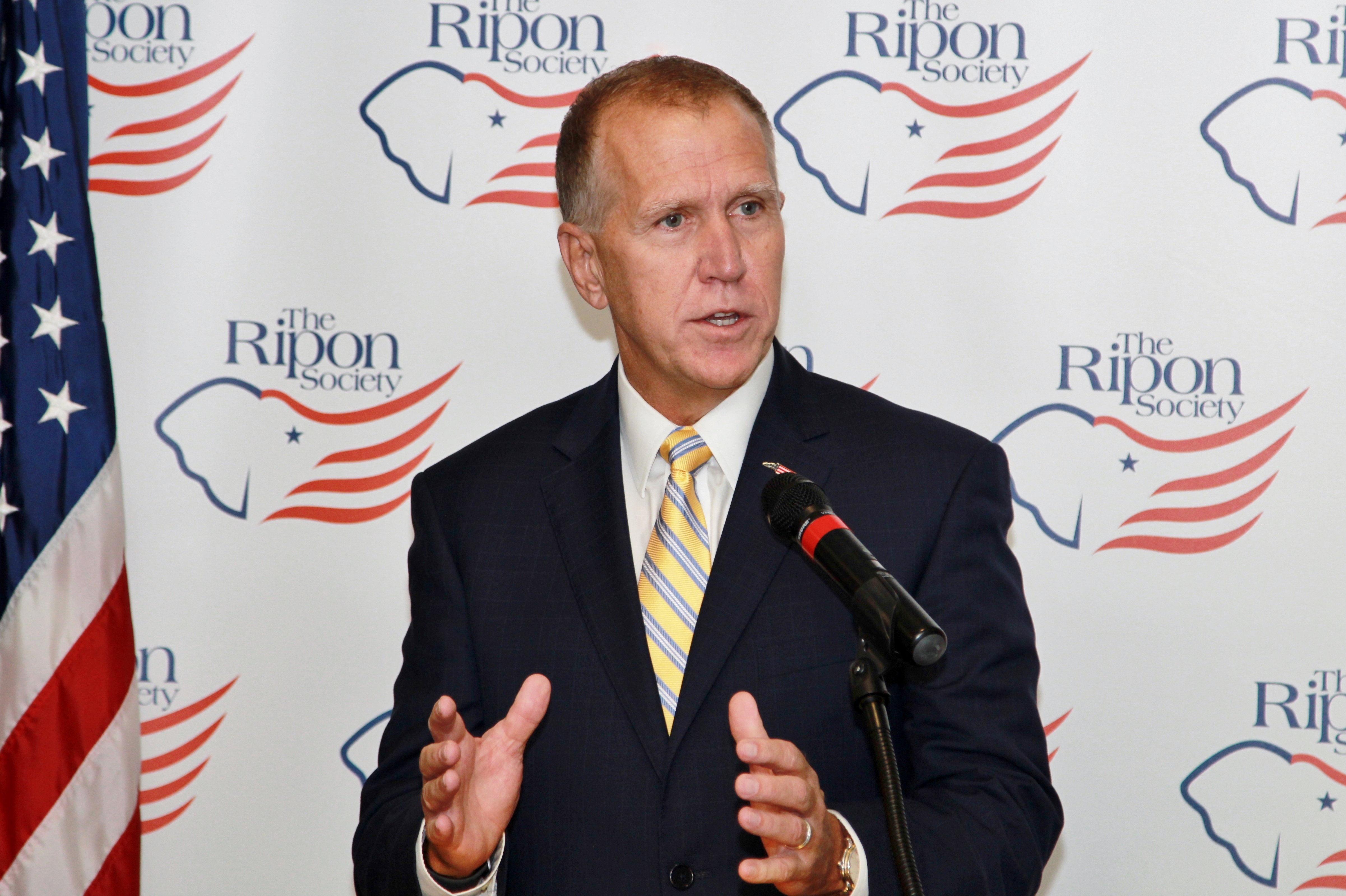 WASHINGTON, DC – U.S. Sen. Thom Tillis (R-NC) appeared this morning before a breakfast meeting of The Ripon Society, delivering remarks not only about his job as Vice Chairman of the National Republican Senatorial Committee, but also about his role as a member of the Judiciary Committee and the confirmation battle that is currently underway.
"We have a great opportunity to add Senate seats, probably net as many as three," Tillis stated, referring to the effort he is leading as NRSC Vice Chair to help Senate Republicans hold and grow their majority.  "We've got great candidates, and they're being disciplined. They're being smart … They're executing the way that we expect our candidates to execute — which is why I'm working so hard to try and raise money for them and make sure that they're resourced properly."
Tillis was elected to the Senate in 2014.  He previously served as Speaker of the North Carolina House of Representatives, and spent 22 years in the private sector before that.  He got his start in public service the way many Americans do — by serving as a member of his hometown's Board of Commissioners, and as the president of his daughter's high school PTA.
In addition to discussing the upcoming election, the North Carolina lawmaker also discussed the recent hearings with Supreme Court nominee Brett Kavanaugh.
"I've had a front row seat," he said of the hearings.  "I've seen all the evidence.  I've had the confidential briefings.  And there's nothing that has influenced my belief that Brett Kavanaugh will be one of the greatest Supreme Court Justices we could have ever appointed to the bench. What we have to do is recognize what's been going on.
"Before Brett Kavanaugh was nominated, many of my colleagues on the other side of the aisle had already pre-announced a 'fill in the blank' opposition to whoever President Trump nominated.  And then on July 9th, Chuck Schumer said, 'I will do everything I must do to defeat this nominee.' Cory Booker said to support Brett Kavanaugh is to be 'complicit in evil.'
"I could go on and on, but statements were made by virtually every [Democratic] member of the Judiciary Committee which either explicitly or implicitly suggested that they were a 'no' before they looked at any background and before we had done any hearings.  They were a 'no.'"
"As the investigation's gone forward, there's simply not enough there, where any responsible prosecutor would bring a case. That's why we hired the prosecutor to ask the questions. This is a prosecutor that has nearly 25 years of prosecuting sex crimes.  This woman likes putting sex offenders away. We put her there for a reason. We didn't want it to be a political show. We wanted it to be a methodical approach."
"Now we've agreed to this one week delay to complete another supplemental background investigation. I don't believe at this point we're going to find anything substantially beyond what we've already heard in the hearings. That's why the narrative is changing. The narrative is changing because they think that the allegations are not really going to go further. So now the narrative has changed to, 'He's not a man with the proper temperament because of the way he presented himself last week in Committee.'"
"I've voted proudly for him out of committee, and I've made it very clear, based on the information I have right now, that he deserves to be on the Supreme Court."
The Ripon Society is a public policy organization that was founded in 1962 and takes its name from the town where the Republican Party was born in 1854 – Ripon, Wisconsin. One of the main goals of The Ripon Society is to promote the ideas and principles that have made America great and contributed to the GOP's success. These ideas include keeping our nation secure, keeping taxes low and having a federal government that is smaller, smarter and more accountable to the people.