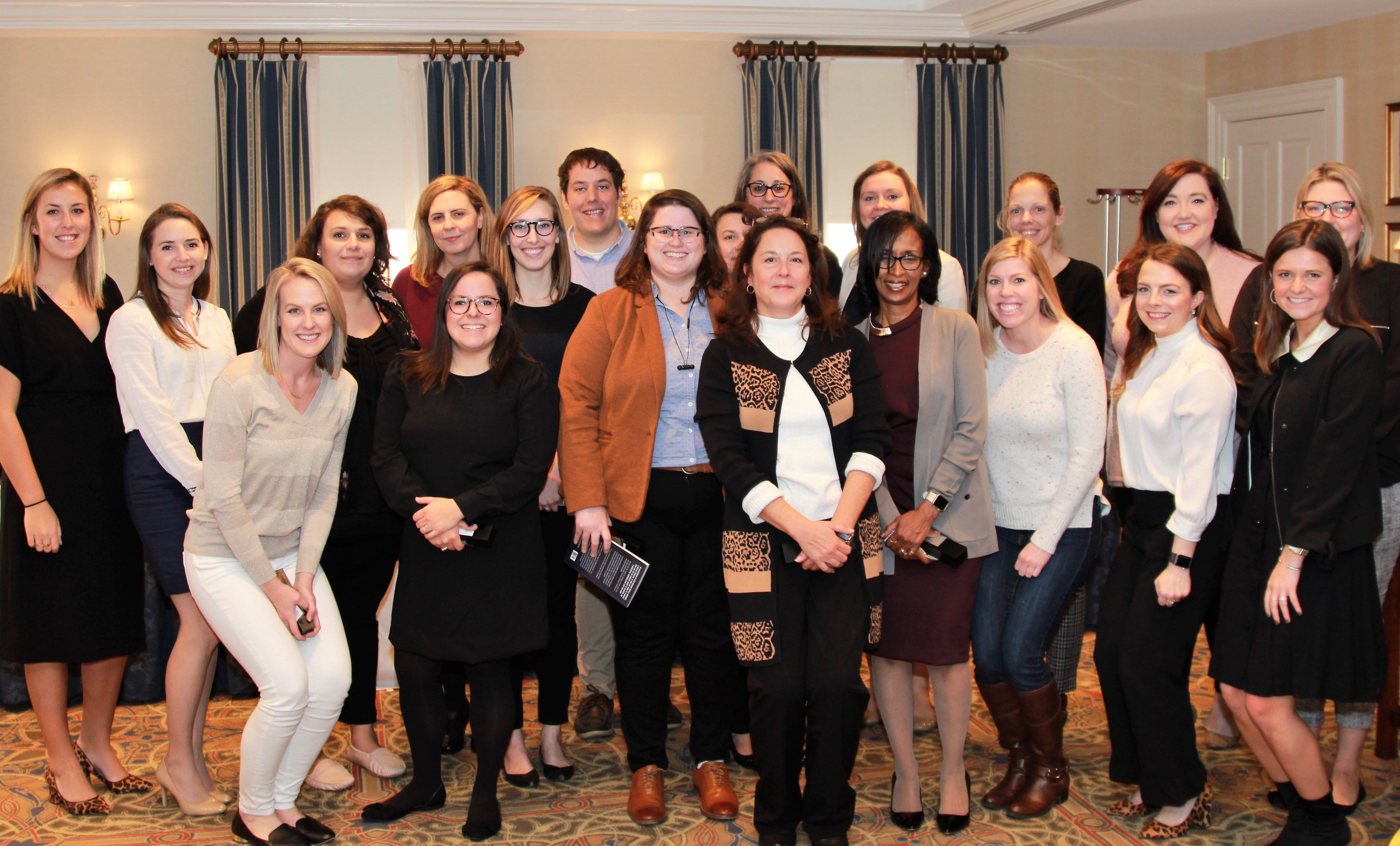 Ripon Society & Franklin Center Honor the "Unsung Heroes of Capitol Hill" with 7th Annual Bipartisan Luncheon
WASHINGTON, DC – The Ripon Society and Franklin Center for Global Policy Exchange held their annual bipartisan luncheon yesterday honoring "The Unsung Heroes of Capitol Hill," the Schedulers and Executive Assistants in the U.S. House of Representatives and the U.S. Senate who, in the words of Ripon and Franklin President & CEO Jim Conzelman, "make possible what is seemingly impossible, day in and day out."
"Even as we gather today with sadness in our hearts with the death of President George H.W. Bush, it is not lost on me that no president appreciated unsung heroes more than President Bush," Conzelman stated in his remarks to open the event. "He never failed to acknowledge the hard work and dedication of those who toiled tirelessly – and sometimes thanklessly – behind the scenes, who never sought the spotlight, but only wanted to brighten its beam. You protect and safeguard the most precious commodity of all: time. You measure it out, and dispense it with care and deliberation. You embody the wisdom of one of our organizational godfathers, Ben Franklin, who understood – as you do – that 'Lost time is never found again.'
Conzelman spent over 25 years serving as the Chief of Staff for former Congressman Mike Oxley (R-OH). He said that yesterday's luncheon was attended by a group of just over 100 Schedulers and Executive Assistants. Also attending the luncheon and delivering remarks at the event was Patrick Jephson, who served as Private Secretary to Princess Diana and who spoke about his time leading the late Princess of Wales' staff.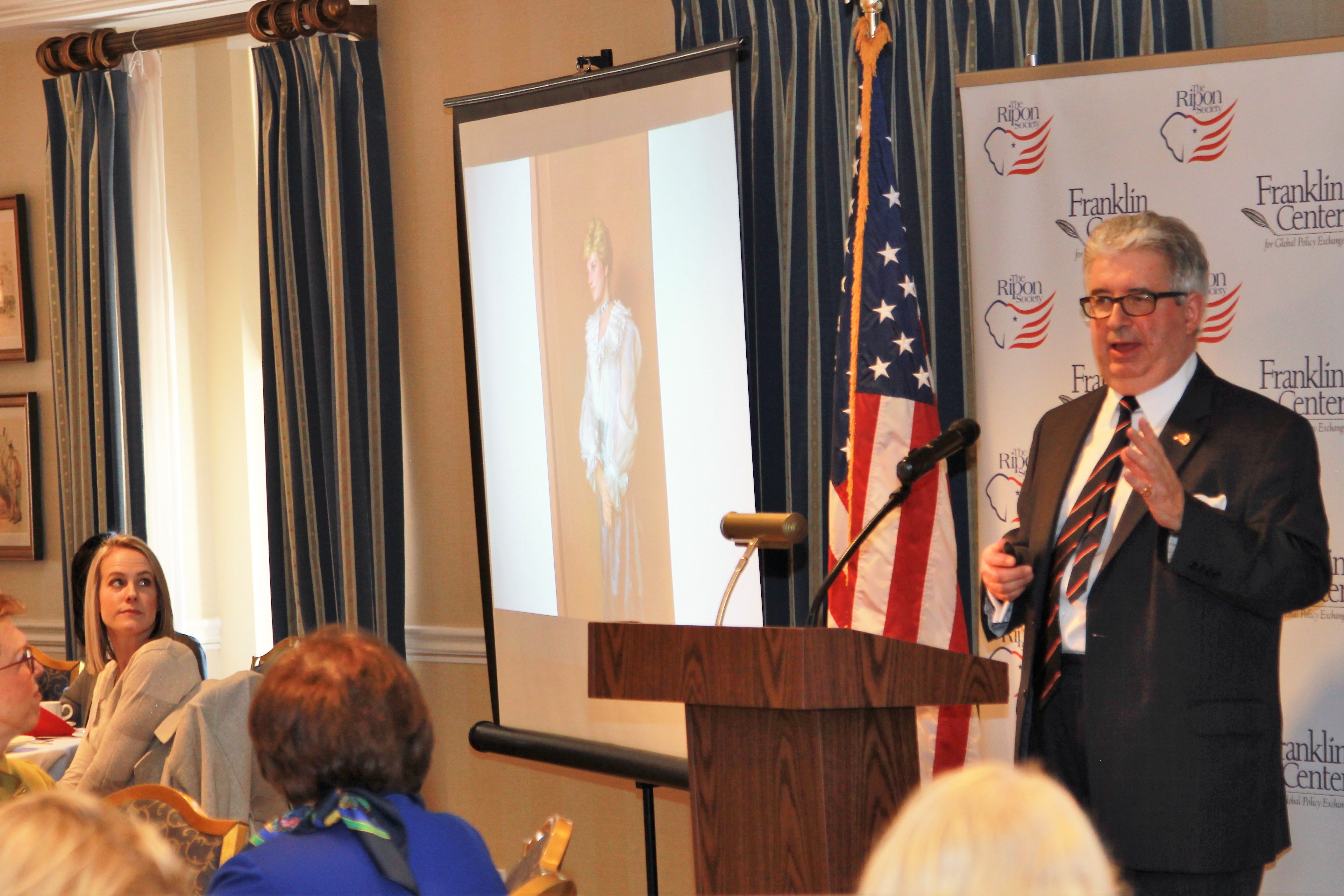 According to Conzelman, this was the 7th year that the Ripon Society and Franklin Center have honored this invaluable, but too often unheralded, group of congressional staff members on Capitol Hill. "As someone who spent nearly three decades as a Chief of Staff in the House of Representatives," he stated, "I know full well how important and challenging your job is. So, we've gathered here today so say something that we should say every day – Thank you for all your hard work!
"A tradition we maintain with this annual luncheon is asking our members and the members of our Congressional Advisory Boards to name the Scheduler or Executive Assistant who demonstrates the highest level of professionalism in what is arguably one of the most challenging jobs on a Congressional staff. Every year we do this, and every year the responses are overwhelming."
The Top Schedulers and Executive Assistants of 2018 included:
Kathi Wise– with Senator John Barrasso (R-WY);
Sabrina Parker – with Congressman Tom Cole (R-OK);
Chelsea Moser – with Senator Chris Coons (D-DE);
Caitlin Affolter – with Senator Steve Daines (R-MT);
Brittany Randall – with Congressman Rodney Davis (R-IL);
Wendy Featherson – with Congresswoman Val Demings (D-FL);
Ellen Young – with Congressman Mike Doyle (D-PA);
Eleanor Traynham – with Congressman Sean Duffy (R-WI);
Emily Fritcke – with Congressman Jim Himes (D-CT);
Laura Cureton – with House Ways & Means Committee;
Sara Maaiki – with Congressman John Larson (D-CT);
Alexandra Gourdikian – with Leader Kevin McCarthy (R-CA);
Lindsey Shackelford – with Congressman Patrick McHenry (R-NC);
Chris Hadad – with Congressman Congressman Bill Pascrell (D-NJ);
Alison Inderfurth – with Congressman Earl Perlmutter (D-CO);
Johannah Murphy – with Congressman Tom Reed (R-NY);
Landy Wade – with Congresswoman Kathleen Rice (D-NY);
Lauren Heasley – with Congressman Raul Ruiz (D-CA);
Erin Isenberg – with Congressman Tim Ryan (D-OH);
Ellen Gosnell – with House Majority Whip Steve Scalise (R-LA);
Brie Kelly – with Senator Tim Scott (R-SC);
Angela Schulze – with Senator Thom Tillis (R-NC);
Jenny Forrest – with Chairman Greg Walden (R-OR);
Abbie Sumbrum – with Congressman Brad Wenstrup (R-OH);
Laura Stein – with Senate Majority Leader Mitch McConnell (R-KY); and,
Lindsay McDonough – with Senator Todd Young (R-IN).
The Ripon Society is a public policy organization that was founded in 1962 and takes its name from the town where the Republican Party was born in 1854 – Ripon, Wisconsin. One of the main goals of The Ripon Society is to promote the ideas and principles that have made America great and contributed to the GOP's success. These ideas include keeping our nation secure, keeping taxes low and having a federal government that is smaller, smarter and more accountable to the people.
Founded in 1978, The Franklin Center for Global Policy Exchange is a non-partisan, non-profit 501(c)(3) organization committed to enhancing global understanding of important international issues.  The Franklin Center brings together Members of the U.S. Congress and their international parliamentary counterparts as well as experts from the Diplomatic corps, foreign officials, senior private sector representatives, scholars, and other public policy experts.  Through regular conferences and events where leading international opinion leaders share ideas, the Franklin Center promotes enlightened, balanced, and unbiased international policy discussion on major international issues.