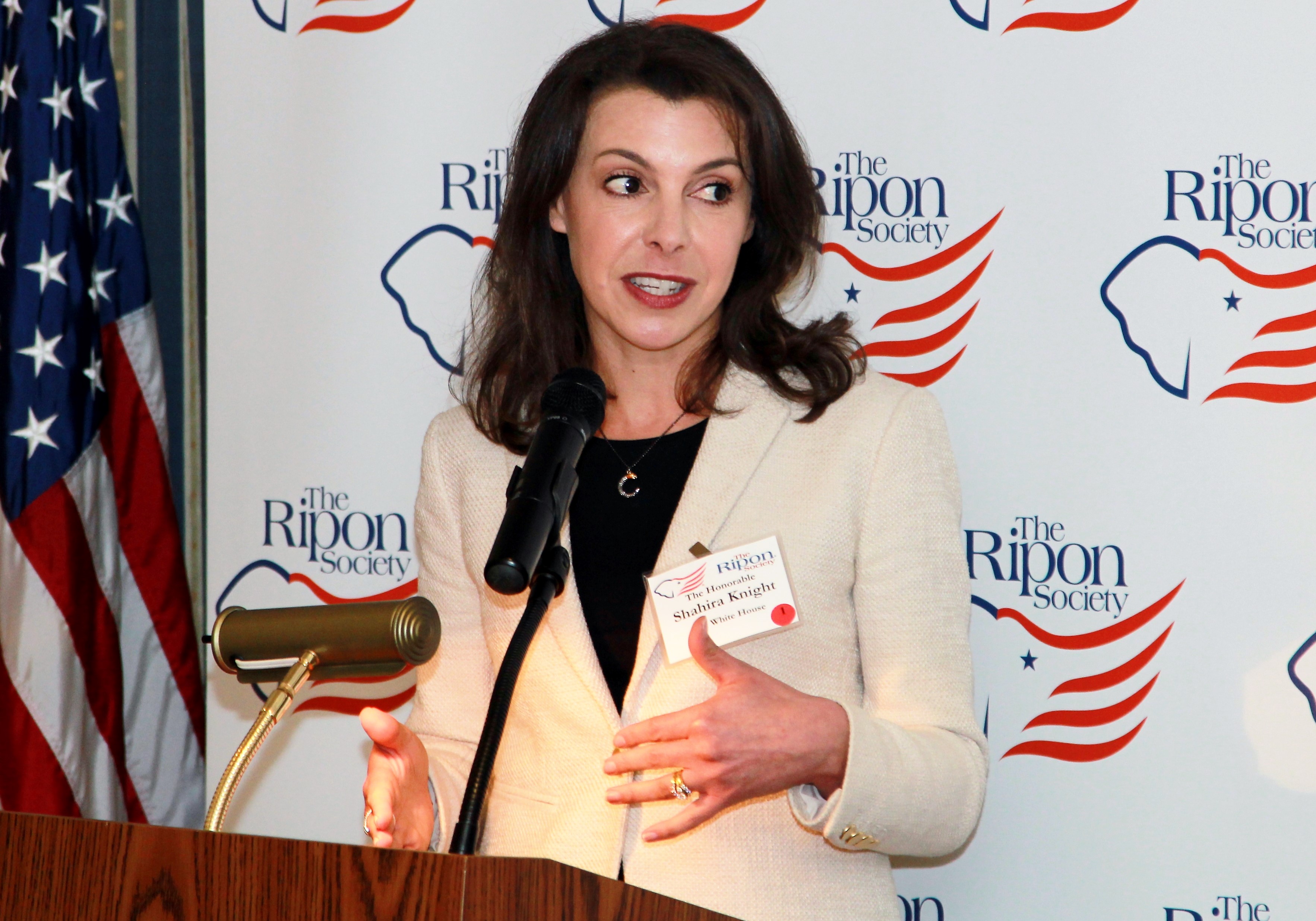 WASHINGTON, DC — The Ripon Society hosted a luncheon discussion yesterday afternoon with Shahira Knight, who serves as Assistant to the President and Director of Legislative Affairs.
Knight has served in the White House since February 2017, when she was appointed Special Assistant to the President for Tax and Retirement Policy.  She previously served as a Professional Staff Member for the Joint Economic Committee and the Committee on Ways & Means.
"We appreciate Shahira for joining us yesterday," stated Ripon Society President & CEO Jim Conzelman.  "She is a pro's pro, and knows Capitol Hill as good if not better than anyone in Washington.  She also knows tax policy just about better than anyone, and played a key role in the President's successful effort to reform the tax code for the first time in over 30 years."
"She is a pro's pro, and knows Capitol Hill as good if not better than anyone in Washington."
According to Conzelman, yesterday's discussion was attended by a crowd of over 100 people, and was the 25th event The Ripon Society has hosted so far in 2019. Upcoming events include a breakfast discussion on May 2nd with Ways & Means members U.S. Reps. John Larson (D-CT) and Mike Kelly (R-PA), who will discuss how they are working to help Americans improve their financial planning for retirement.
Also, on May 9th The Ripon Society will host a breakfast discussion with U.S. Rep. Ann Wagner (R-MO), who will share her thoughts about the importance of recruiting more Republican women to run for Congress and what the GOP can do to reinforce its support among suburban voters.
The Ripon Society is a public policy organization that was founded in 1962 and takes its name from the town where the Republican Party was born in 1854 – Ripon, Wisconsin.  One of the main goals of The Ripon Society is to promote the ideas and principles that have made America great and contributed to the GOP's success.  These ideas include keeping our nation secure, keeping taxes low and having a federal government that is smaller, smarter and more accountable to the people.