Thornberry & McCaul Discuss the Effort to Keep Americans Secure in an Increasingly Volatile World
WASHINGTON, DC — With the United States facing an increasing number of threats and challenges around the world, The Ripon Society held a breakfast discussion this past Thursday morning with two leaders who are at the forefront of the effort to meet these challenges and keep American interests – and the American people – secure.
The leaders were U.S. Reps. Mac Thornberry (TX-13) and Michael McCaul (TX-10).  Thornberry serves as the Ranking Member of the Armed Services Committee, while McCaul serves as the Ranking Member of the Foreign Affairs Committee. Both were members of the official congressional delegation that recently traveled to Normandy to commemorate the 75th Anniversary of D-Day on June 6th.  Thornberry touched on this commemoration in his remarks, reflecting not only on the scope of the overarching conflict, but how it fundamentally changed America from an isolationist country to a preeminent world leader and global force for good.
"The devastation of World War II caused us to do something that was very much against our nature," the veteran lawmaker observed.  "And that was to make two crucial decisions.   One was that we were going to stay engaged in the world – so we joined the UN, the World Bank, the IMF.  And two, we were going to keep the strongest military in the world – so we helped create NATO, we made alliances, we created the Department of Defense, the Central Intelligence Agency.  All of these things that were very much against our nature."
"We decided that we would have to stay involved and stay strong in order to prevent a third World War. And if you step back and look by however you want to measure human progress – whether it's life expectancy, economic development, how many people live in democracies, women being able to vote, or the number of people who die in wars – the last 75 years with American leadership have been the best period in human history."
"What's happening now in the world is that a number of folks don't like the fact that we're the ones who are setting the standards. So Russia and China are contesting U.S. leadership. Iran and North Korea are trying to look for opportunities where they can exploit what they see as an American withdrawal. Terrorists obviously want to roll back the clock several hundred years.  And so we are being tested – whether it is China or whether it's what's happening in the Persian Gulf right now.   What's being tested is American leadership that we have developed over the last 75 years."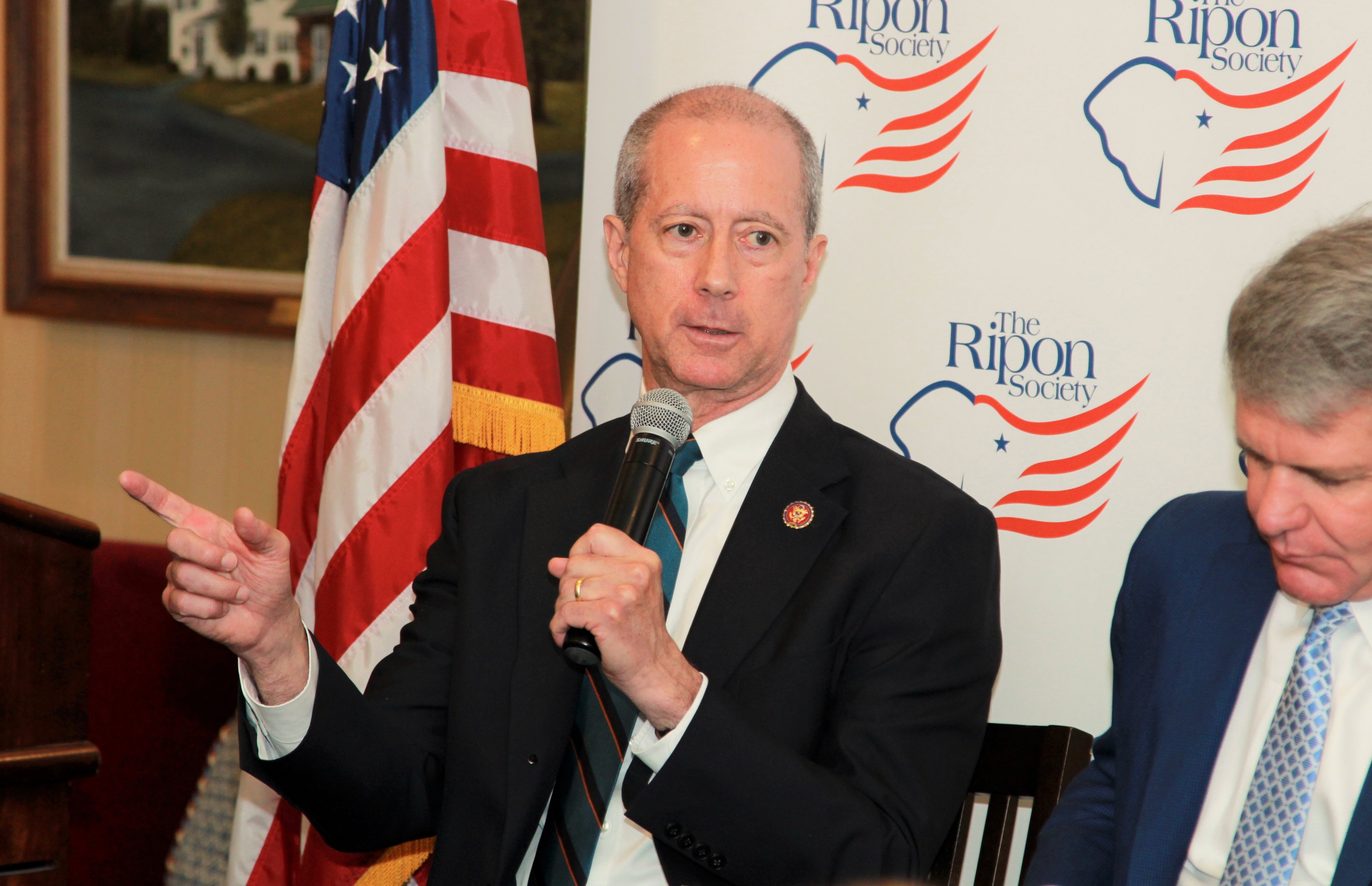 To make matters worse, Thornberry added, this standard of American leadership and global engagement is not just being tested overseas.  It's also being tested here at home.
"It's not just the Russians, Chinese and terrorists who are testing or disputing our leadership," he stated.  "It is being debated in both political parties here at home right now.  To me, that is the most significant thing happening in national security right now – the internal Republican and Democrat debate about whether we ought to continue to be engaged in the world and whether we ought to keep our military strong.  I don't worry about what anybody else is going do to us.  What I worry about is what we do towards ourselves."
McCaul agreed.
"I think Mac is correct," he said.  "When we lead as a superpower, good things happen. When we retreat… When we retreated out of Iraq, ISIS reared its ugly head.  And then it started planning external operations to kill Americans in the United States. I remember getting threat briefings in 2015 and 2016 that were absolutely terrifying … Anytime you have a destabilization of nations and instability, a lack of governance and corruption, you have extremism.  And those are the elements we're trying to fight."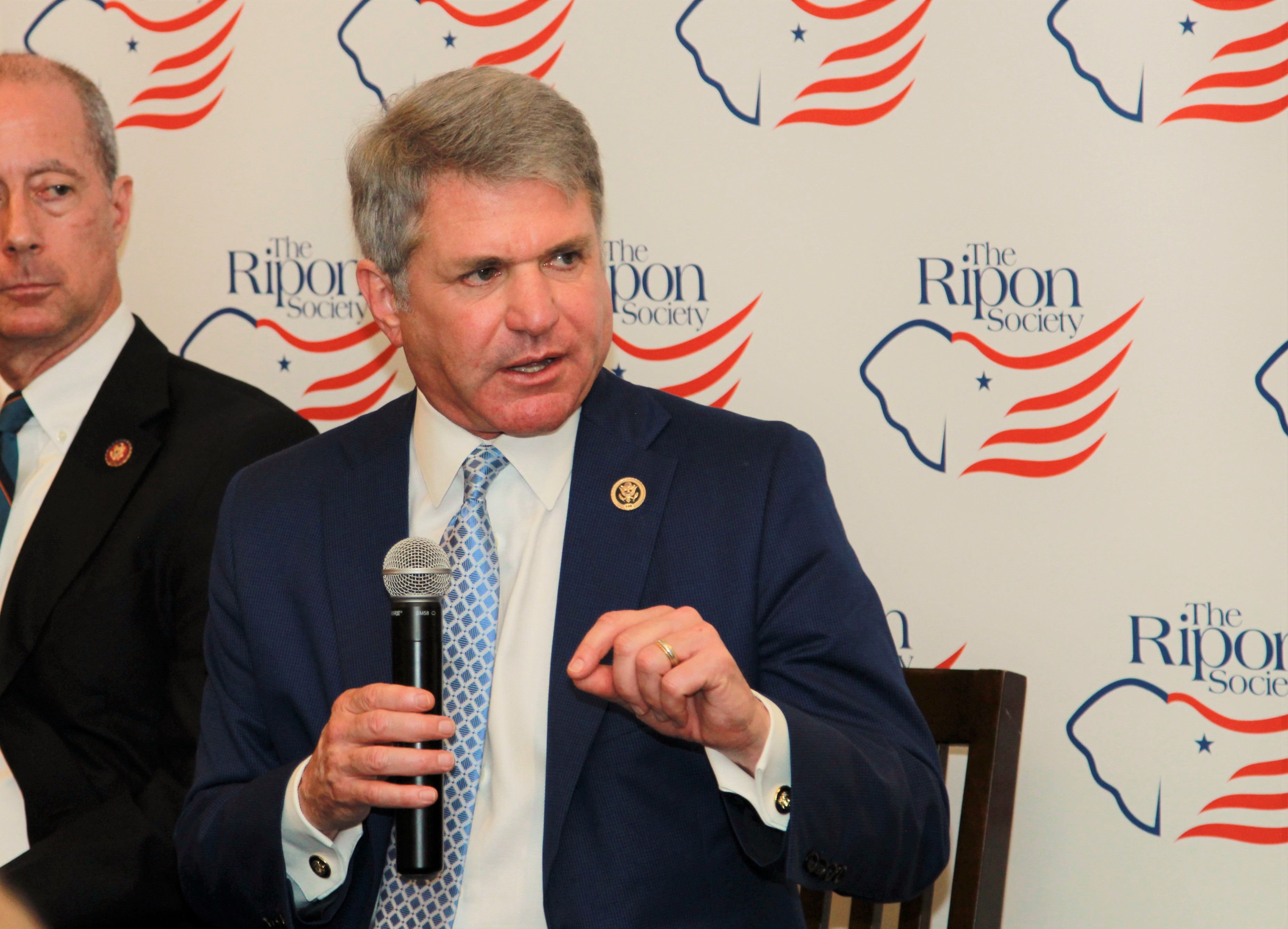 McCaul also touched on the 75th anniversary of D-Day and the lesson of World War II.  Noting that his father was a veteran of D-Day who served as a B-17 bombardier, he spoke of the veterans that he and Thornberry and the other members of the Congressional delegation met when they traveled to Normandy earlier this month, and said it was imperative that Americans always remember their service and sacrifice.
"We cannot forget the lessons that they taught the next generation," he declared.  "I'm very proud of what they achieved. My dad was the first a member of my family to go to college thanks to the GI bill. I don't think I'd be serving in the Congress today if it wasn't the example and the inspiration he taught me about public service."
Following their remarks, Thornberry and McCaul were asked a number of questions, including one about rising partisanship in Washington and how politics is impacting their work on Capitol Hill.
"I worry that the reflexive, partisan politicization of everything is seeping inevitably into national security and foreign policy issues," Thornberry stated matter-of-factly.  "Frankly, it's hard to prevent.  Just take an example from today.  Everybody's focused on Iran. We have had a number of briefings about Iran and what they're doing.  I'll exaggerate slightly, but for some of my Democratic colleagues, it's 'Don't bore me with the facts.  Trump is making this up.'   If we get to a point where we can't objectively look at the facts and together have an appropriate response, then adversaries will certainly seek to take advantage of that situation.  So I worry about where this is headed."
McCaul expressed similar concerns, but also had words of praise for the Democratic Chair of the Foreign Relations Committee who, he said, was trying to keep politics out of foreign policymaking on Capitol Hill.
"You don't bring in partisan politics at the water's edge," the Texas Republican stated.  "That's Eliot Engel's favorite line.  I'm very blessed to have a Chairman who is very conscious of trying to protect the integrity of the institution of being bipartisan and being for the country first."
"When it comes down to about 95% of the issues, Eliot and I are in agreement.  He's very anti-Iran and is against the JCPOA [Iran nuclear deal]. He's very pro-Israel.  We are very pro-Ukraine against Russia.  We introduced a bill to lethally arm Ukraine against Russia. We are very frightened of the Chinese and where they are going, and we are for democracy in Venezuela. When you look at the core issues, it's really how you get there."
McCaul and Thornberry were also asked about the impact of trade on national security and how the Presidents use of tariffs might affect things in that regard.
"The Chinese have been ripping us off for three decades" McCaul stated bluntly.  "The intellectual property theft is huge.  The tech transfers – why create when you can steal?  This is the first President to try to take China on with trade.  I hope it gets wrapped up soon, because it hurts our technology companies and it hurts our agriculture.  It's a short term pain for hopefully a long-term gain.  So I hope it gets resolved soon."
Thornberry expressed similar concerns.
"One of the remarkable things about China is that they don't just use a whole of government approach, they have a whole of nation approach," he said.   "They use every tool that can be imagined, and they use it centrally-directed and effectively. We have trouble getting the State Department to talk to the Defense Department."
"My suggestion is  that it may be the wise thing in the long run to have this confrontation with China now.  But don't make an enemy of the rest of the world at the same time.  Get some other trade deals going – in part to relieve the domestic pressure, but in part to have a more unified approach when it comes to the Chinese and trying to correct their behavior."
To view the remarks of Thornberry and McCaul before The Ripon Society discussion on Thursday morning, please click on the link below:
The Ripon Society is a public policy organization that was founded in 1962 and takes its name from the town where the Republican Party was born in 1854 — Ripon, Wisconsin.  One of the main goals of The Ripon Society is to promote the ideas and principles that have made America great and contributed to the GOP's success.  These ideas include keeping our nation secure, keeping taxes low and having a federal government that is smaller, smarter and more accountable to the people.