Cheney Discusses Focus on Impeachment & How It May Impact Focus on National Security
WASHINGTON, DC – In remarks yesterday morning before a breakfast meeting of The Ripon Society, House Republican Conference Chair Liz Cheney (WY-At Large) discussed the current debate over impeachment and how it may impact the ability of the Intelligence Committee – and Congress – to focus on national security in the weeks and months ahead.
"The House Intelligence Committee is one of the most important committees in Congress when it comes to the security of our nation," Cheney stated.  "When you take the Intelligence Committee and consume it with impeachment, that means the Committee's members are not spending their time getting briefings on what's happening around the world, whether it's in Syria or North Korea or China or Russia.
"These are areas that matter deeply to our security, and areas in which the Committee has direct oversight.  But for whatever reason, Speaker Pelosi decided not to have an impeachment process go through the Judiciary Committee, as is the norm and has always been the case.  Instead, the Speaker has hijacked the Intelligence Committee. It's a really serious thing."
Cheney was elected to the House in 2016 and was selected by her colleagues to be GOP Conference Chair in November of last year.  As Chair of the Conference, she is the third-ranking Republican in the House.  She is also a member of the Armed Services Committee.
In both of these positions, she has proven to be a leading voice for ensuring military strength and projecting U.S. leadership in a volatile world.
"When I look around the globe," she said, "I am concerned that we have members of both parties, frankly, who don't understand the important role America has played and needs to continue to play. You can be sure that there are those of us who are going to continue to make sure that we get that message out and continue to fight hard on behalf of our own security here at home."
The Wyoming lawmaker has also shown herself to be a smart hawk who's not afraid to buck the party line.
"I've been pretty public about my opposition to the decision the Administration made to withdraw our forces from the border," Cheney said in response to a question about Turkey's recent invasion of Syria and President Erdoğan's visit to the White House this week.
"I have had many conversations with representatives from the Administration about this.  This idea that somehow the Turks were coming and that we couldn't leave our forces there because they would be caught in a crossfire is fundamentally wrong.  I think that if we had been very clear and we had said to the Turks, 'Do not come, and if you do come, you will face consequences.  We have air superiority and will strike if you come across the border and put our troops at risk.' If we had said that, the Turks would not have engaged in an effort to essentially go to war with the United States."
"I think the Turks have demonstrated they are not our ally, and I think the extent to which that kind of behavior is something that the Administration seems willing to accept and live with puts America at risk. It's good the President has decided he's going to actually leave some additional forces there.  From my perspective, the key thing is to make sure we're countering ISIS.  I think that's crucial. We need forces on the ground in order to counter ISIS. We can't rely on the Turks to do it for us."
In addition to her comments on the impeachment debate and U.S. security around the world, Cheney was also asked for her thoughts on the upcoming election and the effort to increase the number of Republican women running for office next year.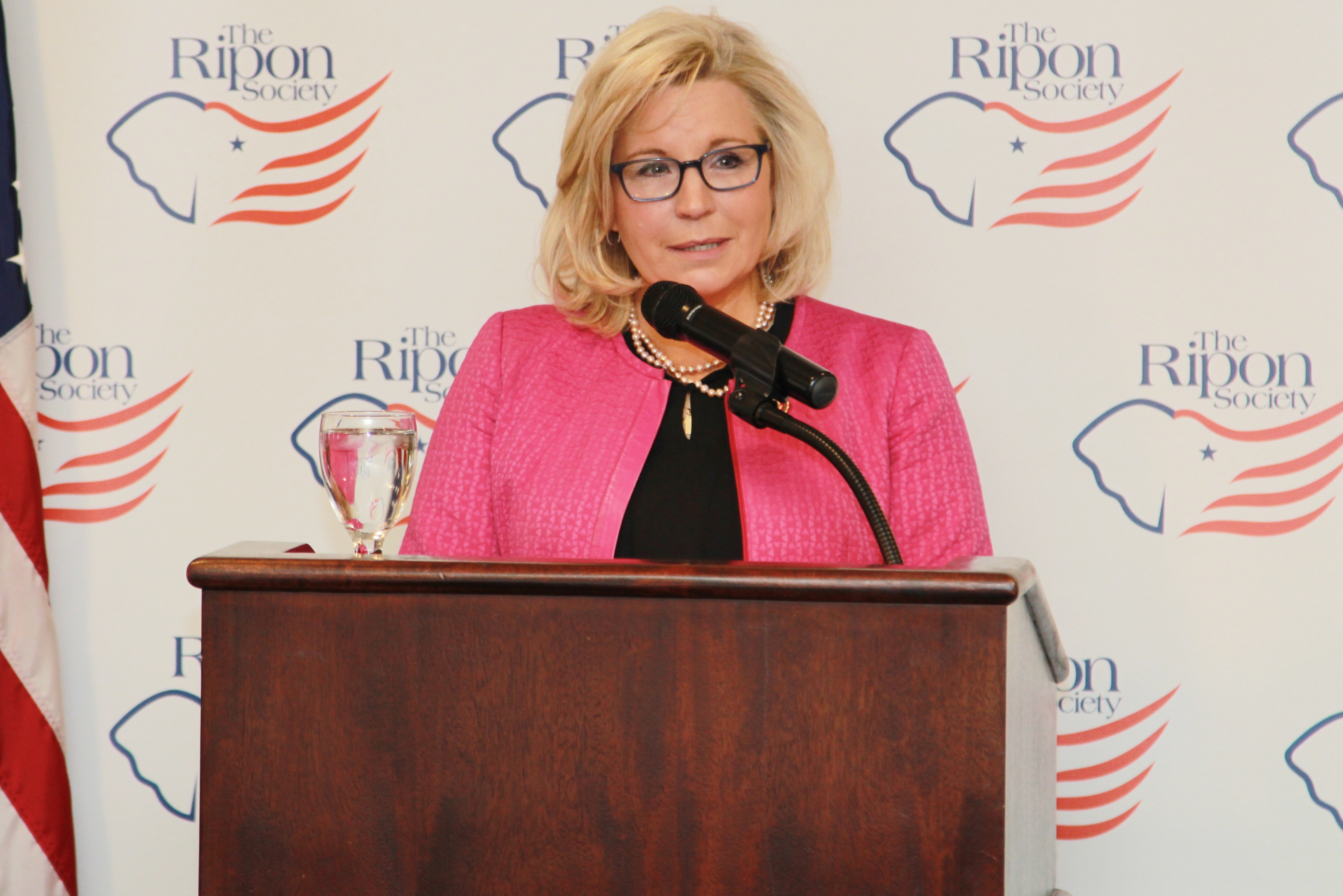 "Right now," she stated, "we have a record number of Republican women candidates who've declared for office in districts around the country.  It's fascinating to me as I travel around the country the number of Republican women who are inspired to run by 'the Squad.'  They are inspired both from the perspective of how radical the socialists are, saying, 'You know, we've got to stand up and fight. We can't let the country go that direction.' But they're also inspired into believing, 'If they can do it, I can do it.'  And so I think the Squad has had a really positive impact for us in terms of Republican women choosing to run."
Cheney was also asked for her thoughts on the effort by both parties to win the support of voters in the political center next year.
"I think the announcement that Deval Patrick is going to get into the race for the Democrats is a pretty interesting indicator of the dynamics with respect to who's going to be able to get the independent vote," she observed.  "People knew Elizabeth Warren was pretty radical. But when she put out the actual price tag for the health care plan, I think that was sort of like a bridge too far even for some socialists. There is concern among the Democrats about making sure they nominate somebody who isn't completely radical.
"From our perspective, I think what that means is making sure we remind people that it really doesn't matter what the candidate is saying to you when they're at home in your district.  If they are going to go to Washington and if they are going to vote for the Democrat for Speaker in the House of Representatives, the dynamic in the Democratic Party is that the radicals are in control.  We see that in the House, we see it among the presidential candidates, and we see it in the whole mix of policy prescriptions that the vast majority of the American people do not want."
Contrast these far left policy prescriptions, Cheney added, with the commonsense conservative policies Republicans have been able to put in place in such areas as tax reform and regulatory relief.
"If we can get through on substance, there's simply no contest," she declared.  "And I do think that the Democrats know that too.  I think that's why you see the jockeying that's going on their side. So we'll see what happens. It is a long shot to see somebody like Deval Patrick or Michael Bloomberg effectively jump in. But I think the fact that they're even contemplating it is an indication that Democrats are not satisfied with that current crop of candidates on their side."
The Ripon Society is a public policy organization that was founded in 1962 and takes its name from the town where the Republican Party was born in 1854 – Ripon, Wisconsin.  One of the main goals of The Ripon Society is to promote the ideas and principles that have made America great and contributed to the GOP's success.  These ideas include keeping our nation secure, keeping taxes low and having a federal government that is smaller, smarter and more accountable to the people.