Daines & Ratcliffe Spearhead Effort to Keep America's Cyber Networks Secure
WASHINGTON, DC – U.S. Sen. Steve Daines (R-MT) and U.S. Rep. John Ratcliffe (TX-4) appeared before a breakfast meeting of The Ripon Society this past Thursday morning to discuss the cyber threats facing America and legislation they are supporting that would help make our networks and critical infrastructure more secure.
The legislation is The Support for Rapid Innovation Act (H.R. 239).  Passed overwhelmingly by the House and currently under consideration in the Senate, the bill would promote more coordination between the public and private sectors to more quickly advance cybersecurity research.  Daines spoke first about the issue, saying his support for strengthening America's cyber defenses is driven by his years of experience as an entrepreneur and business leader.
"I spent 13 years at Procter and Gamble and 12 years in the cloud computing business," the Montana lawmaker stated.  "Helping a startup, making it public, and building the whole company. As I think about cyber security, I think at the end of the day the private sector will have a whole lot more to offer than the federal government. There's clearly a partnership.  But by the time the federal government figures out what to do on cyber, the bad guy is probably already four years ahead of us."
"Ginni Rometty, the CEO of IBM, recently said that cybercrime is the greatest threat to every company in the world.  It's been said there are two types of companies — those that have been hacked, and those that know they've been hacked … Cybercrime is the fastest growing crime in the United States. The global cost estimated this year is $3 trillion. It is estimated to be $6 trillion by 2021. There are about 2 billion people today around the world that are online. Microsoft projects that will double to 4 billion by the year 2021 — which is not that far away."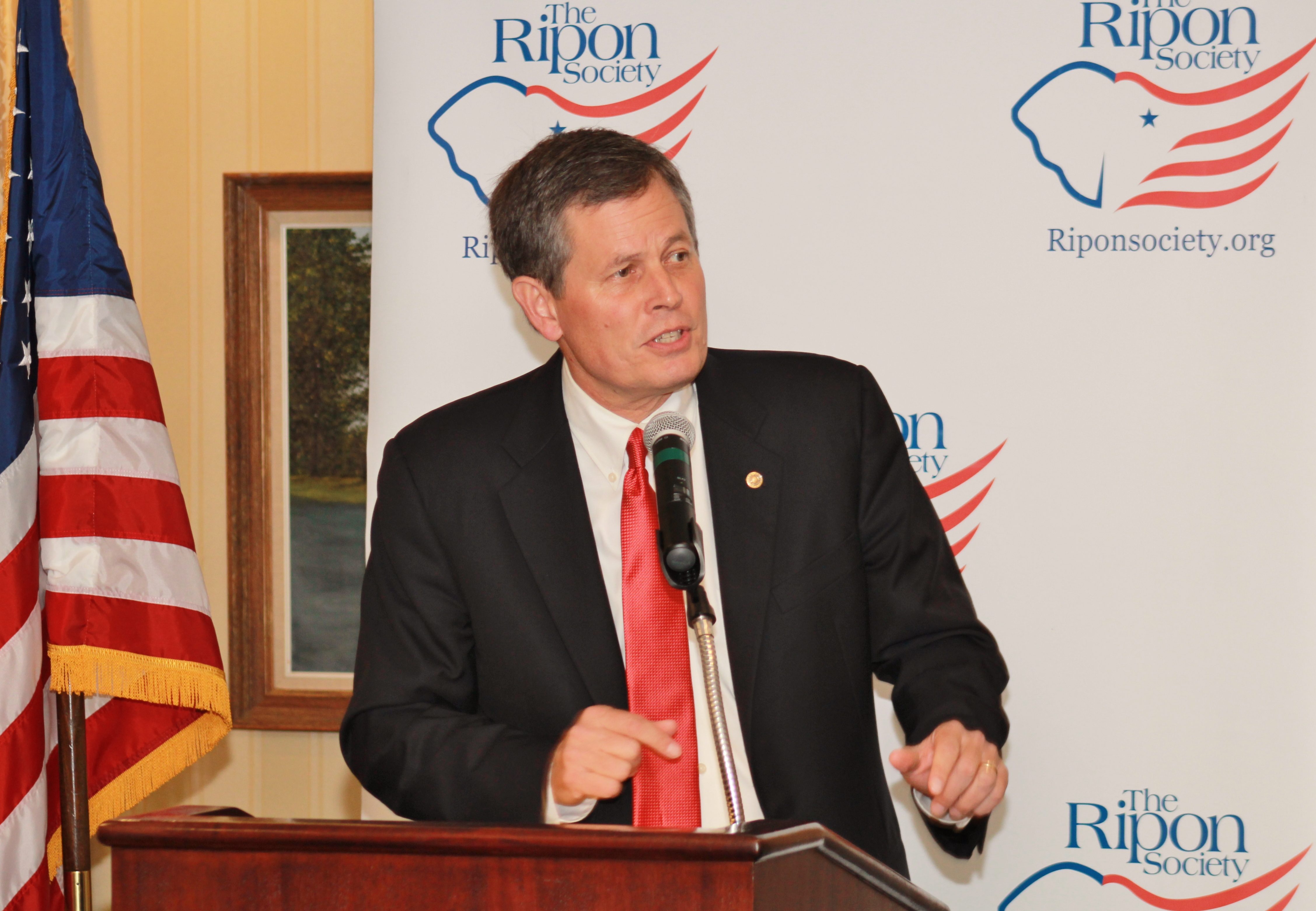 Daines was elected to the Senate in 2014 after serving two years in the House.  Prior to his election, he served as the Vice President of RightNow Technologies, a Bozeman-based cloud computing start-up company that grew rapidly, was acquired by Oracle in 2012 and remains one of Montana's largest commercial employers today.  In his remarks, he reiterated how his experience in the private sector shapes his views on cybersecurity, and pointed to the 2015 data breach at the Office of Personnel Management as an example of why a bill like H.R.239 is needed to keep America's cyber networks more secure.
"I spent 28 years in business outside this town and outside of government," he said.  "I had never received a letter from the HR department saying that my data had been breached until I became a federal employee … This is a very serious issue, and there are many possible solutions."  Noting that H.R. 239 would require the Homeland Security Under Secretary for Science and Technology to work with companies in Silicon Valley and elsewhere around the country, Daines added that, "American innovation will play a very important role" in the effort.
Ratcliffe agreed, and opened his remarks by talking about his own background in law enforcement and the perspective that he brings to his current job.
"I'm a former terrorism prosecutor and was a United States Attorney under President Bush," he stated.  "I think I may be the only member of Congress that's actually tried a terrorism case.  And that really goes to my core view of federalism and the role of the federal government. I go back to the Preamble of the Constitution — the primary role of the federal government is to provide for the common defense. Historically, and until recently, the focus there really has been on securing the sovereignty and integrity of our territorial borders, and the focus there obviously on our physical borders.
"You've seen candidate Trump become President Trump by focusing on that very issue, and talking about building a wall on our southern border for security.  But I will tell you that the greatest threats we face as a nation no longer come across our physical borders.  They come across our digital borders … Literally, to the tune of millions of invasions every day. Americans are far, far, far more at risk from a digital attack than from someone crossing our physical border, or crossing the Rio Grande.  So that's the challenge that we face.  You have emerging technology as it ties into our national security.  I very much view this now as our greatest national security threat."
"Cybersecurity threats have now become the greatest criminal enterprise in the world. It has surpassed drug trafficking as the most profitable criminal enterprise in the world. Think about it.  It's much easier now to conduct and be successful in criminal enterprises that you can do from half a world away in a few seconds and a few keystrokes. You can literally impact millions of Americans. Every one of us is at risk. That really underscores the great challenge that we face."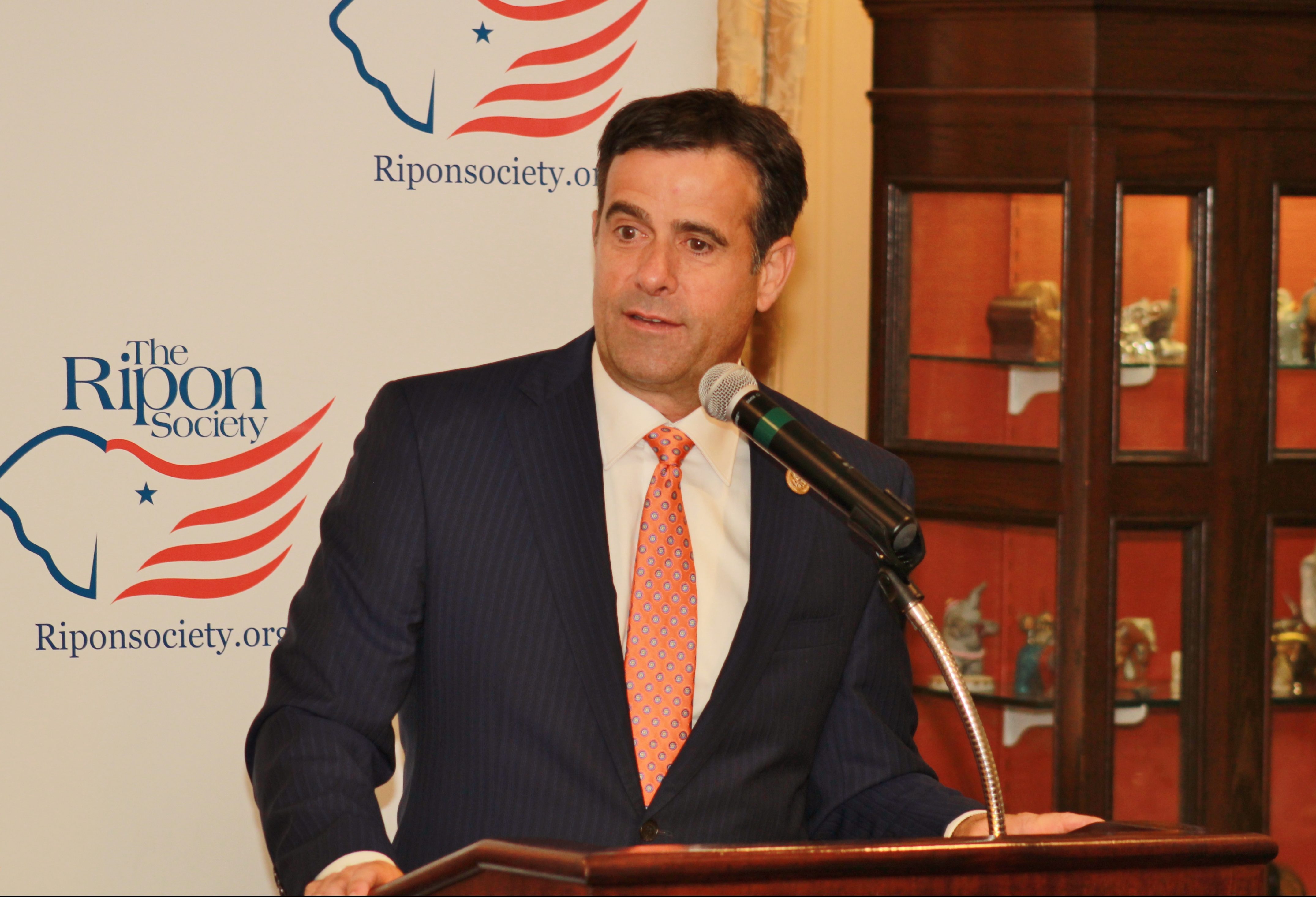 Ratcliffe was elected to the House in 2014.  In addition to serving as a U.S. Attorney under President Bush, he also served as the Chief of Anti-Terrorism and National Security for the Eastern District of Texas, where he personally managed dozens of international and domestic terrorism investigations involving some of the nation's most sensitive security matters.
He now serves as Chairman of the Homeland Cyber Security Subcommittee, where he has become one of the leading voices in Congress for keeping America's networks and critical infrastructure more secure.
"America is the world's superpower," Ratcliffe stated.  "Increasingly, we all have to come to the realization and understanding that we will only be the world's superpower if we are the world's cyber superpower. Those will go hand in hand. Countries around the world cannot compete with the United States with respect to our kinetic firepower — we're always going to have the best ships, and the best planes, and the best equipment. But now when those ships, and planes, and equipment are all connected to the internet and the control systems are connected to the internet, who controls the internet is really the one in charge.
"And of course that ties into our economic security, as well. Companies that have spent decades building a specific brand and a level of trust with the American consumer — we can see that change overnight based on an event, a hack that is successful and takes place in a very public way.  That's why the legislation that Senator Daines referenced is so important, and he and I will hopefully see the President sign that into law later this year.  It is designed for that very purpose.  To allow the United States to be the world's cybersecurity superpower by spurring innovation and modernization of our federal government. To keep speed with the private sector, and for the private sector to collaborate and be able to work together to meet the challenges that we're facing, doing it better than anyone else in the world.  And specifically, by enhancing the role of the Department of Homeland Security, to be able to secure, not just our federal networks and OPM type breaches, but also to be able to protect our critical infrastructure, 85% of which is in private hands and not in control of the government. The good news here — one of the things that I'm excited about — is that the new administration very much is in line with this thinking."
The Texas Republican concluded his remarks on an upbeat but realistic note.
"There are really good things happening in this space," he said of the cyber debate.  "We have an opportunity in Congress to answer the question — how do we rise to the challenge? We always have as an American people and as an American economy.  But now this is the new challenge that we face.  We don't want to approach it with the famous Winston Churchill line, 'You can always count on Americans to do the right thing, after they've exhausted every other possible remedy.' We don't want to wait.  We can't afford to in this time and with the challenges that we face.
"This bill will go a long way to helping with respect to that. But the important takeaway for everyone here is — I wish there was a silver bullet. I wish there was one bill that could become a law that would solve this problem. But we just all have to adjust and adapt.  Again, this is the national security threat that we will be facing for the remainder of our lives.  So we all have to rise to the challenge, and I'm optimistic that we'll have the ability to do that."
To view the remarks of Senator Daines and Chairman Ratcliffe at The Ripon Society's breakfast discussion Thursday morning, please click on the link below:
The Ripon Society is a public policy organization that was founded in 1962 and takes its name from the town where the Republican Party was born in 1854 – Ripon, Wisconsin. One of the main goals of The Ripon Society is to promote the ideas and principles that have made America great and contributed to the GOP's success. These ideas include keeping our nation secure, keeping taxes low and having a federal government that is smaller, smarter and more accountable to the people.